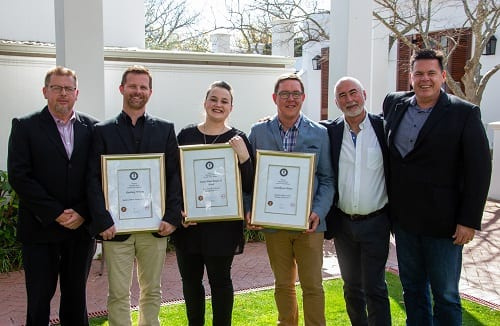 The winners of the Pinotage Rosé Competition wines were announced during an award ceremony held at the Lanzerac Estate in Stellenbosch.  Most of South Africa's major wine-producing areas were represented, with producers competing for the 'Award of Excellence' honouring the top three entries.
"We are thrilled with this exciting addition to the Pinotage competitions focusing on the different expressions of Pinotage," said De Wet Viljoen, vice-chair of the Pinotage Association. He added that: "This year's winning Rosé wines are fresh and of exceptional quality reiterating the vision to incorporate various wine styles and market stakeholders."
The judging panel included wine experts Guy Webber (convener) , Johan Malan, Fred Viljoen, Susan Erasmus , Brad Gold and Jacques Roux of DGB.
Recipients of the 2018 Pinotage RosÉ Award of Execellence:
Asara Vineyard Collection  Pinotage Rosé 2018
WO Stellenbosch . Winemaker : Johan Joubert
Landskroon  Blanc de Noir Pinotage Off Dry Rosé 2018
WO Paarl. Winemaker: Michiel du Toit
Rooiberg Winery Pinotage Rosé 2018
WO Robertson. Winemaker: Andre Scriven