To stay on top of your game in a shrinking world, you need to know what's happening in the global bulk wine market and understand how demand and production affect the southern tip of Africa. You need to make your presence felt at the World Bulk Wine Exhibition.
The global picture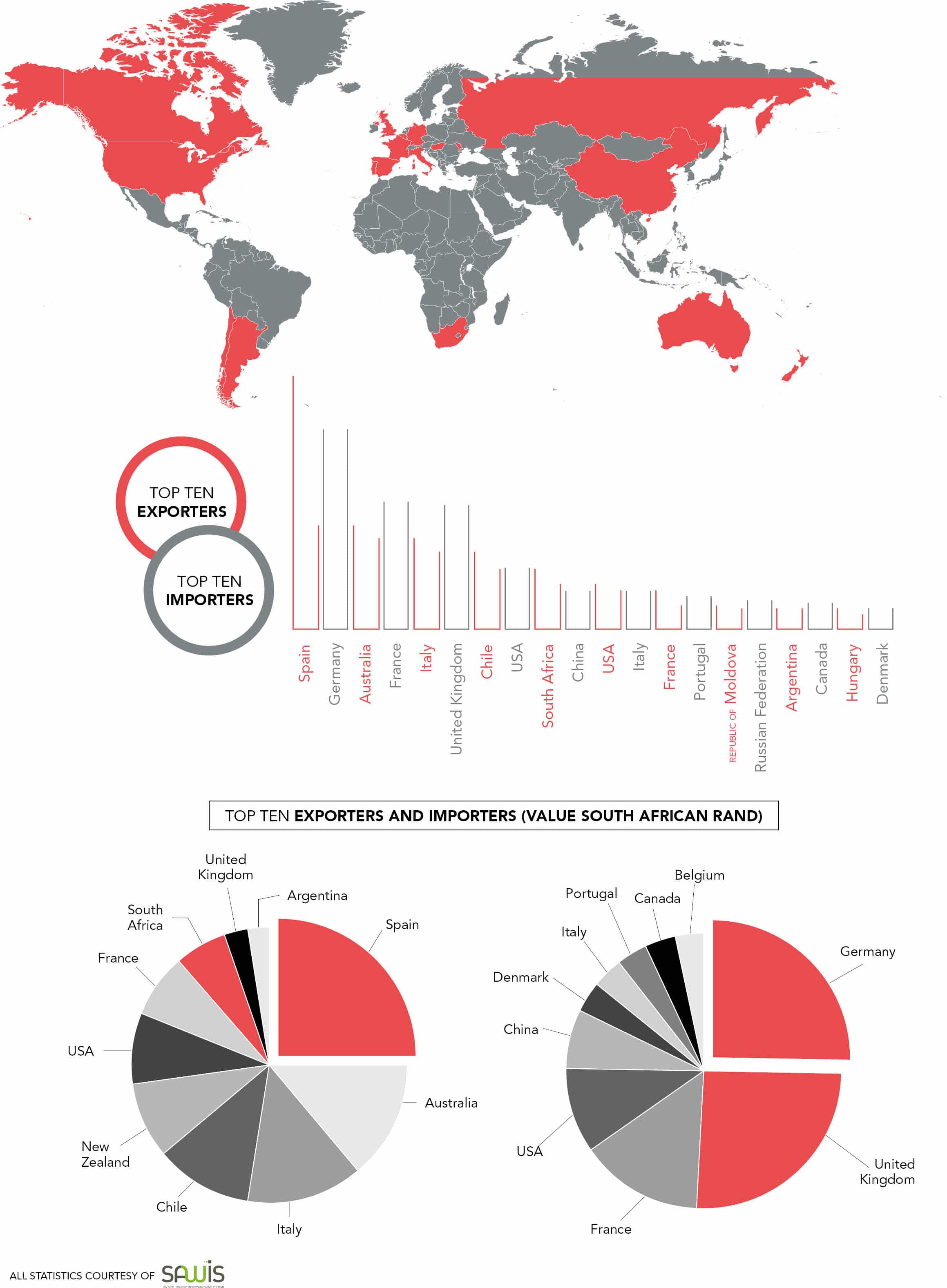 Spain remains the world's biggest producer of bulk wine, but volumes were down by 17% in 2018 compared with the previous year due to extreme heat waves at significant times during the harvest period that resulted in a smaller crop. Despite the smaller harvest, the value of Spain's exports rose by 12.5%. Australia is the world's second largest bulk wine exporter, shipping 428 596 000 litres in 2018 and realising growth in both volume (16.6%) and value (a whopping 26.9%) compared with the previous year.
Italy is firmly in third place, exporting 375 194 000 litres (down 26.5% compared with 2017), while South Africa is in fifth place with 251 089 532 litres in volume (-8%) and R2 182 306 163 in value (up 7%% compared with 2017). The South African picture for 2019 looks less rosy with statistics showing bulk wine exports declined by 30% in volume and 17% in value compared with the previous year.
Chile's (4th) bulk wine exports have also declined since 2017 to 319 774 000 litres, while neighbouring Argentina saw a continued increase in overseas volume shipments that were up from 34 744 000 litres in 2017 to 84 262 000 litres in 2018. The US saw a surge in bulk wine exports with volumes up 11% from 167 036 000 litres in 2017 to 185 415 000 in 2018 and a 9% growth in value.
Despite these ups and downs the overall global market has returned to a manageable size that will likely result in more balanced trading. Although traditional markets such as Spain and Italy are still world favourites, buyers are clearly looking for new challenges and new production areas that offer better value for money. This is probably why Moldova, Hungary and Ukraine have popped up on their radar in recent years and are now among the world's top 12 bulk wine export countries.
With a more balanced market likely to emerge, steadier trading conditions are set to stay. Despite ongoing political and economic uncertainties such as Brexit and the looming trade war between America and China, bulk wine prices for the near future are more likely to go up than down, according to Rabobank.
A 360-degree overview of WBWE
Every year 80% of the world's bulk wine suppliers gather under one roof at the World Bulk Wine Exhibition (WBWE) in Amsterdam. The event offers them a platform to discuss new trends in a constantly changing sector. It's also an opportunity for major international players in the field to do new deals, making it a must for South African wine businesses.
"Although the timing of this show is more geared to the Northern Hemisphere as they are all showing their current vintage, it's important for us to meet with our customers and have a good catch-up to find out what's trending, what new wine styles buyers are looking for and to get production forecasts that help us plan our coming harvest," Mountain Ridge Wines manager Justin Corrans says. "There's a lot of misinformation on the market. It's best to find out for yourself by attending the show so you can make informed decisions."
Lutzville Vineyards international marketing and brand manager Anneli Karsten agrees. "We're the second biggest single cellar in South Africa and a major source ….
A full version of this article appears in the March 2020 issue of WineLand Magazine. Buy your copy here