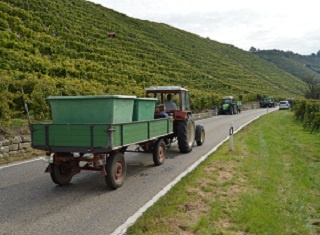 At the recent Simei@drinktec trade fare in Munich the state of heroic viticulture in Europe was given exposure during two presentations. The first focused on 'heroic viticulture', with particular focus on sites and examples of spectacular vineyards nestled on terraces and situated on some pretty steep slopes.
The other presentation was much more technical and illustrated the effect of terroir (microclimate and slope being two important factors) and difficulty in managing these extreme vineyards.
What exactly is heroic viticulture? Very simply, it refers to the difficulty of cultivating vineyards in mountainous and steep sloped areas. Cervim (Centre for Research, Environmental Sustainability and Advancement of Mountain Viticulture), established under the auspices the OIV, is in international organisation that specifically promotes and protects heroic viticulture. The specific criteria that define this type of viticulture are:
Vineyard sites at altitudes over 500 meters
Vines planted on slopes greater than 30%
Vines planted on terraces or embankments
Vines planted on small islands in difficult growing conditions.
Additionally, key objectives outline the way forward for Cervim. Heroic viticulture must communicate and engage with institutions, organisations and consumers. It must also be recognised by the EU, the state and the local authorities, with the adoption of specific rules and consumers must be able to recognise the products. Research also has to enhance knowledge and technology to the viticulture and oenology of these areas. Finally, designations of origin or labels that help to protect these farming efforts must be created.
But where are these extreme vineyards? In Italy alone, there are close on 20 cities that practise heroic viticulture. These include, to name just a few, Piemonte, Lombardia, Veneto, Toscana, Lazio, Abruzzo, Sicilia and Sardegna. Various other countries in Europe and even further afield also practise heroic viticulture and these special vineyards can be found in Portugal, Spain, the Principality of Andorra, France, Switzerland, Germany, Luxembourg, Austria, Slovenia, Croatia, Greece, Cyprus, Lebanon, Armenia, Georgia and Kazakhstan.
Consumer and producer surveys have shown that the wines from steep slopes should and are being sold as premium products. Consumer acceptance that these vineyards require special effort and that the resulting wines are seen as an artisanal products contribute to them being held in high regard. Ultimately these wines can be sold at higher price points. If you're involved in the South African wine industry, this should make you sit upright. Because this is how regionality can be employed to great effect and take our industry to new heights. Pun intended!