Orange wine is a bit of a misnomer. It is not wine made with oranges, nor is it a Mimosa (a blend of orange juice and sparkling wine). Orange wine is something entirely different.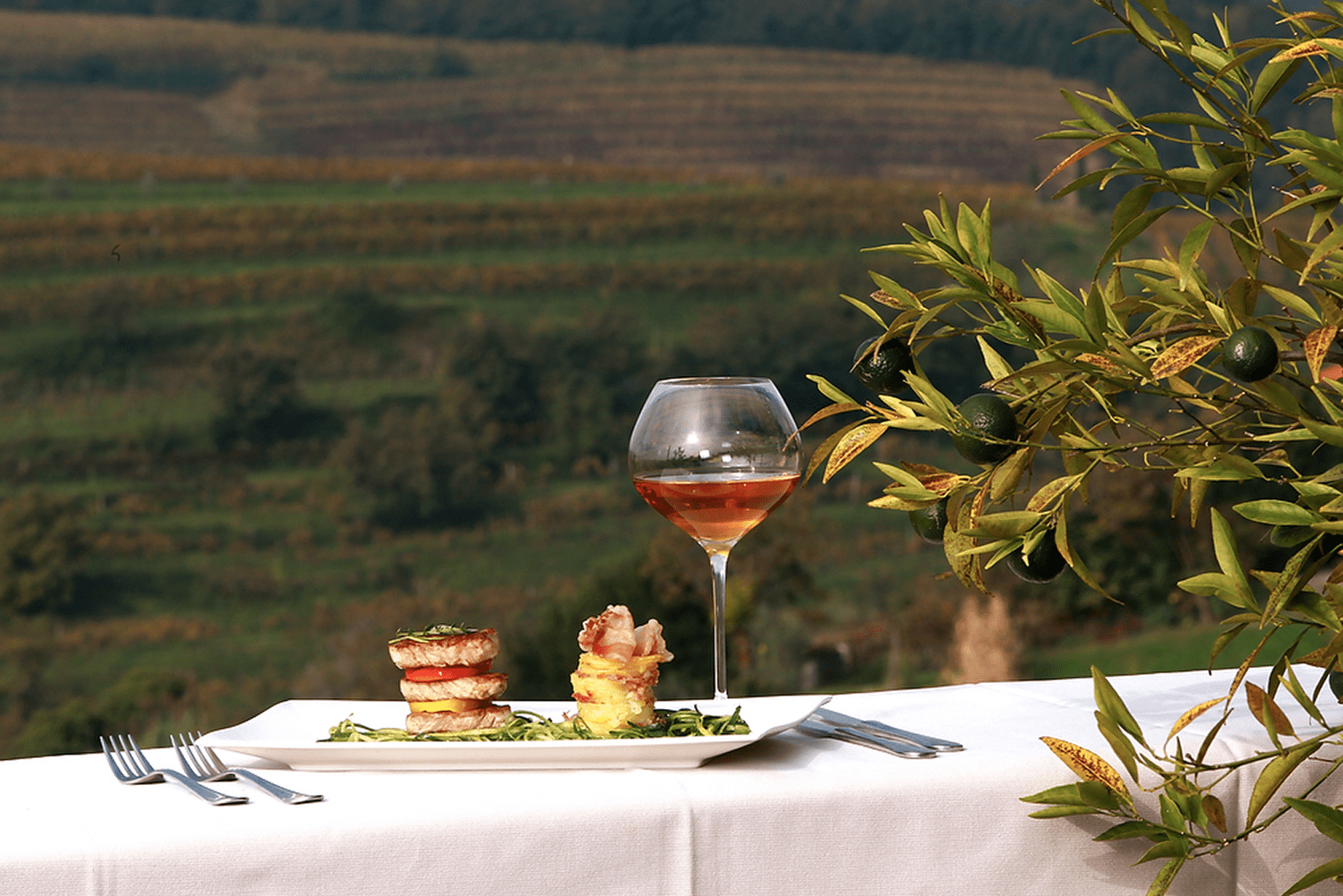 Every wine lover is familiar with white, rosé and red table wine but orange wine? The style is nothing new – orange wines were first made thousands of years ago in countries such as Georgia and Armenia.
More recently, orange wine has been re-discovered by winemakers with enquiring minds who are ever ready to push boundaries. Best described as white wines made in the same way as reds, the colour and tannins derive from contact with the skins.
What is orange wine? Orange wine is a type of white wine made by leaving the grape skins and seeds in contact with the juice, creating a deep orange-hued finished product.
The origin of orange: The process of making orange wine is very old, but the reinvigoration of this ancient process has only resurfaced in the last 20 odd years. Many modern-day orange winemakers look as far back as 5000 years in Caucasus (modern-day Georgia,–not the state) where wines were fermented in large subterranean vessels called Qvevri ("Kev-ree") that were originally closed with stones and sealed with beeswax.
To make an orange wine, you first take white grapes, mash them up, and then put them in a large vessel (often cement or ceramic). Then, you typically leave the fermenting grapes alone for four days to sometimes over a year with the skins and seeds still attached. Orange winemaking is a very natural process that uses little to no additives, sometimes not even yeast. Because of all this, they taste very different from regular white wines and have a sour taste and nuttiness from oxidation.
The term "Orange Wine" was coined by British wine importer David Harvey at Raeburn Fine Wine . He used it to describe this non-interventionist style of white winemaking. You may also hear the term "Ramato," which means "auburn," in Italian and typically refers to Italian Pinot Grigio made in an orange wine style.
What does orange wine taste like? Orange wines have been described as robust and bold, with honeyed aromas of jackfruit (a fleshy tropical fruit), hazelnut, brazil nut, bruised apple, wood varnish, linseed oil, juniper, sourdough, and dried orange rind. On the palate, they're big, dry, and even have tannin like a red wine with a sourness similar to fruit beer. Often they're so intense that you might want to make sure you're sitting down when you taste your first orange wine.
TIP: The deep color of orange wine comes from lignin in grapeseeds.
Food Pairing:
Because of their boldness, orange wines pair excellently well with equally bold foods, including curry dishes, Moroccan cuisine, Ethiopian cuisine (like those spongelike pancakes called Injera), Korean dishes with fermented kimchi (bibim bap), and traditional Japanese cuisine, including fermented soybeans (Natto). Due to the high phenolic content (tannin and bitterness) and the nutty tartness they exhibit, orange wines pair with a wide variety of meats, ranging from beef to fish.
Orange wines are still very rare, but many countries have growing interest in this natural winemaking style.
In South Africa, orange wine can be found mostly in the Swartland region in the Western Cape, where the vineyards are quite old and have less popular grapes.
Example South African Orange Wine Producers:
Intellego "Elementis" 
Lammershoek "Cellar Foot" Series 
Sadie Family Wines "Palladius" 
Testalonga "El Bandito" 
What do you think?
Have you tasted an orange wine before? Tell us about it and if you think this winemaking style is delicious enough for generations to come. Drop us a comment.