With more Angolans visiting South Africa, the local wine trade should see this as an opportunity to lure them to the Cape winelands and persuade them to drink our wines. Wosa market manager: Africa Matome Mbatha talks Katemba, trade agreements and tourism.
Angola is one of Africa's so-called oil economies. The oil price had a significant impact on wine exports to Angola last year. What is the forecast for 2017?
After no growth last year, Angola's economy is expected to grow by 1.25% this year, reflecting the recovery of the non-oil sector, according to an International Monetary Fund (IMF) report. This is due to the government's diversification of the country's economy by opening up the agri-industrial potential of the country and the expected decline in the inflation rate this year to 20% as a result of tighter monetary conditions and a stable national currency.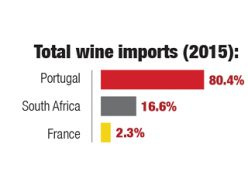 Has there been progress in the talks about preferential trade agreements with Angola?
Talks between the South African and Angolan governments about trade agreements have been ongoing for some time, however there seems to be no decision about when they will be signed and implemented. As an industry we're still in the dark about the way forward.
Does Katemba hold opportunity for South African wine producers?
Katemba – red wine mixed with cola – is how Angolans drink robust red wine to make it more palatable. It also introduces the uninitiated to wine. As such it definitely holds opportunity for South African wine producers and is one way to get more Angolans to consume wine as it doesn't restrict them to drinking wine on its own, which is regarded as snobbish. Katemba can be seen as an access point to consumers who'll graduate to appreciating unmixed wine as their palate becomes more sophisticated.
Stats reflect an increase in tourists to South Africa from the rest of the African continent. Are more Angolans visiting South Africa and especially the winelands?
Tourism from African countries, especially Angola, is definitely growing as Angolans come to South Africa for shopping, medical reasons, their children's primary to tertiary education and property investment. This reflects Angolans' perception of South Africa as an attractive all-round destination.
We are yet to increase the number of Angolans visiting the Cape winelands. Wosa is however promoting the Cape winelands in all the promotional activities we're rolling out in the market. This includes showing images of wineries and educating the trade, media and consumers about the various wine routes. We also work in partnership with the South African embassy in Luanda, South African Airways, Brand SA, SA Tourism and hotel chains to maximise positioning of a collective Brand South Africa.
Wosa has been fairly active with wine shows in Angola. What are the plans for 2017?
Wosa has been active in the Angolan market for the past seven years. One of the innovative strategies going forward involves collaborating with Shoprite to promote brands listed in its stores. We'll also conduct focus group tastings with the media and trade where we'll do several South African wine and Angolan food pairing dinners.
Are Portuguese wines still dominant in the former colony? And which other wine regions are well represented in the market?
Portuguese wines still dominate the market with 80.4% market share, followed by South Africa with 16.6% and France in third place with 2.3%. Italy, Chile and Argentina all have less than one percent of the market share.
What are some of the other priority African export destinations?
Markets north of the Limpopo are not homogeneous in size, language or regulations and are at different stages of market evolution. Wosa has therefore identified some markets that we'll focus on and host generic tasting events. Wosa adopted a strategic three-year plan from 2015 to 2017 to focus on the core markets of Angola, Kenya, Uganda, Tanzania, Nigeria, Ghana and Mozambique as these countries' wine cultures are taking off, making it vital for our producers to create a generic platform to introduce their brands.