Along with tango, asado and soulful conversation, wine lies at the heart of Argentine culture and identity. Anton Pretorius got a taste of Argentina during a recent shindig organised by the Embassy of the Argentine Republic.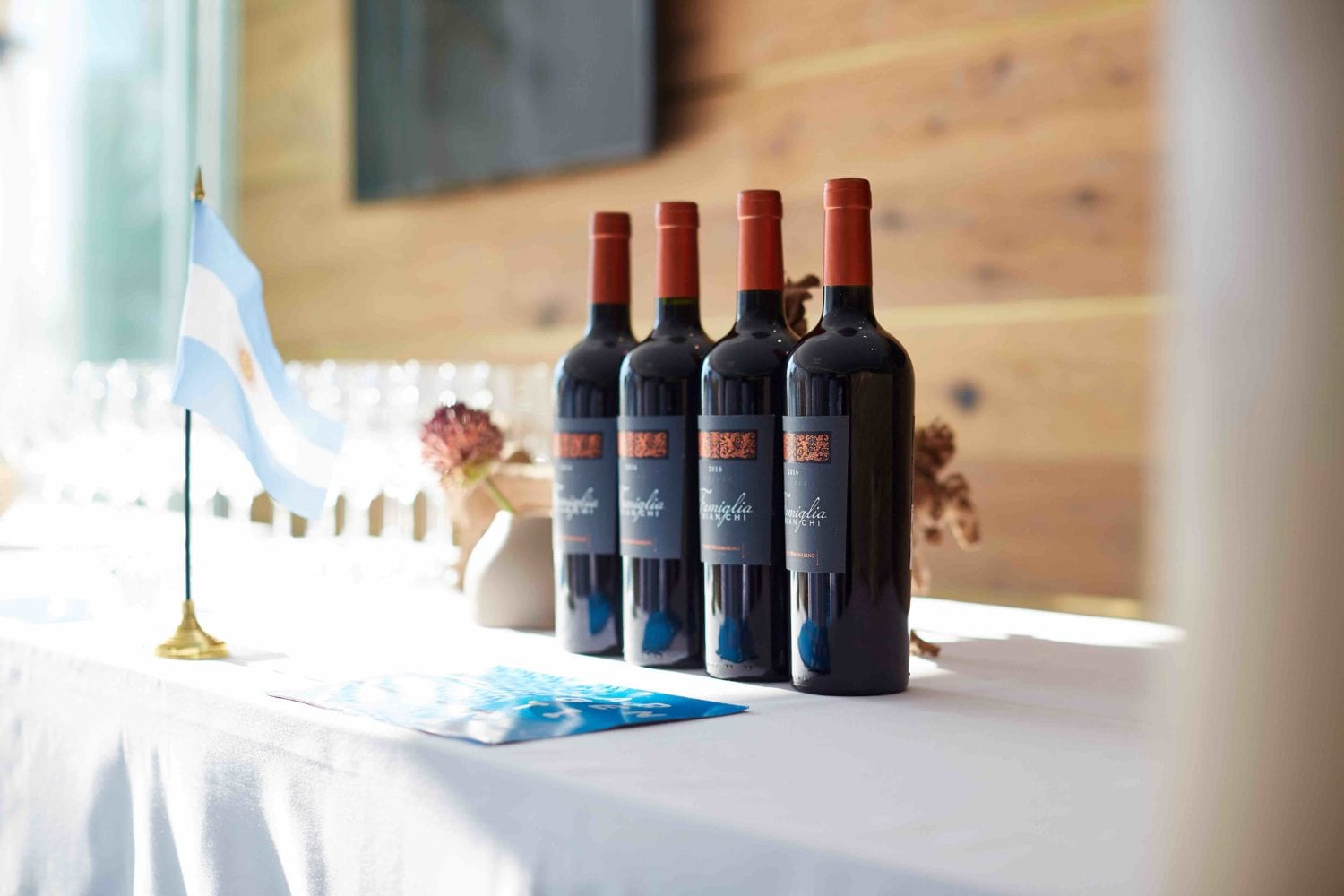 In an effort to promote Argentina's wine and wine regions in South Africa, the Embassy of the Argentine Republic hosted a special food and wine tasting at the prestigious President Hotel in  Bantry Bay, Cape Town, last month. I've never had the privilege of visiting the renowned South American country, so this authentic Argentinian experience (including all the little-known facts about its wine region) was incredibly insightful, not to mention enjoyable.
The intimate, exclusive affair showcased wines from across Argentina, including regions such as Bodega, Salta, Patagonia, Altamira and Mendoza. Award-winning wine estates such as Del Fin Del Mundo, Rutini and Famiglia treated guests to their best wines made from Malbec, arguably Argentina's most famous and popular grape variety, while Bodega Aniello showcased its Blanc de Pinot Noir and Casa Bianchi its Brut sparkling wine.
Sharing a bottle of wine with a meal (picada) is part of ordinary life for Argentinians. The wine was accompanied by tasty traditional Argentine food with a South African twist, including empanadas (made from beef bobotie), choripán (a chorizo and potato bunny chow) and sandwiches de miga made with cured Springbok loin.
The event was attended by various industry members and the Argentine ambassador to South Africa, Alberto Pedro D'Alotto. After the delicious wine and food, guests were treated to authentic Argentine music, while the more adventurous could show off their tango moves.
What makes Argentina's wine famous all over the world is its terroir. The country still has swaths of virgin land and microclimates with unusually extreme temperature variations that produce grapes with a distinctive taste and quality. The country is uniquely suited to wine culture and production and it's the world's fifth-largest producer. Malbec is the country's flagship wine. The "immigrant grape" has been practically abandoned by Europe, says Dr Laura Catena of Argentina's Catena Institute of Wine. "Given that it's the main variety of our country, we need to do everything we can to elevate it and have people understand that it has sophistication in terms of having different flavours in different climates, soils and regions," she says.
Of course, the wine selection in Argentina is about much more than Malbec and there's a growing emphasis on producing other types of wine in the country. Most people with a basic working knowledge of Argentine wine are familiar with the country's Mendoza and Salta wine regions, but there's much more for the intrepid sommelier to explore.
Recommended regions: Perhaps even more famous than Patagonia's glaciers and more alluring than the Bohemian enclaves of Buenos Aires, are the fertile valleys of Argentina's wine regions. Laura's recommendations are:
Salta: Let's start with the cool kid on the block. Salta is Argentina's major up-and-coming wine region. It also boasts some of the country's most extreme terrain and weather with soaring mountains, freezing nights, and bright, sunny days. If you think that sounds like pretty interesting conditions for wine, well, you're right. Who knew wine could even grow at such high altitudes? (Beware! You might feel a bit light-headed drinking wine at 1 130 m above sea level.) If you want to go to a really remote winery—one of the highest in the world – check out Bodega Tacuil.
Catamarca: This beautiful mountainous region is off the beaten track. While Catamarca may not be exploding with wineries, there's a wine route of sorts to discover. In short, if you're looking for little-known wineries that make truly wonderful wines without all of Salta's hype, then head to the neighbouring northwestern province of Catamarca.
Mendoza: With vineyards stretching as far as the eye can see at the base of the Andes, Mendoza is arguably Argentina's best-known wine region. Many wineries in Mendoza have formed partnerships with local artists and galleries (notably Salentein), so you can take in some artistically enriching activities as well. The region's 300 000 ha of vineyards include top names plus numerous smaller family-run operations. You could spend months in Mendoza and still not visit them all.
Córdoba: Jesuit missionaries in Córdoba planted the region's first vineyards in the 16th century and thanks to them this province in central Argentina today boasts a robust viniculture. Córdoba's wine output may be minimal when compared with that of Mendoza and Salta, but most of its wineries are excellent.
Río Negro and Neuquen: Río Negro and Neuquen are Argentina's southernmost major wine-producing regions. The lush Río Negro Valley stands out in stark contrast to the rest of the dry Patagonian plateau, while the region's high winds help keep vine-crawling insects (and pesticides) to a minimum. Wineries tend to be more spread out, so renting a car or booking a wine tour is recommended. The region's wines have their own identity. They are more intense and acidic because of the cooler climate. The region produces mainly Merlot and Pinot Noir, and some Cabernet Sauvignon and Cabernet Franc. Semillon and Viognier stand out among the whites.
I managed to taste a selection of fine Argentine wines at the event. The standouts for me were:
Rutini Single Vineyard 2014 Malbec
With its origins from the Mendoza province appellation, Rutini's 2014 Malbec is dry and earthy with oak-like aromas and suggestions of sandalwood, cassis and raisin. A full, grabby palate with muscular tannins deals bold blackberry, plum and prune flavours. Spicy oak and chocolate are prominent flavours on a well-done, burly finish. R585 a bottle
Famiglia Bianchi Malbec 2016
From the award-winning vineyards of Valentín Bianchi in the Mendoza appellation, this Malbec's woody aromas of clove and spice clash a little with jammy, stewed berry scents. It feels pushy with high acidity and resin on the palate. Herbal plum and tomato flavours finish with a blanket of oak and related clove flavours. R292 a bottle
Bodega Del Fin Del Mundo Reserva Malbec 2017
Deep-red with purple hints. Flowery aromas with fruity notes of plums and blackberries. Hints of chocolate, tobacco and vanilla. Fruity, gentle, well-balanced, full-bodied, nice acidity with a long finish. The wine impresses with its smoothness and velvety, almost silky tannins made even rounder by an oily soft body. R268 a bottle