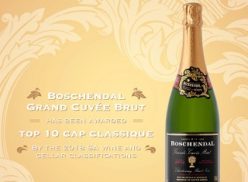 Boschendal has started the 2018 awards season with a sparkle. The estate's Cap Classique Grande Cuvée Brut has been named one of the Top Ten Cap Classiques by South African Wine & Cellar Classifications for the 10 year period of 2008 to 2018.
The competition investigates wines' track records across 30 local and international forums in terms of quality and interest value over the last 10 years. To earn a coveted spot in the Classification, wines must have very good to excellent reviews from one or more of the top judging panels during the decade-long review period. Judges include experts appointed to exceptional panels around the world – including the Decanter World Wine Awards, the International Wine Challenge, Platter's SA Wine Guide and Michelangelo Awards (SA).
The Grande Cuvée Brut won its top spot through its consistently highly-rated vintages – unsurprising to those familiar with the MCC's exceptional quality and delicate effervescence. White winemaker and MCC producer Lizelle Gerber says the accolade is one she is particularly proud of. "I feel a bit like a proud parent whose child has consistently earned good grades. The Grande Cuvée Brut is a very special part of our stable and one of our premium offerings. Extended lees contact gives it a creamy mouthfeel and its subtle notes of biscotti make it truly delicious and one of my favourites."
Gerber says that the meticulous maintenance of the vineyard, coupled with a rigorous grape selection procedure ensures the level of quality expected from a Boschendal MCC. The vinification process is time intensive, with the addition of the liqueur de tirage – the part of the wine blend that contains the yeast – catalysing the second fermentation that results in the magical MCC bubble. A 36 month maturation secures the flavour, balance and seamless finish.
She concludes, "The South African Wine & Cellar Classification's list of Top Ten Sparkling Cap Classiques is incredibly prestigious and the benchmark for MCCs all over the world. We're in exceptional company and honoured that our Grande Cuvée Brut has consistently reached such high standards."
For more information on the Boschendal Grande Cuvée Brut, visit BoschendalWines.com.