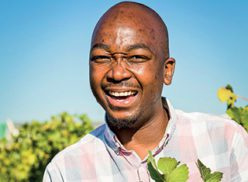 With its long history of inequality, embarking on a career in the wine industry can be daunting for young black people. Despite the many obstacles three young black people are making their mark in this competitive field.
Sandile Mkhwanazi, winemaker and viticulturist, Tumbaga Fine Wines
"The girls love it!" Sandile quips tongue in cheek about his decision to choose a career in wine. He completed a harvest at Spier Wines in 2010 under the guiding hand of Johan Jordaan and Godfrey Singo. "The months I spent at the Adam Tas plant bridged a huge gap for me between university and real work."
Sandile was accepted for the Groot Constantia internship programme and worked at the Elsenburg Agricultural Training Institute as assistant winemaker. In between he gained overseas exposure in Bordeaux, France, and honed his journalistic skills at WineLand. He's the cofounder of Tumbaga Fine Wines and Spirits Co.
Was it difficult to assimilate into this industry with its traditions?
Adjusting to "tradition" as you put it is not difficult. It's the human element that's the problem. The sense that you're invading someone's space and industry did not go down well with me. Having said that, I was welcomed by so many people, especially the older generation. They helped me to understand the industry.
Race aside, as a young person, how do you feel about innovation in the industry? Where is it most needed?
Innovation should revolve around efficiency and delivering a good-quality product, be that grapes, wine or any service in the production chain.
Do you have any mentors?
Dr Winnie Bowman is my rock. Without her I wouldn't have come this far. From a winemaking perspective, the two people that spring to mind are Groot Constantia's Boela Gerber and Spier's Johan Jordaan. They taught me how passion and pure determination can drive you to reach your goal. They manage to stay humble, despite all their achievements. I share ideas and winemaking notes with the likes of Natasha Boks, Praisy Dlamini and Dumsani Mathonsi. Thanks is also due to WineLand editor Wanda Augustyn for teaching me how to think in a structured way and former WineLand editor Edo Heyns for allowing me to go crazy sometimes. These people make me feel very lucky my path has gone in this direction.
What is your opinion of SA wine?
We undersell ourselves. We have good-quality wine, but we don't value ourselves. Climate is on our side – or was until the drought, we have the history and exciting up-and-coming winemakers. It's a vibrant industry, but we need to add value. We should improve wine tourism, especially in the local market. If an Uber driver can't suggest a wine farm to a tourist, we have a serious problem. Currently our wines are put on a pedestal when an international critic mentions them in a blog. I think we can do it on our own. We need to give credit where it's due and put our money where out mouth is.
Would you consider leaving SA for a career in another country?
Hhayi khona! No, never! I would only leave to better myself and plough back whatever skills I learnt abroad locally. I'm very optimistic and feel I have a role to play. The industry must grow, from a transformation angle as well as at grassroots level. That includes upskilling farmworkers, investing in their wellbeing and improving their living conditions. We need more wine academics of colour, not to pay lip service to the industry but to make a real contribution. The same goes for the management of big industry players. We'll be stronger in a diversified industry.
Natasha Boks, wine consultant
Natasha started studying BSc (Cellular and Molecular), but switched to winemaking when she realised she didn't want to end up working in a laboratory. "My grandfather had a good wine collection that was sacred to him and no one dared touch. When we came of age, he introduced each of his grandchildren to the taste of wine and gave me my first wine book."
Natasha's career started at Nederburg with the 2008 harvest. She worked as the assistant white winemaker for Distell's Zonnebloem label and rejoined Nederburg as head white winemaker in 2013.
"After working with amazing people and acquiring tremendous knowledge from them I decided to broaden my horizons and knowledge by starting my own wine consultation business in 2017. It comprises three services: consultation in winemaking, being a brand ambassador, and learning and development."
Do you have any mentors?
Pieter Carstens, then red winemaker at Perderberg, where I worked as a student, taught me the value of hard work. Working with the Momberg family, especially Ben Momberg, in the Middelvlei vineyards and tasting room was an amazing lesson in how to treat the people who work for you with dignity. At Distell, Deon Boshoff taught me the value of leadership. Razvan Macici [formerly head winemaker at Distell] taught me what it means to be a winemaker in all its aspects, not only in general, but understanding the soil, terroir, grape varietals and allowing yourself to be creative and give something of yourself when you create a unique wine. Others include Unathi Mantshongo [Vinpro transformation and development officer and formerly viticulturist at Nederburg], who always pushed me to strive for more, and winemaker Wilhelm Pienaar – what a legend when it comes to winemaking and supporting you as a person.
What is your opinion of SA wine?
If we explore more, stretch ourselves a little more, we can be known as one of the best wine-producing countries in the world. We're such a diverse industry and country. We should be able to offer a more diverse portfolio of wine brands. This can however also be a challenge as sometimes we don't speak in one voice as a wine industry. We tend to speak against instead of for each other.
Climate change is a huge challenge. But I believe if we work together and collaborate we'll be able to even overcome this challenge in the near future.
Are you optimistic about the industry?
Yes, I am! I've come to love every aspect of this tremendous industry because of what it means for South Africa.
Natasha Williams, winemaker, Bosman Family Vineyards
Natasha hails from the small village of Saron in the Western Cape and from a young age she "found her peace", as she calls it, in science and nature, making oenology a natural study choice. She joined Jordan Wine Estate in her final year at Stellenbosch University and moved to Bosman Family Vineyards in 2014. She firmly believes in the quality of South African wine. "There's no lack of innovative winemakers in South Africa," she says.
Was it difficult to assimilate into this industry with its traditions?
I think our generation was fortunate when we entered the wine industry. Strong women walked the path before us and showed us if you have the passion and love for something, you can thrive. I had to live up to certain expectations. Expectations I set for myself are to be the best I can be and contribute where I can. The best part so far is making great wine part of my lifestyle. It has opened my world to fantastic food, great people and various cultures. I'm excited to discover the unknown in my wine world.
Race aside, as a young person, how do you feel about innovation in the industry? Where is it most needed?
Unfortunately wine has a very negative connotation in some communities. It won't be easy, but I want to believe it will be worth the effort to try to change how some people perceive the industry. Success and growth lie in education, awareness and empowerment.
It excites me to see how many young winemakers are making their own wine and starting their own brands. I hope to see more black winemakers follow in this direction, not just in winemaking, but starting sustainable businesses in agriculture that will make the industry stronger. We all have a valuable part to play in the agriculture industry's growth over the next 20 years.
How sustainable is the industry? Will the new trends phase out over a few years? I hope not. Let's start investing in our vineyards. Let's nourish and conserve them to ensure they have a place in the future.
I think we're well ahead when it comes to research into new cultivars. Times are changing and fortunately many SA winemakers and intellectuals are thinking alike.
Would you consider leaving SA for a career in another country?
In 2016 I had my first experience abroad when I worked in Sonoma, California, for three months. It was a memorable time and a great learning experience. It opened my eyes to how much I still want to experience and learn. I would certainly visit more wine-producing countries to enrich myself with the wonders the world of wine has. But I'll probably return home, where my family is. And I want to plough back the knowledge and expertise I gain wherever I can.
Are you optimistic about the industry?
I am! I'm excited about the next bottle of wine I'll open. The expectation of excellence is always there and seldom disappoints.