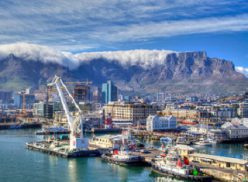 CapeWine, South Africa's biggest wine platform, will once again draw the world's attention to our wines from 12-14 September 2018 at the Cape Town International Convention Centre (CTICC). Hosted by Wines of South Africa (Wosa), this tree-day event promises the best of SA wines under one roof.
"The support we have in DHL as name partner of this flagship event highlights their commitment to the SA wine industry as a major facet of business in the Western Cape and South Africa as a whole. Their continued support of CapeWine enables us to deliver an event that is of exceptional standard, which is what our producers and industry deserve," says Wosa CEO, Siobhan Thompson.
The South African wine industry calls on its wine producers, media and buyers, both international and local, to diarise Africa's largest wine trade show now. The CapeWine 2018 website will launch soon with further information.
For more information, please contact Maryna Strachan (communications manager, Wosa) on 021-883 3860 / 084 477 4645.