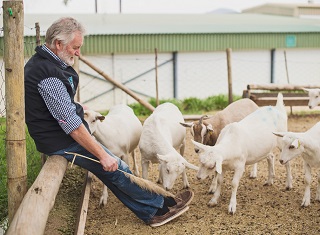 On Friday evening 10th November, Charles Back was presented with the award for 'South Africa's Farmer of the Year' at the 2017 Boer Van Die Jaar awards held in Bloemfontein.  Since 1977, Agricultural Writers SA has presented the Farmer of the Year and Agriculturalist of the Year award to various deserving farmers throughout South Africa. The prestigious award is bestowed upon someone who has proved to be a top farmer on various terrains, including the sustainable usage of available land, achieving and increasing biological productivity, social accountability, leveraging the economic viability of the farm, excellent maintenance and the management of natural resources. The award also takes into consideration the winner's capacity and capability to adjust to changes and stay on top of technological developments.
Charles has built Fairview from a family farm to a brand internationally known for its wine, cheese and tourism. His series of wines, as well as his cheeses, are awarded the top local and international awards every year. However, what truly distinguishes Charles as a farmer is his personal involvement in all his farming operations, his drive and in particular his capacity to identify new trends before it becomes mainstream. Charles has the ability to farm with innovation – whether it involves sustainable farming management, empowering employees, brand development or ever-growing visitor experiences.
When talking about his farm life, Charles always shares his tales of growing up as a real farm boy, left to his own devices most of the time, which included running around and exploring the farm. Some say nothing has changed. After all, the Back's have always been farming folk – Charles Back I came from Lithuania with a passion for farming, buying Fairview in 1937. Decades later, Charles Back II jokes saying "farming is part of my DNA". Since joining his father, Cyril Back, at the Fairview Wine Company in 1978, Charles has set about doing things differently. His first port of call was introducing Mediterranean grapes to the farm, planting the mother blocks of Viognier, Tempranillo and Petite Sirah in the Cape. He also helped introduce and grow Africa's first goats cheese company, the Fairview Cheese Company, which has gone on to become every bit as successful as the wine side of the business. The cheese factory also happens to be the first goat milk factory in South Africa. By owning all his own land and vineyards, Charles oversees every step in the value chain, allowing him to push the boundaries, be innovative, and most importantly, look after his people, which he continues to do to this day.
If you would like more information about this topic, please contact Gosia Podgorska at 021 863 2450 or email at gosia@fairview.co.za.