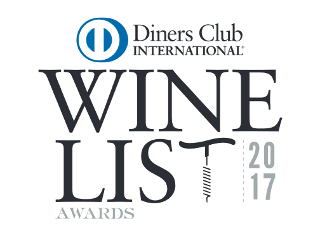 The 2017 Diners Club Winelist Awards were announced on Monday 31st July at the Beverly Hills Hotel in Umhlanga, KZN. Now in its 23rd year, the Award honours the best wine lists in the country. This year, 225 restaurants from the Western Cape, Eastern Cape, KwaZulu-Natal and Gauteng submitted menus for judging.
Wine lists are evaluated according to content, balance, suitability and presentation, and judges are all experts in the restaurant and wine business, including reviewers, members of the media, chefs and sommeliers from the South African Sommeliers Association. The judging panel was convened and headed by Platter's Guide publisher Jean-Pierre Rossouw.

"This year, we tightened the standards and set expectations higher – so kudos to the restaurants that rose to the challenge," says Rossouw. "The Diamond award is becoming a more and more prestigious achievement and we congratulate the entrants that offer diners high quality winelists."
Awards are presented in Gold, Platinum and Diamond categories. There were 13 Diamond Award winners in Gauteng, seven in KwaZulu-Natal, nine in the Western Cape, and three in Southern Cape.
View the complete list of Award winners from Diners Club (PDF).
Overall 2017 Diners Club Winelist Awards ("Best Diamonds"):
Restaurant Mosaic (Gauteng)
The Oyster Box Hotel (KZN)
Bushmans Kloof Wilderness Reserve (WC)
Henry White's Restaurant (EC)
Other 2017 Diamond Award winners were:
Gauteng:
Budmarsh
Capeesh Restaurant
DW Eleven – 13
Forti Grill & Bar
Kievits Kroon Country Estate
Priva Gastrolounge
Prosopa
Saxon Hotel Villas & Spa
Signature Restaurant – Brooklyn
Signature Restaurant – Morningside
Verdichhio
Villa Bianca
KwaZulu-Natal:
Beverly Hills Hotel
Big Easy Durban by Ernie Els
Granny Mouse Country House & Spa
Hartford House
The View Boutique Hotel & Spa
Umngazi River Bungalows & Spa
Western Cape:
Bushmans Kloof Wilderness Reserve – Best Diamond WC
Aubergine Restaurant
Bientang's Cave Restaurant
Bombay Brasserie
Bosman's Restaurant
Cavalli (EQUUS)
Ellerman House
Noop Restaurant
The Table Bay Hotel
Southern Cape:
La Cantina
Head over Hills Luxury Retreat