*When lockdown restrictions eased up in late-2020, WineLand journalists hit the road to bring you a colourful overview of South Africa's various wine routes and regions that forms part of our DISTRIKBLIK series.
The Breedekloof has always been synonymous with bulk wine. But this perception is now being turned on its head by the region's winemakers and producers, who are making top quality wines from selected vineyards in the valley. 
Few wine regions in South Africa illustrate the culture and quality of the Cape Winelands as comprehensively as the Breedekloof. It's not only the wine and the natural beauty, but also the region's most characteristic trait: its gregarious people.
When you talk to the winemakers and producers of the region, everyone agrees: Here we fight together for each other, not against each other. Whether it is a bag of yeast or even an empty tank or two to help with wine storage – everyone lends a hand.
It is this camaraderie and willingness to learn from one another that make the region so exceptional.
When the Breedekloof was officially declared a wine region in 2002, it was the second smallest of all 10 Vinpro's administrative wine districts with 9 000 ha of vineyards under production. Today it is the country's fifth largest region, boasting 12 604 ha under lush green vines.
The region obtained its official Wine of Origin status in 2006, and currently has 28 wine cellars (11 producer cellars and 27 private cellars). Breedekloof represents 13.55% of South Africa's vineyard plantings and produces 24.3% of our Chenin Blanc grapes.
Pieter Carstens, cellar master at Slanghoek Cellar, gives some perspective on these statistics: "It's no secret. The Breedekloof is still considered the bulk basket of the wine industry."
Here in the Breedekloof mass production is common and the majority of Distell and KWV's rebate wine also come from this region.
Pieter is not apologetic about the fact that the Breedekloof is a high-yielding region. He says thanks to initiatives like BreedeKloofMakers (more about that later in the article), wine critics are now also starting to take note and give the region's Chenin Blanc the attention it deserves.
These days the Breedekloof maintains a healthy balance between bulk production and premium quality wines. Despite it high-yield status, it is one of the most sustainable wine regions in South Africa.
Between the endless rows of mass-production vineyards, the region also has a treasure chest of old vineyard blocks with colourful stories, and even selected terroir sites capable of showing the world what excellence this fertile valley can deliver.
Breedekloof: Emphasis on climate
The Breedekloof is marked by a combination of terroir. The region is demarcated by two mountain ranges, and situated between the Atlantic Ocean and the Klein Karoo, which ensures a wide variety of microclimates. "This is precisely what makes us so unique," says Willem (WS) Visagie, winemaker at Daschbosch.
Daschbosch is a premium label from uniWines – a large producer cellar with approximately 3 000 ha vines under cultivation. Willem says the region's climate lends a distinctive character to the wines. There is also a great variety of soil types ranging from deep, heavy black soils to sandy shale in old river beds.
"The diversity of soil types makes it possible to produce a wide quality spectrum," says Willem. The valley is located in a winter rainfall region and receives about 700 mm annually, which classifies it as a high rainfall region in South Africa.
UniWines and Daschbosch are examples of a growing trend among traditional producer cellars to select prized old vineyard blocks for their premium brands.
Willem and Nicholas Bruyns, viticulturist at Daschbosch, proudly showed off the site for Daschbosch's award-winning Avon Clairette Blanche. The grapes originate from a small block of Clairette Blanche bush vines planted in the Breede River Valley in 1977.
Only 900 kg grapes were harvested from this 41-year-old vineyard in 2018, and the wine is made by fermenting and maturing the grapes in a single fourth-fill barrel.
In the past producers would not have hesitated to uproot old vineyards with a low yield. Willem and Nicholas had to work hard to convince producers that old vines hold value.
"It's hard work," says Willem. "Not everyone is sentimental about old vines." But given the clearly apparent quality of the wine and the premium component, there is increasing buy-in from producers. "There is definitely an opportunity cost that justifies low yield."
Chenin in the spotlight
Attie Louw, owner and winemaker of Opstal Estate and restaurant in the Slanghoek Valley, says the greatest attribute of the region is its people and their willingness to work together.
"We produce what the market asks for. We have many young producers and winemakers with outstanding credentials and training. Another asset is that most people here are mainly wine grape farmers. That's their speciality."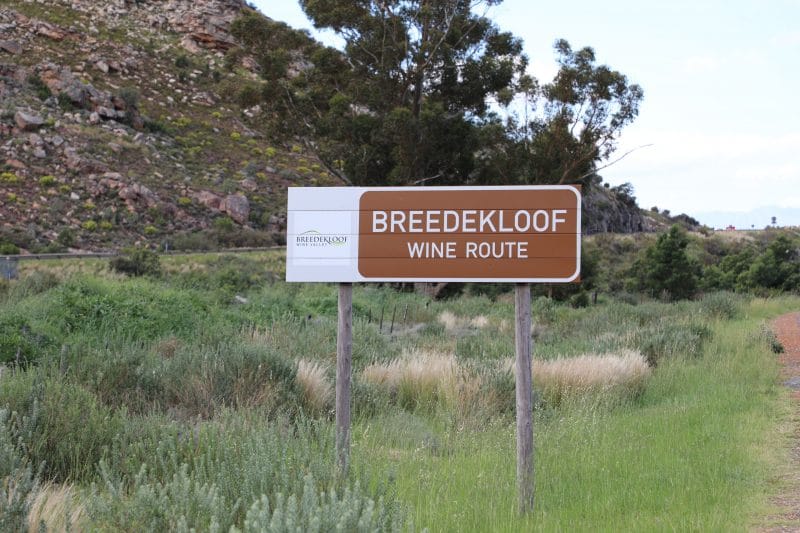 Faith, conviction and experience led to Attie's pioneering role in the BreedeKloofMakers initiative. This group of like-minded winemakers decided that they wanted to take the region's Chenin Blanc to the world stage. They are committed to emphasising the quality of the Breedekloof's Chenin and identifying the diverse terroir sites.
"My forefathers farmed with Chenin Blanc in this region since 1847," says Attie. "The climate and soils are ideal, and one of the most important aspects here is that Chenin Blanc develops slowly on the vine, which leads to more complexity in the wines. South Africa's leading brands consistently buy wine from the Breedekloof because our price-to-quality ratio is so favourable."
Ivy du Toit, owner-winemaker of Jason's Hill, says the region lends itself to greater cooperation in terms of collective marketing and production of unique wine styles.
"The BreedeKloofMakers initiative has allowed us to benchmark," she says. "The fact that a group of winemakers are willing to play open cards with their wines, has definitely raised the standard of wine quality."
Attie says he no longer tries to convince people that high yields and quality are possible in the same vineyard. Instead he welcomes the fact that we Opstal has vineyards on the farm like Colombar and Chenin Blanc that can help him achieve good tonnage.
"We have approximately 50 families that are dependent on our business model. Our region has water. We're able to irrigate and harvest good yields. We have good producers and winemakers who are excellent at handling mass volumes. And then we also have selected blocks on our farms that we farm exclusively for excellence and quality."
Attie and his fellow winemakers have already succeeded in changing perceptions of the Breedekloof as a wine region for bulk production only, and it is now seen as a region full of innovation and adventure.
"The aim is to raise awareness of this wonderful wine region, which will benefit every grape producer, winemaker, vineyard worker and resident of the valley."
Challenges and mind-shifts
Despite the resilience of the region, it wasn't spared the turbulent effect of Covid-19. "Innovation has always been part of our values, but the pandemic has really forced us to think differently," says Johan Linde, production manager at Botha Cellar.
Lockdown's arrival coincided with upgrades to the cellar and tasting room renovation.
Winemaker Annamarie van Niekerk says Covid-19 turned their approach to customer service on its ear. "Because people weren't able to visit our new tasting facility, we wanted to bring the ;Botha experience' to them."
This led to Botha to launch the Experience-in-a-Box initiative which included four wines, four bags of cookies and free delivery. After the hard lockdown, the cellar even introduced a tasting experience for children with three types of milkshake and biscuits for toddlers.
Annamarie says the lockdown was a big adjustment for the business. "The way we sell wine has changed and this necessitated a total mindshift." In the past Botha Cellar sold most of its wines at the tasting room.
"But during the pandemic we've had no other option but to focus on avenues such as supermarket sales and e-commerce, which have increased significantly, says Annamarie."
Botha Cellar is widely known for bulk wine, but is now also experimenting with different premium products like the Amyah Chenin Blanc and Chardonnay, which have both already won sought-after awards and cost about R200 per bottle.
"Whereas bulk wine enjoyed preference in the past, we now follow much stricter and more focused quality measures with regard to terrain, grape cultivar selection, viticultural practices and crop control in order to establish market-oriented production," says Johan.
Kirabo Private Cellar is another boutique red wine cellar near Rawsonville with a penchant for innovation. Sixth-generation owners, the Le Roux family, runs a small, yet lucrative operation and there's a great story behind the origins of the farm.
Kirabo is one of the few cellar in the Western Cape who specialise in Petit Verdot, their flagship wine. But the cellar also offers wine tastings, interesting cupcake-and-wine pairings, Broers Brew craft beer (launched by siblings Andries 'Stompie' and Ronald Le Roux), a wedding venue, hiking trail and self-sustainable 'fruit forest'.
"We've always been in the mindset of adapting. We're small enough to be able to adjust easily and we're constantly looking at conjuring up new ideas and expanding our offering," says Andries.
Move to premium
At Merwida, where almost 90% of the wine is exported in bulk, the focus has now shifted to their premium bottled wines. The specialised range of premium wines in their stable include a Chenin Blanc, Cuvée Brut, Cabernet and Barbera.
Lieza van der Merwe, previously assistant winemaker and now marketer at Merwida, is excited about their new tasting room. "There is a need to attract visitors to the region, and we believe Huis te Merwede will kick-start the process."
Although the volume-driven label still hangs around the Breedekloof winemakers' necks, there is undoubtably a high level of innovation taking place here.
Merwida owner Schalk van der Merwe attributes it to the region's exposure to exports. "There is a lot of discussion around how to adapt the composition of your product," he says. "To be a player in the premium class, we have to plant products that will sell. And we've been on that path for a while now."
"It's not just Chenin and Colombar," Lieza interrupts her father. "We've also had success with unusual grape varieties like Barbera."
She believes it is the recognition of international wine critics like Tim Atkin and Greg Sherwood, as well as initiatives like BreedeKloofMakers, that have given the region the confidence to experiment with single-varietal premium wines.
Wine tourism blossoming
Transforming the Breedekloof into a tourism-centred destination was initially slow-going. "Most Capetonians think the province ends at the Huguenot Tunnel," quips a jolly bar goer at a popular watering hole near Rawsonville. "After that, the next stop is Johannesburg," he jokingly adds.
There might be some truth to his remark though. In the past Breedekloof and its winemakers were satisfied with their "fly-under-the-radar" status and to be the underdog of the wine industry where a feeling of authenticity and true quality still mean something.
But today the Breedekloof is not only an affordable getaway where you can taste quality wines – a steady stream of visitors flock to the area every year to enjoy the beautiful scenery, also on their mountain bikes.
The Breedekloof doesn't only welcome its own, residents' doors are wide open for visitors. You immediately feel welcome because the locals are friendly and completely unpretentious.
The authenticity of the region stands out. "Visitors are now not only coming for the wine," says Schalk. " They come for the whole experience. The wine has almost become a side issue."
"Identity is important," says Attie. Apart from making his award-winning wines, he also likes to dabble in the tourism space. Hidden in the picturesque Slanghoek Valley, Opstal Stay offers an ideal breakaway to the Boland mountains.
Essentially, the region is the home of Chenin Blanc. The producers have been cultivating it for generations. It is a grape they know and understand. And if they continue with their role as leaders in the field of Chenin Blanc production, it will certainly change perceptions of the area.
"The whole South African industry produces Chenin Blanc, but the Breedekloof has really found a way to make it work for them," concludes Ivy.
Caption: Opstal Stay offers travellers a luxurious-yet-affordable breakaway to the Boland Mountains.