Nestled in the picturesque foothills of the Jonkershoek Valley, the iconic Lanzerac in Stellenbosch is one of the region's oldest and most opulent wine estates. Now, with its Winter Escape package, even ordinary folk like us (the not-so-rich-and-famous) can get a taste of what real luxury living is all about. By Anton Pretorius.
Time away as a couple is not always easy to come by once you have kids. With my wife (Niecole) nearly 24 weeks pregnant, we decided to carve out some time together to reconnect before the little one arrives. A 'baby-moon' if you will …
So with that, we were cordially invited to enjoy a one-night stay at the five-star Lanzerac Hotel & Spa as part of its unique Gourmet Food and Wine Winter Escape package. We quickly stuffed an overnight bag, hopped into the car and sped off towards the 'grand old lady' of Stellenbosch.
As we drove up the long, tree-lined driveway into Lanzerac Wine Estate, I knew that the next 24 hours were going to be something special…
The timing was perfect. The weather conditions during our weekend visit (13-14 April) proved to be rather chilly and rainy. There's nothing quite like the peace and beauty of the Cape Winelands in winter, perfect for cozy snuggles around the fireplace or spending your day lounging at the spa.
For only R7 450 per couple per night (or optional two-night stay for R12 500 per couple), Lanzerac's Winter Escape package offer unbeatable value for money, especially if you're looking to splash out on a romantic and relaxing weekend for you and your partner.
Allow me to explain why …
Swanky digs
First off, the package includes a one-night stay in one of Lanzerac's rooms (classic, luxury, junior suite or suite) with the possibility of a complimentary upgrade to the best available room type at the time of booking. The junior suite is not only spacious, but lavish in every sense of the word.
I've never experienced opulence quite like this. My wife and I got to stay in one of the estate's brand-new refurbished rooms. Spacious, cozy and with a lovely classic feel to it (mixture of heritage and old world charm).
The roomy bathroom (with underfloor heating) was the real highlight with its free-standing bathtub, gigantic shower area and bidet (if you're feeling particularly dirty …).
The hotel has fifty-three en-suite rooms that each have their own private patio overlooking gardens, vineyards and the majestic mountains. The rooms are fully equipped with a king-sized bed, full DSTV bouquet and a select mini-bar replenished once daily (with coffee, cold drinks and chocolates) including a bottle or two of Lanzerac's premium wine range.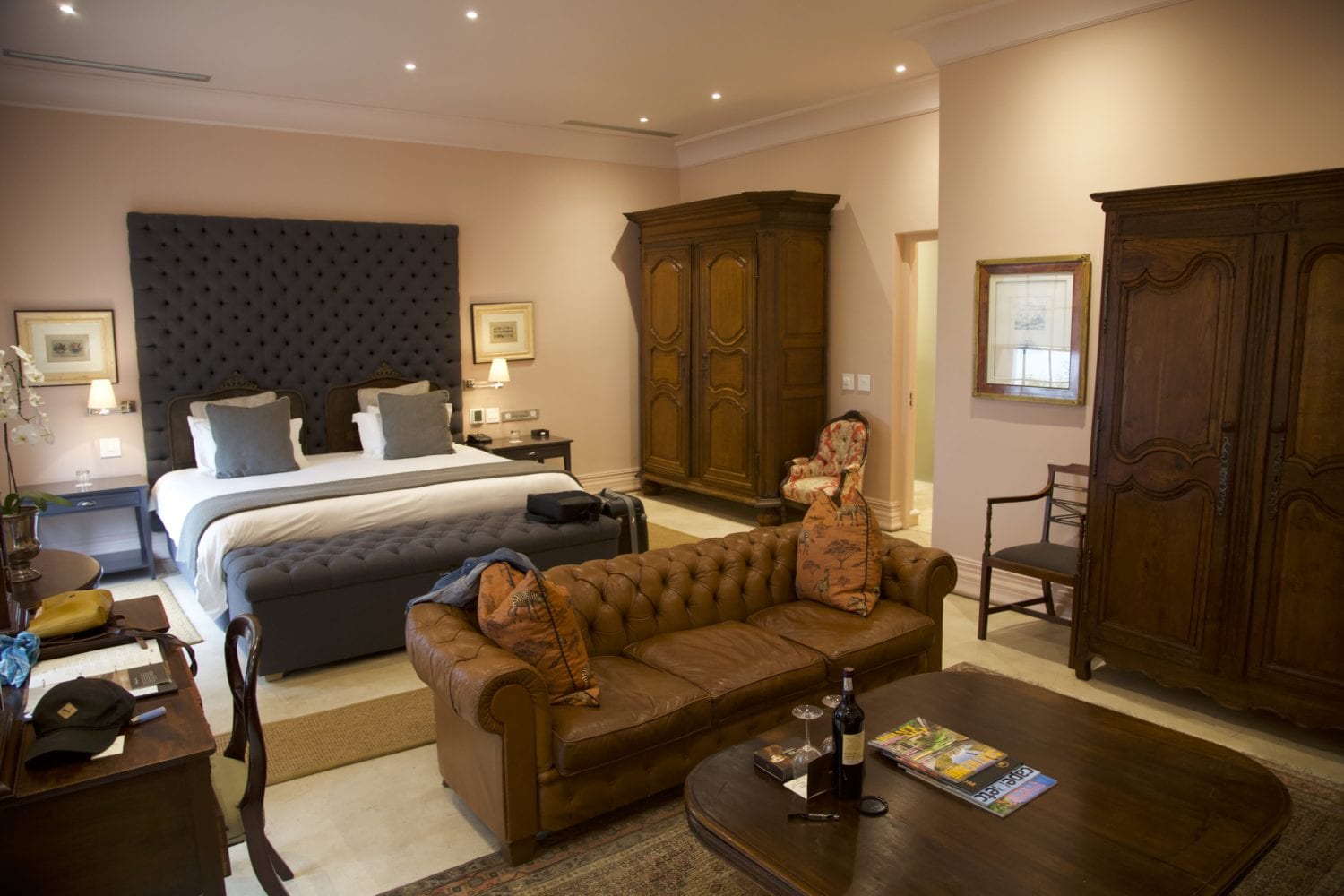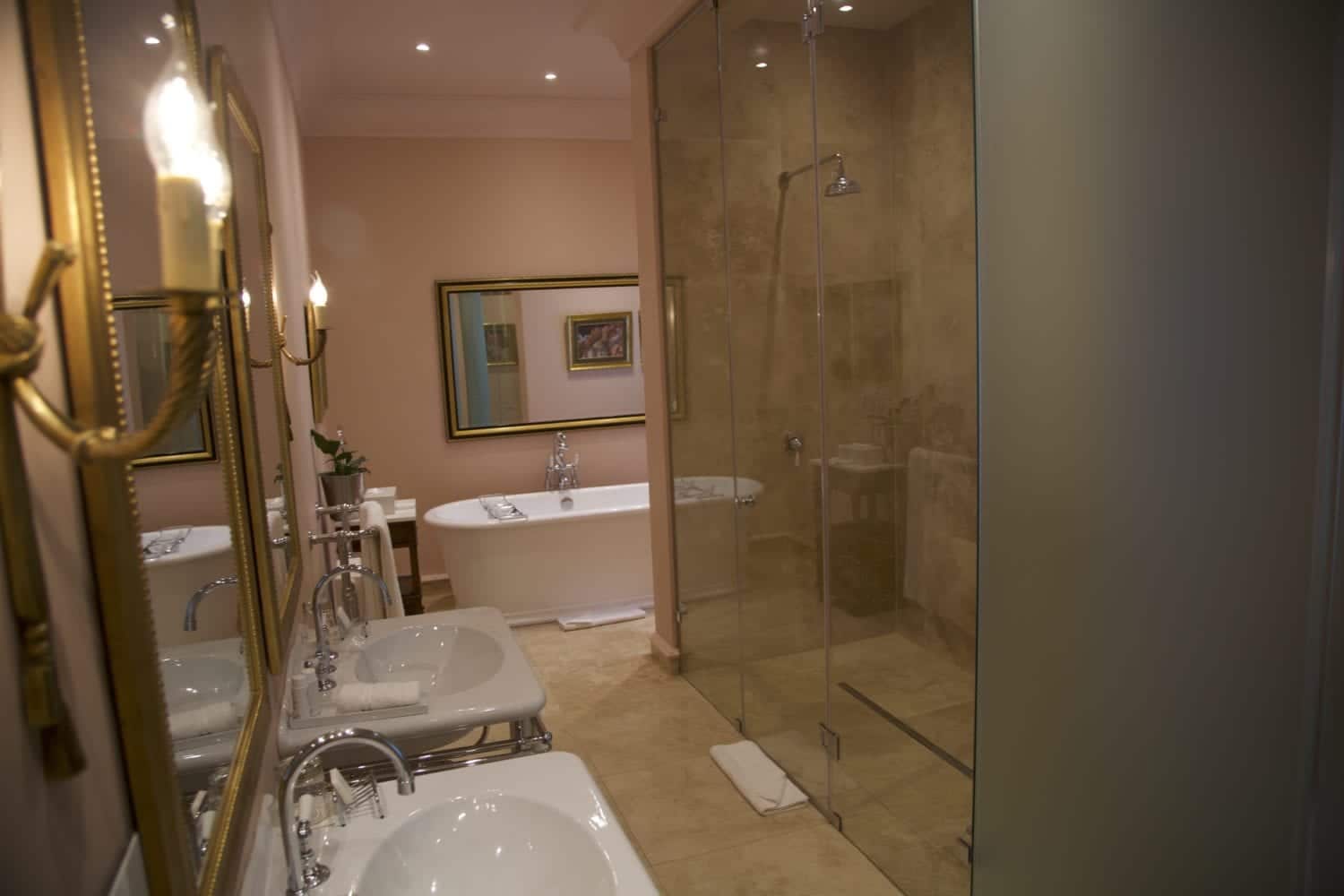 Find your 'inner zen' at the spa
Lanzerac's winter package also includes full use of the spa's hydro facilities and a 30-minute AromaVine treatment back massage. Tranquility befalls you upon entrance where friendly staff hand you a complimentary glass of MCC and lead you to the change room – where your clothes and shoes are swapped for soft robes and slippers.
You're immediately greeted by an azure indoor heated swimming pool and a bubbling jacuzzi. Spa-goers can either enjoy the comforts of a sauna, steam room, experience shower, mist room, seven therapy rooms (for a full range of treatments) and a fully-equipped gym. A day packed with pampering awaited us and we couldn't wait to get stuck in.
My wife swapped her massage for a special 'pregnancy massage' which was done by the very professional and attentive staff using specific pre-natal techniques to help increase circulation, alleviate tired muscles and relieve fatigue. Afterwards, Niecole was full of praise for the session, saying the 'massage' was exactly what her pregnant body needed.
From the comfort of our lounge chair, we watched as the rain drizzled down on the lush vineyards and towering Stellenbosch mountains through the spa's large sash window. With calming, pan flute music playing gently in the background and sipping on health smoothies, we were hard-pressed to imagine being anywhere else BUT at the Lanzerac spa.
Historic cellar tour and sublime wine tasting
The Winter Escape package also allows guests a tour down into the estate's 300-year old working cellar as well as a tasting experience of its exquisite wines.
Lanzerac has developed a legacy of producing wines of exceptional quality and the property itself has only matured in sophistication. The tasting room is a haven for wine lovers, a relaxed space where you can sample of the estate's award-winning wines – perhaps huddled near the roaring fire during winter or out on the scenic veranda in the warmer months.
For white wine lovers, the Lanzerac Chardonnay 2018 (R135) is an absolute must. If you're feeling a little more adventurous, try Lanzerac's Mrs. English Chardonnay 2017 (R495). Red wine enthusiasts will enjoy the estate's flagship Merlot and Pinotage 2018 vintages.
The cellar tour dwells into the estate's legacy, dating back to 1692 when the farm was first named 'Schoongezicht'. In 1920, Lanzerac really came into its own thanks to the influential owner Mrs. English who renamed the estate to Lanzerac, rumored to be after a French general and her close acquaintance, Charles Lanzerac (who commanded the French Firth Army during WWI).
Guests are led down the stairs and into the heart of Lanzerac's maturation cellar, surrounded by a sea of red wine barrels and the aroma of wine in various staged of ageing. The tour ends in the magnificent and modern fermentation cellar where the basics of wine production are explained, giving a glimpse of what it takes to get the liquid into the bottle.
The cellar also recognises the late Prof Abraham Izak Perold, South Africa's 'Father of Pinotage'. Lanzerac proudly claims to be the first estate in the world to bottle this unique South Africa cultivar – releasing the first bottle of Pinotage in 1961. Previously, Pinotage was either used in blends or simply left in the barrel.
Interestingly, every grape on Lanzerac is handpicked and bottled on the estate. The wines are an immense source of pride for everyone involved.
Culinary cuisine
If you're like me who is in a constant state of hunger, you'd appreciate the Winter Escape package's buffet breakfast and classic, contemporary evening four-course meal at the highly-rated Manor Kitchen.
Diners will get a glimpse of the creativity that goes into preparing these appetising meals through the large-scale window that peers in on the kitchen's operations.
For starters, Niecole indulged in the confit duck leg salad made with whipped Dijon mousse, pickled onion, shimeji mushrooms and herbs (R90) while I opted for the herb and citrus seared tuna, made with nasturtium sauce, pickled radish, bloody Mary, avocado and rye (R110).
For mains, Niecole went for the oven roast pork belly with creamed potato, pickled beets, mustard sauce, crackling and caramelised onion puree (R195). My main course was the blackened sirloin of beef (boneless oxtail) with promme anna, burnt cauliflower and truffle emulsion (R210).
Both sets of meals proved to be tasty, rustic and prepared with a creative flair that almost makes you feel bad to eat such a work of art (well, almost…)
For dessert, I had the Tonka crème brûlée (R80) and Niecole went for the Cape Malva pudding (R75).
To conclude your evening, guests are also encouraged to visit the Craven Lounge next door (named after Springbok rugby legend Danie Craven). Complete with a roaring fire place, comfortable seating, plush rugs, an extensive selection of the finest local and international spirits and an adornment of interesting memorabilia, it's the perfect spot to enjoy a well-deserved night cap and reflect on the day's activities.
Hard to say goodbye…
Who says luxury living like this is reserved solely for tourists and international visitors? Now you, the average South African, can enjoy all the relaxing amenities, mouth-watering wine and foods and impressive service with Lanzerac's Winter Escape package that runs from April to September.
Come and enjoy this beautiful historical estate surrounded by vineyards, oak trees and lush gardens with amazing views of the mountains. Our one-night stay was way to too short and it's hard adjusting back to normal life after an experiencing only a sliver of Lanzerac's five-star living.
But take our word for it, if you're looking for a luxurious winelands getaway and fabulous hospitality then be sure to consider Lanzerac. Go on, treat yo'self!
Visit www.lanzerac.co.za for more information