Introduction
Echalas, also known as 'staked vines' or 'stok-by-paaltjie', is mostly used in the wine producing regions of Côte-Rôtie in France, Priorat in Spain and Mösel in Germany. It is not exactly clear when the first echalas vineyard was planted in South Africa. Currently, the total echalas plantings in South Africa amount to approximately 30 hectares, according to Sawis statistics (February 2016).
What does echalas look like?
A bush vine is developed next to a pole. The crown of the vine is developed slightly differently to that of a bush vine, with fewer bearers, and the bearers are positioned closer together. The shoots are then tied to the pole in summer. No wires are used.
The architecture of the grapevine allows the grapes to ripen in a microclimate that is well-aerated. Filtered sunlight, not direct sunlight, can penetrate the canopy from all directions.
In which circumstances is echalas a good consideration?
In very windy areas, grapevines are more protected against wind damage when echalas is used. Without the presence of wires which obstruct movement of the shoots, wind can pass through the canopy without causing damage to shoots and leaves.
It is planted especially against very steep slopes where implements cannot be used and where the vineyard has to be cultivated manually.
Some trellis systems are challenging to implement on steep slopes. With echalas, the available soil surface area against slopes is used optimally.
The input cost for echalas is considerably higher than for conventional trellis systems. It is uneconomical to use this system where vineyards can be cultivated mechanically, unless the quality aspect is pursued and the wine objective justifies the additional input costs.
Echalas can be planted in normal row widths where tractors are able to move between each row. However, it may also be planted in blocks with narrowly spaced rows, where space is created every seventh or ninth row for a tractor path in order to spray. This makes it possible to plant more grapevines per hectare. It also limits soil compaction between rows, which means there is more soil volume available for roots to develop optimally.
In instances where grapevines have naturally limited vigour, echalas is unnecessary. Especially where grapevines can for example be easily shaped into a bush vine, where shoot growth stops naturally at 1 m shoot length and where a topping action is unnecessary.
High density plantings
Echalas is not necessarily planted at high density, although it is often the case.
High density planting creates competition between grapevines, especially in poorer soils. This results in lower yields per grapevine, as well as smaller bunches and berries, which leads to increased concentration and better wine quality.
The higher number of grapevines per hectare compensates to a certain extent for the smaller yield per grapevine.
Bear in mind that high density plantings have a much higher water requirement; this may be a limitation during hotter, drier seasons.
Which cultivars are less suited to echalas?
Beware of varietals that tend to have 'greener' flavours, such as Bordeaux varietals. In cultivars with an upright growth habit, it is more difficult to shape the crown of the vine. Canopy management is therefore crucial to ensure even ripening and avoid green flavours.
Cultivars with big bunches, such as Grenache noir, do not fare well on
Which cultivars are suitable for echalas?
Echalas is particularly suited to cultivars with a sprawling growth habit, where developing them as bush vines may be more challenging, such as Syrah and Viognier.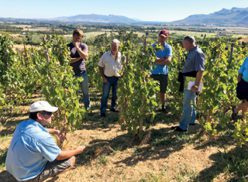 At the IGWS echalas/'stok-by-paaltjie' workshop, Chris Loubser, manager at L'Ormarins, explains how the crown of the grapevine is shaped during pruning. (Photo: Lucinda Heyns.)
– If you would like to receive viticulture related information from the IGWS or be informed about workshops such as these, contact Lucinda Heyns at leheyns@sun.ac.za.