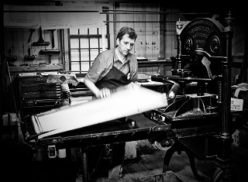 The labelling industry is probably one of the least understood, yet most complex industries directly related to brand marketing and product packaging. These two should never be spoken of apart because of the importance that the one has in terms of working with the other.  So, with this in mind, let's delve into the heartbeat of what's happening in the industry at this time.
When it comes a wine label, the game has become a fierce one. Fashion and trends have an enormous impact on the consumer and producers would be ignorant not to acknowledge this. We've seen this year how bolder, white labels with the "less is more" idea has dominated the catwalk and more expressive and artistically creative designs have claimed the front row seats. However, it's not as if the old-familiar classics are not doing as well as they did, but the lesson here is that if you don't already have a very established reputation or following, your old-fashioned or unchanged label may not be able to keep up with the forerunners.
Technology on the other hand has also burst out of the cages and evolved in such a way that producers now have almost endless options to choose from! These evolutions have allowed brands to be far more innovative than ever before, especially in terms of style and design as well as paper and materials. Massive innovations have come into play in both conventional and digital printing technology where things like pre- and post-press technology have advanced enormously, benefiting both the producer and consumer in ways we've never thought possible before.
The advances in digitised pre-press, digital printing technology, flexo and hybrid presses, colour control and endless imposing finishing solutions have brought about major change in terms of technical innovation and supplier capabilities over the last few years. And although this happened in front of our very eyes, the snowball effect was certainly very present.
There are of course the culprits that not only cause this scale of technological advancement, but the trends of businesses are likely to keep it going too. If you consider how many more variations are required, the influx of complex and competitive designs, how market times have decreased (add to that the run lengths too), the demand for environmentally friendly options, traceability, globalisation and transparency, techno-savvy trends and the list goes on – then there's no doubt that printing and packaging suppliers will have to up their game considerably too.
But the benefit to the customer (in this case the producer) most likely tips the scale in their favour. These demands in the industry also translate into greater competition amongst the printing and labelling suppliers, which ultimately means that the quality of automated services and production has to improve.
What they said would happen…
It was predicted by Thomas Hagmaier (President at Finat) that 2017 would see big printing companies shift markets and smaller ones either dissolve, get bought out by the bigger ones or (if they can) become specialised. This has happened. He also mentioned that skilled printers are becoming a scarcity and that the average age of good printers is now over 50. (based on European statistics). Although the new generation of machines require far less staffing, the management by a specialist cannot yet be replaced by a robot or software, and he will have to hang around.
Mr Hagmaier went on to say that client relations will become more web-based and less personal – which they have, but is this the right way to go? Personal customer communication and attention to needs will always trump another offer. The reassurance, understanding and confirmations from an actual person will continue to conclude more business deals in time to come than the cold and clinical electronic attendants – which brings about the question, which supplier will give you this preferred service – the big guys with gazillions of clients or the smaller companies who have managed to carry themselves through transition to specialising?
The knock-on effect…
Let's face it, technology is rapidly changing the way consumers shop and the internet has created endless ways for consumers to compare, choose and process their purchase. Google has even come up with a term for this, called "zero moment of truth" which is ultimately the point of the buying process where the consumer finds a product before the seller even knows they exist! Can you just imagine how this impacts competition? Brands therefore need to stand up and stand out, the retail arena has become a hot one and this will always be the determining factor of their bottom line.
Therefore the advice to packaging and labelling companies who hope to ride out this wave of contest would ideally have to up their game in terms of service provision, product advancement, turn-around times as well as client communication and relationship techniques.
We can already see how some suppliers have stepped up to the plate in ensuring that they can offer better packaging and product personalisation, premiumisation and customisation.  Brands need to add value to their offerings to establish a sense of differentiation and therefore the suppliers need to stay "connected" to their customers in order to walk this process with them.
What's that on the label?
Besides the general flow in advancement of design and creativity, things like smart packaging that incorporate digital marketing campaigns, information access and identifying qualities are fast becoming a thing of the norm, proving yet another tactic in advanced marketing techniques. Again, this is now an important angle for suppliers to understand in order to not only better inform their customers, but to stay on board the fast train of service provision advancement.
In conclusion, the message is quite clear. This industry is changing rapidly with the times, allowing tremendous opportunities for both suppliers and customers alike. Opportunities are significant and past limitations are now a possibility – therefore all you need is to make the right supplier-customer connections.