Things just got more exciting and creative for winemakers with the launch of three new wine yeast strains from Fermentis, including SafŒno™ SH 12, an easy-to-use, active dry yeast ideal for Sauvignon Blanc.
For a long time, yeast was considered a commodity, used for simply facilitating fermentation and safeguarding yields. Today, wine producers understand that yeast is also a tool for enhancing the character of their wine. It can influence the elegance of aromas, the prominence of flavours, and a wine's distinct final notes.
Fermentis is known worldwide for offering yeast strains designed to reveal the highest potential of specific wine varieties. Their fermentation solutions are among the most reliable and easy to use, giving winemakers greater choice, confidence and control to achieve their goals. Now, with the release of three brand new strains, Fermentis continues to expand the choices available to winemakers, allowing even greater flexibility and creativity.
SafŒno™ SH 12
This new, active dry yeast has been specifically selected for its ability to reveal the intense, harmonious aromatic potential of thiol type cultivars, such as Sauvignon Blanc, Colombard, Gros and Petit Manseng, Syrah, and Grenache. It achieves this by promoting the release of fruity and green thiol compounds and bringing citrus and tropical fruit notes to wines. This aromatic balance is supported by high ethyl esters production, which enhances complex fruity notes (particularly red fruits on rosés and white fruits on whites) not masked by amylic flavours. Its ability to maintain full acidity generates a crisp freshness and a lasting aromatic presence for a well-balanced, mouthfeel and a finish of fresh fruit. Fermentis enthusiastically recommends the use of its new SafŒno™ SH 12 for fresh, fruity white and rosé wines that are rich and complex in thiols.  SafŒno™ SH 12 originates from a selection program oriented towards revealing thiol's aromatic compounds, which was carried out in partnership with the Institut Français de la Vigne et du Vin (IFV). Dosage: Still white and rosé wines: 20g/hl Ingredients: Yeast (Saccharomyces cerevisiae), Emulsifier (sorbitan monostearate).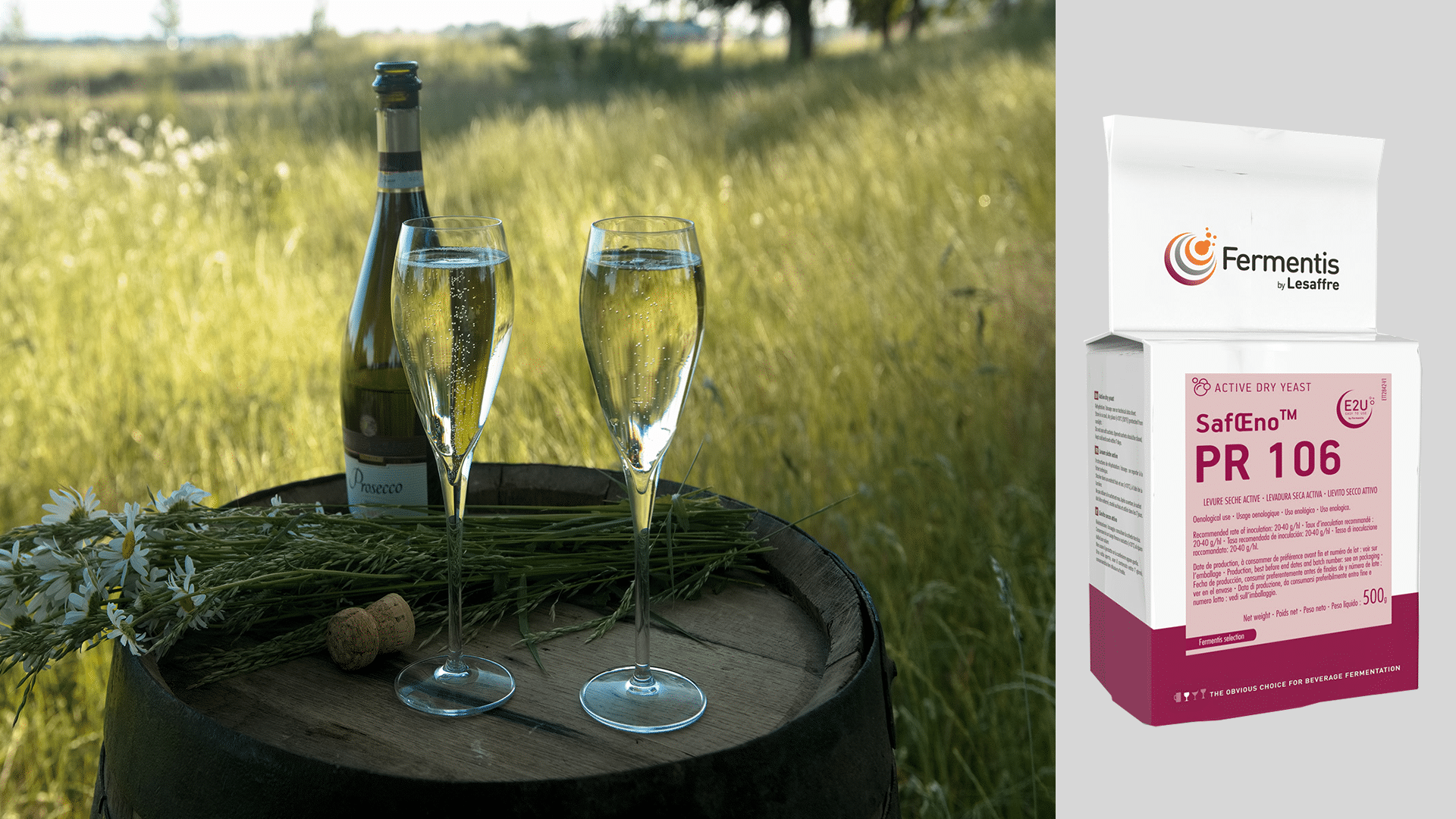 SafŒno™ PR 106
Great news for winemakers creating premium, closed-tank, sparkling wines – especially Prosecco! New SafŒno™ PR 106 was launched with you in mind. This active dry yeast has an intense fruity and floral aromatic profile, combining acidity and sweetness while reducing sparkling base wine's eventual defects – vegetal and bitter notes. Its orientation towards fruity ethyl esters brings complexity to the wine. Fermentis strongly recommends SafŒno™ PR 106 for premium Prosecco bases.
SafŒno™ PR 106 also promotes the release of terpenes and is therefore suitable for fresh and floral terpenic varieties like Muscat. Its balance between amylic and fruity notes is also well adapted to Chardonnay bases.
Ingredients: Yeast (Saccharomyces cerevisiae), Emulsifier (sorbitan monostearate). Dosage: Still white wines: 20g/hl | Prise de mousse: 15 to 40g/hl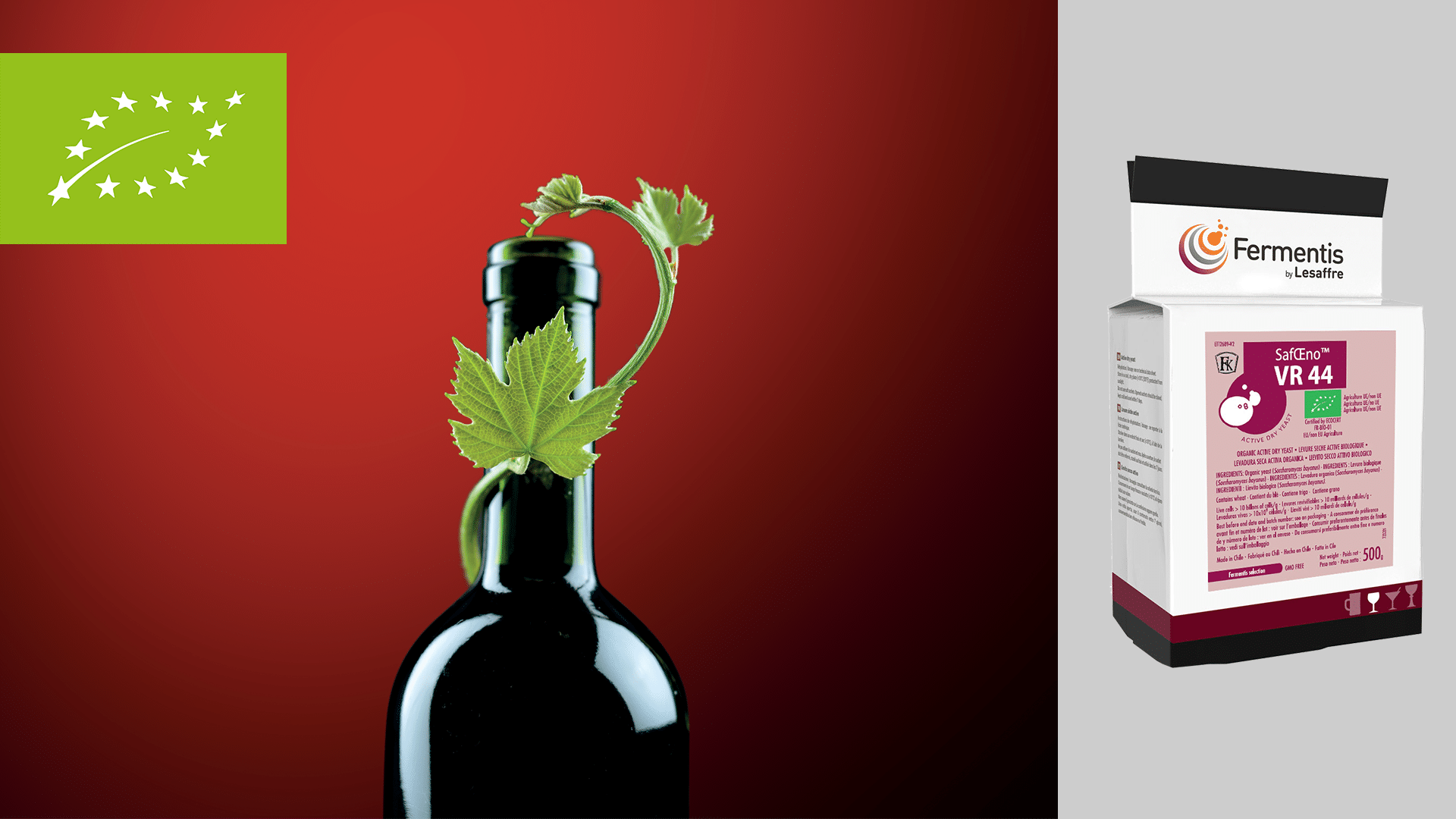 SafŒno™ VR 44 (organic)
Versatile and hearty, SafŒno™ VR 44 is an active dry yeast appropriate for a wide variety of  applications, even in difficult winemaking conditions. Resistant, robust and with low dependence on nitrogen, this strain allows winemakers to decrease the use of inputs. That is one reason it is particularly adapted to the production of organic wines. Given its fermentations characteristics, SafŒno™ VR 44 is recommended by Fermentis for the production of prestigious organic red wines – fine, neat and with terroir characteristics, such as Cabernet Sauvignon, Merlot, Carménère, Barbera, Sangiovese and Teroldego.
Dosage: Still white & red wines: 20 to 40 g/hl, higher dosage will ensure a better start and a faster fermentation. Fermentation restart (specific preparation protocol upon request): 40 g/hl | Prise de mousse (specific preparation protocol upon request): 15 to 40 g/hl SafŒno™ VR 44 is certified organic by ECOCERT FR-BIO-01 according to European regulations.
Visit https://fermentis.com/en/ for more information.