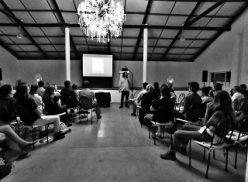 The recent #Newworldwine session saw the revival of Rootstock, an initiative from WineLand. Rootstock is a collection of young people from the South African wine industry (collectively called the rootstock) who gather from time to time to discuss topics of interest. During these fun and interactive events an emphasis is put on innovation, leadership and creativity.
The latest Rootstock held at Bernheim Wines was well received and featured two very interesting speakers. One of the speakers at the session, Eduardo Brethauer, came all the way from Chile. He is a well-known wine writer and was also one of three international judges at this year's Old Mutual Trophy Wine Show. Eduardo's detailed and humorous presentation reflected the very relaxed (some might call it laid back) style of winemaking and life in general in Chile. Eduardo showed some spectacular vineyard sites, antiquated but still effective vineyard practices (including vineyard work that is performed from a small boat in the vineyards) and the proud nature of Chilean winemakers.
Callan Williams of The Garajeest gave some insights into the history and status of Old World wines and New Word wines. She also showed how her vineyard sites in Elgin and winemaking philosophy speaks to the #Newworldwine theme. Keep watching this young and energetic winemaker, she's sure to make a very big splash in the wine industry!
The topic selection for the session was right on the spot, judging by the healthy debate and many questions that followed each speaker's session. Some questions were more difficult than others, but in the end it's safe to say that everybody learned something. The event was rounded off by tasty snacks, good wine and conversations.
Going forward, a Rootstock forum will be held quarterly. Watch the Rootstock Facebook site and also the Rootstock Twitter account for more information and news about the next event.