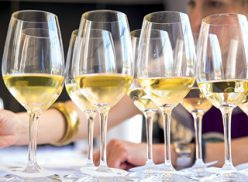 Judging by the results of this year's Old Mutual Trophy Wine Show the 2015 vintage was a good one. More gold medals were awarded this year than last, bearing testimony to the quality of the vintage, the dynamic approach of the judging panel and the industry's move into an exciting new space.
Leading wine judges gathered at Grande Roche in Paarl for the 16th edition of the Old Mutual Trophy Wine Show (OMTWS), where the ultra-premium end of the Cape wine industry's offerings are judged according to the highest international standards. The judges tasted 960 entries from 198 producers and awarded 460 bronze, 135 silver and 41 gold medals.
"The growing diversity of entries is evidence of how the industry has evolved since the turn of the century, but also the confidence with which the industry has imbued the show since 2002," says Michael Fridjhon, competition convenor and chairperson since its inception.
"When times are tough – wine producers have been through a particularly tumultuous time over the past six months yet entries have remained at the same levels as 10 years ago – producers clearly recognise that the sounding board provided by the competition is an essential rather than discretionary investment. I'm particularly happy with the diversity of skill sets represented on the 2017 judging panels. Strong, experienced judges who've worked together in the past and understand the dynamic on which a consensus-based competition operates are in a position to make an invaluable contribution, not only to the show, but to the South African wine industry."
Three-person tasting panels, each with at least one experienced overseas expert, have been a feature of the competition since its inception. This year's international judges were Neil Beckett (UK), member of the Grand Jury Européen and The World of Fine Wine editor; Eduardo Brethauer (Chile), independent wine writer, columnist, publisher and Vitis Magazine wine editor; and Heidi Mäkinen (UK), Finnish-born senior sommelier at 67 Pall Mall in London. The South African panel comprised Narina Cloete, winemaker at Blaauwklippen Agricultural Estate; Heidi Duminy CWM, national trade marketing manager for Meridian Wine Merchants; Christian Eedes, winemag.co.za co-owner and editor; Nkulu Mkhwanazi, Durban-based wine educator; James Pietersen, Wine Cellar SA portfolio manager; and François Rautenbach, head of the Singita Premier Wine Direct programme for Singita Game Reserves.
This year's winning wines came from across the country's wine-producing regions. They were characterised by a subtler approach in using wood, purity of fruit and a clear message from young wines. Star categories were Chardonnay, wooded Sauvignon, Cabernet Sauvignon and MCC. Chenin Blanc yielded slightly fewer golds than last year, while Pinotage producers were handsomely rewarded.
"I was especially amazed by the new Coastal Chardonnays," says first-time judge and visitor to South Africa Eduardo Brethauer. "The sparkling and sweet wines also impressed me immensely. South African wines always surprise me.
"Three things to note however: Firstly, show the fruit, not the wood. Secondly, try to escape from the sun. New plantings should avoid the sun especially afternoon sun. Manage viticultural techniques to protect the fruit in the vineyards to receive indirect sun. Thirdly, be authentic with your wines. You have an amazing country with amazing people. Produce just that! Don't produce something you're not. Show the life of the wine. Be authentic with your grapes and show the personality of your winemakers."
Another first-time visitor to South Africa, Heidi Mäkinen, echoes Eduardo's sentiments. "My focus was mostly on white wines. What you're doing with Chardonnay is working. I saw a distinctive style, intellectual use of oak, purity of fruit, age worthiness and a respect for the grape showing off that it really comes from a vineyard.
The white Bordeaux blends and wooded Sauvignon Blancs I tasted also need a special mention. Now that I see what you can do with this grape to produce wines with pure acidity and fruit and good wood integration, I'm a believer."
Neil Beckett had plenty to say about the red wines he tasted. "I was here 10 years ago and while I was excited then, I'm even more so now. The progress I admire most is with your red wines. The biggest advance I feel is in the reduced amount of oak being used. Acidification is better and more wines have their own, natural balance. That is the biggest single improvement – the wines which showed their own natural balance. They're on par with the best in the world."
Looking at this year's entries, Shiraz was the biggest class with 110 submissions compared with 112 in 2016. It was followed by Cabernet Sauvignon with 93 entries, an increase of more than 10% on 2016 with 83. Pinotage entries were slightly down with 53 compared with 58 last year. There were also fewer Chenin Blanc entries with 62 entries compared with 71 in 2016. Sauvignon Blanc and Chardonnay lead the white wine charge with 92 (105 in 2016) and 89 entries (104 in 2016) respectively. The balance of entries was made up of Bordeaux Blends (79 compared with 93 in 2016), Merlot (43 compared with 54 in 2016) and Pinot Noir (23 compared with 34 in 2016).
"It's a steep pyramid in this country," says Francois Rautenbach, who has judged seven times as a senior judge. "Barrel-fermented Sauvignons were exceptionally exciting at the top end. We could see winemakers had put money in the vineyards, rather than in barrels. Last year was not easy for Sauvignon Blanc, but those who understood what they're doing, did great. For the rest I would advise to sell this vintage quickly. On the red side the Shiraz category didn't show a massive array of overdeveloped wines. The goal posts have shifted and we want to see more of this. Even looking at the Merlot category . . . the wines were red, almost rose petal in colour and not those dark, almost black wines we saw in previous years."
Cape Wine Master Heidi Duminy, one of the tasters on the MCC panel, confirmed 2017 was a good year. "MCC popped! It's a category that showed well and is growing every year. The purity of fruit stood out and the Chardonnay in particular performed well in the Cap Classique category. The Pinot Noir? Not so good. What was evident was the patience of winemakers who showed leesy entries with a gorgeous pristine freshness. The wines have a delicious drinkability. Our bubbly is so close to emotion. I would say if you're sick and have to drink something, drink Cap Classique."
The judges agreed Cabernet Sauvignon is also a strong category with smartly made wines showing elegance, without losing their powerful intensity. Another fact worth noting is their differentiation.
"The willingness to experiment was evident," says James Pietersen. This was also his seventh time as OMTWS judge. "I could see winemakers were having more fun and using different cultivars. I could see them looking at Italy and the Rhône for inspiration with their red blends and asking themselves, Where can we take this? Very exciting to see. There's a marked movement away from heavy wines to respect for tannin and acidity and a playfulness to produce easy-drinking wines."
A disappointing category was Cab Franc, which showed too much oak and not much elegance. Chenin also appeared to have lost its magic with a lack of pure fruit coming to the fore. Pinotage too disappointed, although there were some shining stars, but these were in the minority.
"Pinotage got stuck again," Christian Eedes says. "Too many wines were over-extracted and overdone. I believe approach is the big issue. The style the Absa Top 10 Pinotage is currently driving is not doing this class any good. Super-ripe, super-oaky wine is out of fashion. It may win you a medal at that competition, but it's not going to cut the mustard."
For Michael, it all comes down to what kind of future you build into a bottle. "There's a clear message coming from young wines in the industry. They show an excitement rather than the nostalgia of older wines. The wines we tasted spoke of an industry moving into a new space with everyone paying better attention to what they do. Even difficult vintages produced better wines.
"We saw dazzling wines where purity of fruit was the shining element. We saw interesting wines and wines with personality which made for drinking pleasure. South African producers are in their own way quietly changing the industry for the better. Our wines are now on smart wine lists around the globe. With these wines producers are changing the quality of life for thousands of people. Never forget that although wine is a middle-class indulgence it's also a major part of South Africa's economy."
_______________________
The 2017 Old Mutual Trophy Wine Show results were not available at the time WineLand went to print. Download the OMTWS app for all the results by medal, category and producer, and links to buying the winning wines. You can also buy tickets to public tastings which take place on 8 June at the Cape Town International Convention Centre and 9 June at the Sandton Convention Centre. Trophy, gold and silver medal-winning wines can be tasted and ordered from Makro. Tickets are available from Computicket at www.computicket.com and cost R190 each. The Early Bird special of R175 per person is
valid until 2 June.