The inventive Creation culinary team has done it again! 'Return to Nature' is a wholesome and meticulously balanced six-course menu that's not only inspired by personal health and wellness, but will also surprise the senses.
No-one refutes the fact that excessive alcohol consumption is harmful to our bodies and minds.
Studies show that a balanced diet is the key element for a healthy lifestyle and therefore, choosing carefully what we eat and drink is met with a renewed sense of responsibility and mindfulness. So how does wine fit into the equation?
Taking care of our physical and mental health is a trend that's gaining more and more traction, and the wine market is responding to these habits.
Healthy products and offerings are becoming increasingly sophisticated and fills our newsfeeds on a daily basis. But is wine compatible with a healthy lifestyle? Hemel-en-Aarde wine estate Creation certainly seems to think so …
Creation believes patrons should activate all the senses with nature during their food and wine pairings, whether it's attuning to the sound of a periwinkle shell or smelling a tangerine skin to accentuate the zestiness of the wine or food.
Let nature take its course(s) …
As pioneers in the field of wine and food pairing, Creation has gained a proud reputation for creative and ever-evolving pairing menus.
Titled 'Return to Nature', the wholesome and meticulously balanced menu comprises six courses, each paired with an award-winning Creation wine.
According to pairing fundi and Creation co-owner Carolyn Martin, the menu is inspired by Ayurveda – a natural system of medicine originated in India more than 3 000 years ago.
"In Sanskrit, ayur means 'life', and veda means 'knowledge," explains Carolyn. "Therefore, Ayurveda means 'the knowledge of life'. Our health relies on our harmony and balance with the elements. Nature, by its very essence, heals us."
Meticulous planning goes into the curation of these food and wine pairing menus. Carolyn and her team consults with Dr Julienne Fenwick from Best of Both Holistic Medical Practice in Hermanus.
A trained and registered medical doctor, Julienne employs a 'functional medicine' approach focused on wellness and reconnecting a patient body's natural balance through Ayurvedic-inspired principles and practices.
Julienne says when people celebrate life or are stressed, it's a justification to eat and drink what we want. Her philosophy is that health is linked to every action you take on a daily basis.
"If you're able to find balance between coping with stress and the choices you make with food and wine, you're likely to find a level of balance that is healthy and enjoyable."
When Julienne and Carolyn brainstormed ideas for the Return to Nature menu, they realised that the unnaturalness or 'clinical' way in which modern restaurants are set up is not always conducive for the proper enjoyment of food and wine.
"When you're studying the anatomy of senses, and surrounded by the right colours, sounds, smells and flavours, people will often enter a state of what we call 'rest and digest' as opposed to 'fight and flight'. And that's the state you're after when dining out or sitting down for a relaxing meal."
For Julienne, it's about the order in which you consume your food that makes all the difference. "The order in which you enjoy your food groups makes a huge difference to your weight, blood pressure and blood sugar," she says.
"For instance, eating vegetables before you eat your protein and starch portions will help you attain that healthy balance. Even a shot of apple cider vinegar will help you enjoy your meal more. Being aware of a wine's sulphur content, and how it effect you, will also help you make better informed choices around wine."
Healthy and hearty
Showcasing the fresh produce from neighbours in the Overberg, the menu is specially designed for winter. Courses are served in a sequence that optimises a person's blood sugar levels. "We refer to this as 'intelligent, informed and inspired meal planning," says Carolyn.
The experience is enhanced by elements from the terroir to symbolise a return to nature, noticeable in detail like a vine stalk, a porcupine quill or a quartz stone.
Although 80% of the menu is plant-based, it also features fresh local fish, free-range chicken and springbok from sustainable sources.
Starting with an appetiser which is a digestion as well as an immunity booster, the menu unfolds to offer a range of courses or chapters, as delicious as they are nutritious.
For chapter 1, patrons are treated to Nature's Nutrient Soup, flavourful and packed with phytonutrients and vitamin C. Served with herb Bratzeli and Green Rosti, the course is rich in texture and in beautiful harmony with the multi-faceted Creation Sauvignon Blanc & Sémillon blend.
[Ed note: Bratzeli is a Swiss cookie made with a specialty iron, much like a waffle iron, but the results are thinner].
Chapter 2 consists of steamed fish on a small bed of curry sprouted lentils with a fresh ceviche dressing and garnished with segments of citrus fruit. These irresistible flavours are complemented by the vivacious Creation Viognier & Rousanne blend.
The menu is subtitled 'Innovation Nostalgia' and chapter 3 offers just that: Coq au Chardonnay! As the name indicates, the dish is slow cooked, not in red wine, but in Chardonnay.
Perfect for winter with the saffron (known as the 'happy spice') acting as a mood enhancer. A glass of Creation's single-vineyard Reserve Chardonnay really elevates this dish.
Chapter 4 brings yet another surprise: A gentle hand massage with CBD oil is a nice touch, before you're served succulent Springbok loin with beetroot and garden herbs, paired to perfection with the velvety smooth Creation Reserve Pinot Noir.
With Chapter 5, the course showcases the ever-romantic Creation Estate Pinot Noir with its bevy of seductive red berries, here in happy combination with a gorgeous dessert of Choux au Puff with zesty raspberry gel.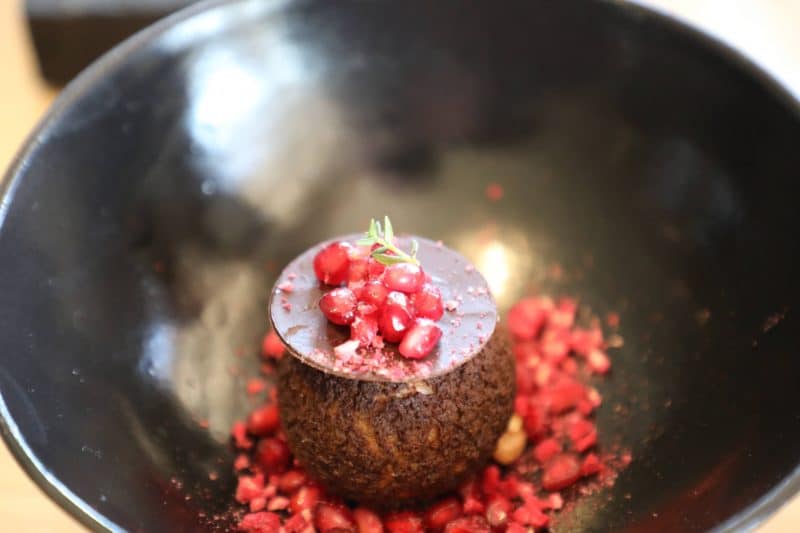 Chapter 6 brings another sweet temptation: melt-in-the-mouth Cape Vintage Praline paired with a glass of the Creation Fine Cape Vintage. A pelargonium flower accentuates the floral aromatics of the wine, and the refreshing acidity of the wine cuts through the richness of the chocolate.
Wellness and wine
"Healthy eating options matter to our valued guests and we want the Creation experience to be a feel-good one," says Carolyn.
With wellness a strong recurring theme, the Return to Nature menu is like a (delicious!) spa for your mouth. Stylishly presented courses are embellished with care, saturated with flavour and blissfully paired with the estate's finest wine offerings.
Creation's Return to Nature menu, boldly inspired by Ayurveda fundamentals, is a serene evocation of the estate's offering. The culinary team forages and transfers elements of its breathtakingly beautiful surrounds right onto the plate. A tantalising taste of the gentle nuances of the Overberg.
"By combining our cool-climate wines with the freshest of produce sourced from our local farmers and fishermen, we've created a wholesome recipe for the ultimate sensorial – and emotional – experience."
Step into a world of harmonious contrasts and sensory satisfaction which will no doubt prevail with the consistency and innovation that Creation is known for. Bon Appétit!
Creation's Return to Nature pairing menu can be enjoyed at R795 pp. Bookings are essential. Please make your reservation at reservations@creationwines.com or call 028 212 1107 and specify your dietary requirements: standard, vegetarian, vegan or pescatarian.
WATCH: Creation's Return to Nature Winter Menu 2022
Click here to get your copy of WineLand Magazine and here to subscribe to our newsletter.