In a Winetech-funded project, researchers aimed to answer the question: How does copper addition influence the reductive compounds and varietal thiols in a wine after bottling?
Introduction
Copper is one of the most used winemaking remedies for removing residual reductive off-odours from finished wines. It effectively removes the "boiled egg" off-odour, by binding residual hydrogen sulphide (H2S) still present in a wine after fermentation.1,2 Moreover, copper is sometimes used when "cabbage" or "putrification" off-odours are present in wines, which arise from the presence of mercaptans, such as methanethiol (MeSH).3 However, copper binds methanethiol not as effectively as it does hydrogen sulphide, meaning the "cabbage" aroma is harder to remove from the wine than the "boiled egg" aroma.
It has previously been reported that copper can also partially remove varietal thiols in wines (e.g., 3-Mercaptohexan-1-ol, shortened 3MH), which are major contributors of tropical aromas in wines, such as Sauvignon blanc and Chenin blanc.4 Considering that researchers have also previously proved that copper is not completely removed by racking or filtering,1 copper residues from reductive off-odour fining, might therefore remove a portion of the varietal thiols. Consequently, the desirable aromas of "passion fruit", "guava" and "grapefruit" in wines could be affected by copper fining. This research aims to clarify what are the short- and long-term chemical and sensorial effects of copper fining on wines with naturally high thiol levels, but with reductive off-odours present.
Materials and methods
For this experiment, Chenin blanc 2019 from Worcester (South Africa), naturally high in varietal thiol levels was used as a base wine.
The wine was sparged with nitrogen to reduce dissolved oxygen (to <1%) and free SO2 was adjusted to 38 – 40 mg/L (the wine had a pH of 3.4 and an alcohol content of 12.73 vol %).
Various combinations of H2S, MeSH and copper (in the form of copper sulphate solution) were added to the base wine, resulting in eight different treatments. The concentrations of reductive compounds used in this experiment were at the high range of the spectrum normally found in wines:5 40 µg H2S/L and 20 µg MeSH/L. The wines were treated with 0.3 mg copper per litre.
Wines were bottled in a reductive (anoxic) environment, under crown caps, and stored for 24 hours, six weeks and one year at 15°C.
After each time point, a sensory analysis with a trained panel and a chemical analysis of the bottled wines were performed.
Results
In this article, the results of short- to mid-term effects of copper fining are presented (after 24 hours and six weeks of wine storage). This can be translated to the situation when a winemaker sees the immediate effect of copper addition (after 24 hours) and once the wine is bottled and potentially already sold (after six weeks).
The experimental results showed that copper immediately bound the free H2S, which resulted in the "boiled egg" off-odour being drastically reduced after 24 hours. Chemical analysis showed that free H2S levels after six weeks were also reduced in the wines without copper treatment. This is very likely due to the binding of other components in the wine (such as oxidised polyphenols – quinones) to free H2S. In winemaking conditions after fermentation, quinones also bind a portion of reductive compounds.6 However, if there is excess free H2S in wines, this process alone might not completely remove all the remaining H2S. Finally, the presence of copper alone seems to increase the bound H2S in wines. However, that bound H2S did not cause "boiled egg" or "reductive" off-odours in the wine samples.
Copper addition also had an important contribution to MeSH off-odour removal, although a portion of "cabbage" off-odour related to the presence of mercaptan MeSH was retained in the wine. When the treatment containing MeSH and the treatment containing MeSH and copper were compared, there were no differences between them in the levels of free or bound MeSH after six weeks. The sensory analysis confirmed that the "cabbage" off-odour derived from MeSH was equally present in both wine treatments. Unlike H2S, the increase of newly created MeSH in wine was not copper related, as it was occurring slowly in all the wine treatments.
With regard to varietal thiols in this experiment, 3MH levels were decreased mostly in the Chenin blanc wine that was copper treated in the absence of added reductive compounds (Graph 1). A less obvious decrease happened in the copper-treated wine with H2S present. This could be due to the greater affinity and faster reaction of copper with H2S, than with 3MH. The results lead the researchers to the conclusion that copper should only be added to wines with H2S present and observed "boiled egg" off-odour, to prevent the reaction of varietal thiols with the copper. Interestingly, another varietal thiol 3MHA was not influenced by copper additions.
Sensory analysis showed that high levels of H2S and MeSH suppressed the "passion fruit" aroma, characteristic for the varietal thiols 3MH and 3MHA7 (Graph 2). Therefore, copper was beneficial in removing this suppressing effect of reductive aromas (especially in the case of H2S). Surprisingly, copper addition to Chenin blanc base wine seemed to boost the "passion fruit" aroma after 24 hours. This might be due to a short-term effect of removing any residual H2S, which was slightly suppressing the varietal thiol aroma perception in the base wine.8 However, after six weeks, the copper-treated base wine displayed lower levels of "passion fruit" aroma, which corresponds to the loss of varietal thiol 3MH, also confirmed through chemical analysis.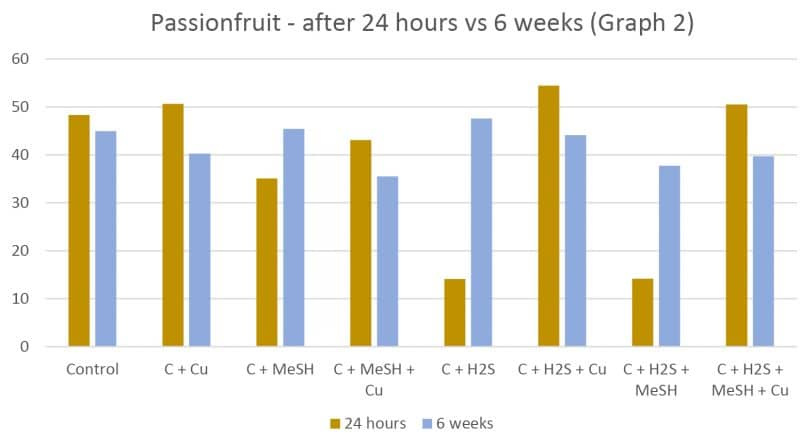 Conclusion
As a winemaker you might ask yourself, should I use copper if I have a wine with reductive off-odours? The best practice would have been to have prevented reductive compounds from forming in the first place, through optimised fermentation management. However, if you are past that stage and you are left with a finished wine with reductive off-odours, this is the take-home message from this experiment: Copper is effective in binding H2S and removing its "boiled egg" off-odour, while less effective in mitigating MeSH-derived "cabbage" off-odour from the wine. A small-scale trial with copper addition to remove H2S could be beneficial, to determine what is the minimum amount necessary to remove the reductive off-odour from the wine. From this study's results, it is possible to conclude that after the copper has bound to H2S, excess copper could gradually bind to the desirable varietal thiol 3MH in your wines after bottling and reduce tropical notes in e.g., Sauvignon blanc and Chenin blanc wines. Therefore, good winemaking practice would be to avoid reductive odours from forming in wines. If not possible, then to mindfully use copper in the removal of reductive off-odours by using only the minimum amount necessary.
Abstract
Researchers at the South African Grape and Wine Research Institute (SAGWRI) at Stellenbosch University partnered with researchers from the Australian Wine Research Institute (AWRI) in Adelaide, to expand knowledge on the short- and long-term chemical and sensorial impacts of copper fining of reductive wines. The project provided new insights on this controversial topic.
Contributing researchers: Marlize Bekker and Allie Kulcsar.
References
Clark, A.C., Grant-Preece, P., Cleghorn, N. & Scollary, G.R., 2015. Copper(II) addition to white wines containing hydrogen sulfide: Residual copper concentration and activity. Australian Journal of Grape and Wine Research 21(1): 30 – 39. Doi: 10.1111/ajgw.12114.
Clark, A.C., Wilkes, E.N. & Scollary, G.R., 2015. Chemistry of copper in white wine: A review. Australian Journal of Grape and Wine Research 21(3): 339 – 350. Doi: 10.1111/ajgw.12159.
Vela, E., Hernández-Orte, P., Franco-Luesma, E. & Ferreira, V., 2017. The effects of copper fining on the wine content in sulfur off-odors and on their evolution during accelerated anoxic storage. Food Chemistry 231: 212 – 221. Doi: 10.1016/j.foodchem.2017.03.125.
Ugliano, M., Kwiatkowski, M., Vidal, S. et al., 2011. Evolution of 3-mercaptohexanol, hydrogen sulfide, and methyl mercaptan during bottle storage of Sauvignon blanc wines. Effect of glutathione, copper, oxygen exposure, and closure-derived oxygen. Journal of Agricultural and Food Chemistry 59(6): 2564 – 2572. Doi: 10.1021/jf1043585.
Siebert, T.E., Solomon, M.R., Pollnitz, A.P. & Jeffery, D.W., 2010. Selective determination of volatile sulfur compounds in wine by gas chromatography with sulfur chemiluminescence detection. Journal of Agricultural and Food Chemistry 58(17): 9454 – 9462. Doi: 10.1021/jf102008r.
Nikolantonaki, M. & Waterhouse, A.L., 2012. A method to quantify quinone reaction rates with wine relevant nucleophiles: A key to the understanding of oxidative loss of varietal thiols. Journal of Agricultural and Food Chemistry 60(34): 8484 – 8491. Doi: 10.1021/jf302017j.
Coetzee, C. & Du Toit, W.J., 2012. A comprehensive review on Sauvignon blanc aroma with a focus on certain positive volatile thiols. Food Research International 45(1): 287 – 298. Doi: 10.1016/j.foodres.2011.09.017.
Franco-Luesma, E., Sáenz-Navajas, M.P., Valentin, D., Ballester, J., Rodrigues, H. & Ferreira, V., 2016. Study of the effect of H2S, MeSH and DMS on the sensory profile of wine model solutions by Rate-All-That-Apply (RATA). Food Research International 87: 152 – 160. Doi: 10.1016/j.foodres.2016.07.004.
– For more information, contact Matija Lesković at matija@sun.ac.za.