If international wine industries think about Italy it is not only about Italian wines, but also the role that they play as providers and international role players. This applies to anything that wine cellars need, whether it is different types of cellar equipment or winemaking additives. Italians however also fulfil an important role as academics, representatives and participators at international wine organisations like the OIV.
Although Italy produces the most wine it ranks fourth after Spain, China and France with regard to the surface under vineyards. Italy is consequently one of the most important wine countries worldwide, which is confirmed by the comparative statistics with South Africa as indicated in Table 1.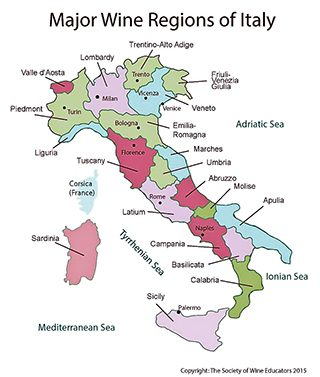 The segmentation between white (54%) and red grapes (46%) is very equal, but considerable regional differences occur with Tuscany for example where 87% is red. Amongst the ten most important cultivars based on the planted surface, only Trebbiano (St Emillion), Merlot and Chardonnay occur as international cultivars. The other seven cultivars are all Italian cultivars. Sangiovese and Trebbiano are the first and second most planted cultivars respectively. These two cultivars are together 18,5% of the total planted vineyard surface.
Wine is produced in twenty political regions of the country, but 78% of the total production is in the seven regions, namely Veneto, Puglia, Emilio-Romagna, Sicily, Abruzzo, Tuscany and Piemonte.
As result of the magnitude of the industry and the different environmental circumstances in the different regions it can be expected that a wide variety of wines are produced. These include white, rosé, red, still, perlé or sparkling style of wines. The wines are sold over a wide price spectrum. The best known wines are summarised in Table 2.
The reputation of these wines is in many cases based on the volume produced and sold and not its quality. From an international quality perspective, the red Barolo, Brunello di Montalcino, Vino Nobile di Montepulciano and Super Tuscans are highly rated.
Origin denominations based on quality are divided in three categories. The highest level is DOCG (Denominazione di Origine Controllata Garantita), followed by DOC (Denominazione di Origine Controllata) and IGP (Indicazione Geografica Protetta). Recently there is respectively 74, 334 and 118 origin denominations qualifying for it. Any wine produced outside these origins or not complying with its applicable requirements may only be sold as "wine" (vino). This system was developed by Italy in the second half of the twentieth century to protect the authenticity and quality of their wines. Specific regions are regulated by requirements like grape cultivars that may be planted, alcohol concentration of the wines and maturation requirements. IGP wines are not necessarily of lower quality as DOC and DOCG wines, but may possibly not comply with the other requirements of these wines.
Olive trees often occur together with vines in wine regions and can be old and disorganised or well-planned orchards. The olives can be used for edible (mainly green olives) or oil purposes.
Pasta and pizzas are part of Italy and are available in different forms or dishes.
References
Theron, C., 2005. Wynlande van die wêreld. African Sun Media, 140 p.
www.italianwinecentral.com/resources/facts-figures.