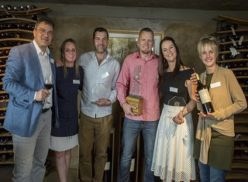 Kelderhof Winos, a first time entrant in the annual Blaauwklippen Blending Competition did the Western Cape proud as the triumphant winner, returning the trophy 'home' with their serious red blend of Zinfandel, Cabernet Franc, Merlot, Petit Verdot and Shiraz.
Kicking dust in the eyes of 83 other wine clubs, the Kelderhof Winos created a serious wine with exceptional structure and good ageing potential, securing not only the title of the winning wine club, but also the "Newcomer of the Year" title.
The Western Cape was well represented in the battle between the last four standing wine clubs, Kelderhof Winos (Western Cape), Business Time (Western Cape), Outlander from Gauteng and the Wine Geeks (Western Cape) and the battle was tougher than ever.
The winning blend of 8% Zinfandel, 15% Cabernet Franc, 30% Merlot, 7% Petit Verdot & 40% Shiraz was announced on 8 September 2017, during a lunch prize giving ceremony at Blaauwklippen Vineyards. The winning blend is bottled under the Blaauwklippen Cabriolet label and recognition will be given to this successful wine club on the back label. The wine is sold in 750 ml & Magnum bottles from selected retail outlets, the farm's Tasting Room and online via www.blaauwklippen.com at R112 per bottle and R230 for the 1,5 litre bottle.
"We challenged the clubs to produce a serious, well-structured red blend, with ageing potential, consisting of Zinfandel 2016, Cabernet Franc 2016, Merlot 2016, Petit Verdot 2016 and Shiraz 2016," explains Rolf Zeitvogel, MD and cellar master at Blaauwklippen.
"All five of these cultivars had to be used in the final blend and all the wines, which are marked for use in the Blaauwklippen Vineyard Selection range. The Zinfandel was limited to a maximum of 10% of the blends, while the Cabernet Franc was limited to not more than 40% of the total blend."
This year the Blaauwklippen Blending Competition celebrates 34 years of taking the novelty of the blending process to wine clubs all over South Africa, making it one of the oldest wine competitions in the country.
"Each year we are surprised by the popularity of this battle we created for amateur wine tasters and lovers and this year was no exception with a rise of 16% in entries!" says Zeitvogel. "This is proof that we have a winning recipe, the true art of tasting and blending wines, sharing it with local and international amateur wine lovers and in the process educating while everyone is having fun."
Judges for this year's competition were, Narina Cloete, Mark Norrish, Clive Torr, Lidia de Coito, Guy McDonald and Karen Glanfield.
As the winning wine club, Kelderhof Winos wins various prizes
including wine, as well as glassware from Vitria.