If you're a pleb like me looking to impress the missus, enter #DiscoverLanzerac and feel like one of the 'rich and royals'. During September, the 'Grande Dame' of Stellenbosch is giving one lucky couple the opportunity to experience real grandeur at this iconic wine estate. 
Past the long, oak-tree-lined driveway into Lanzerac Wine Estate, the Jonkershoek Mountains towers into frame. Locked in winter's icy grip, its peaks and cliffs are draped in powdery-white snow. My wife and I, spellbound by the surrounds, gape wordlessly at glorious, postcard-perfect vistas of the Cape Wineland's wintery splendour.
Greeted by such mesmerising scenes, the idea of a chilly weekend curled up around cosy fireplaces and indulging in a myriad of creature comforts, was a delightful prospect.
Those from the bourgeois with lively two-year old toddlers at home know what I'm talking about. New parents are on a constant quest for escape and self-reassurance. Our child's a blessing, right? Without a doubt. Being a parent is rewarding and life-changing? Absolutely. Our children fill our hearts with love and joy? Oh, for sure. Challenging and exhausting? Hell yes!
"We need this," my wife (Niecole) and I keep trying to convince each other. Perhaps these feelings of selfish guilt will fade away like morning mist. And with that, we unashamedly dropped our toddler at Ouma & Oupa for the weekend and drove off, without looking back, for our first 'couple's weekend' in over two years. After all, it's only ONE weekend, right?
Situated five minutes from Stellenbosch town, Lanzerac feels like a world apart. In 1692, it became only the third wine estate established in Stellenbosch, named after a flamboyant French general Charles Lanrezac, who boasted often and loudly that he knew only three English phrases: "beautiful woman"; "kiss me quick"; and "beefsteak and potatoes."
The reason why Katharine English bought the farm (then called Schoongezicht) in 1914, and promptly renamed it after Le Général, is shrouded in mystery and numerous accounts that speculate at the 'intimacy' between them. It's probably not all that far-fetched, given Lanrezac's range of English phrases …
Over the last few centuries, Lanzerac has developed a legacy of producing wines of exceptional quality, and the property itself has matured in sophistication.
A tragic fire in 2017 caused extensive damage to the Hotel's main operational areas, forcing owners to close the estate to the public for 13 months. But after an extensive restoration, Lanzerac rose from the ashes in glorious fashion.
Guests were introduced to a new, refreshed space featuring new rooms, social areas and three restaurants catering to fine dining in the Manor Kitchen and Taphuis restaurants, and small plates & tipples of choice in the moody Craven Lounge.
Delectable deli & wine
The Lanzerac Deli & Tasting Room is something of an institution in the Cape Winelands, offering the very best in fresh, artisan produce and fare, homemade delights and sweet culinary treats. Lanzerac started us off with a scrumptious charcuterie board and a glass of Cap Classique to set the tone for the rest of the weekend.
Next up, restaurant & brand manager Francois du Toit led us on a tour down below in the 300-year old working cellar, a space that dwells into the rich history of this ancient and glorious estate.
Through the red wine barrel maturation cellar, you're greeted by the aromas of wine in various stages of ageing, ending in the modern fermentation cellar, giving guests a glimpse of what it takes to get the liquid into the bottle.
Due to a planned wedding at the estate, some of the areas were off limits to non-wedding party guest, but staff made every effort to accommodate us. Francois gave us an informal wine tasting at the Taphuis restaurant, and an opportunity to explore the estate's range of acclaimed wines in a relaxed, non-intimidating setting.
Pinotage is South Africa's signature blend, and Lanzerac is its home. The Stellenbosch winery was the first estate in the world to bottle Pinotage, releasing its first bottle in 1961. Lanzerac's Pionier Pinotage 2018 — a tribute wine to the original 1961 Pinotage — was particularly impressive. A truly unique wine with intense flavours of leather, smoke and plenty of fruit, silky smooth and a long lingering finish. Trading at R1 165 per bottle, this wine is testament to Lanzerac's wealth of experience with this proudly South African variety.
On the white wine side, Lanzerac's Mrs. English Chardonnay 2018 (a tribute to the formidable lady of Lanzerac) was another standout. Sourced from a single vineyard in the Jonkershoek Valley, the Mrs English 2018 is a complex wine with an abundance of citrus flavours on the nose, a full palate and lingering aftertaste. Great care is taken during the winemaking process to ensure a wine with impeccable balance, character, poise and deliverance.
Swanky digs
Accommodation at Lanzerac is exquisite and luxurious without being ostentatious. The 5-star hotel is limited to 53 en-suite bedrooms and suites, with many rooms leading onto patios with private pools overlooking manicured gardens, mountains and vineyards.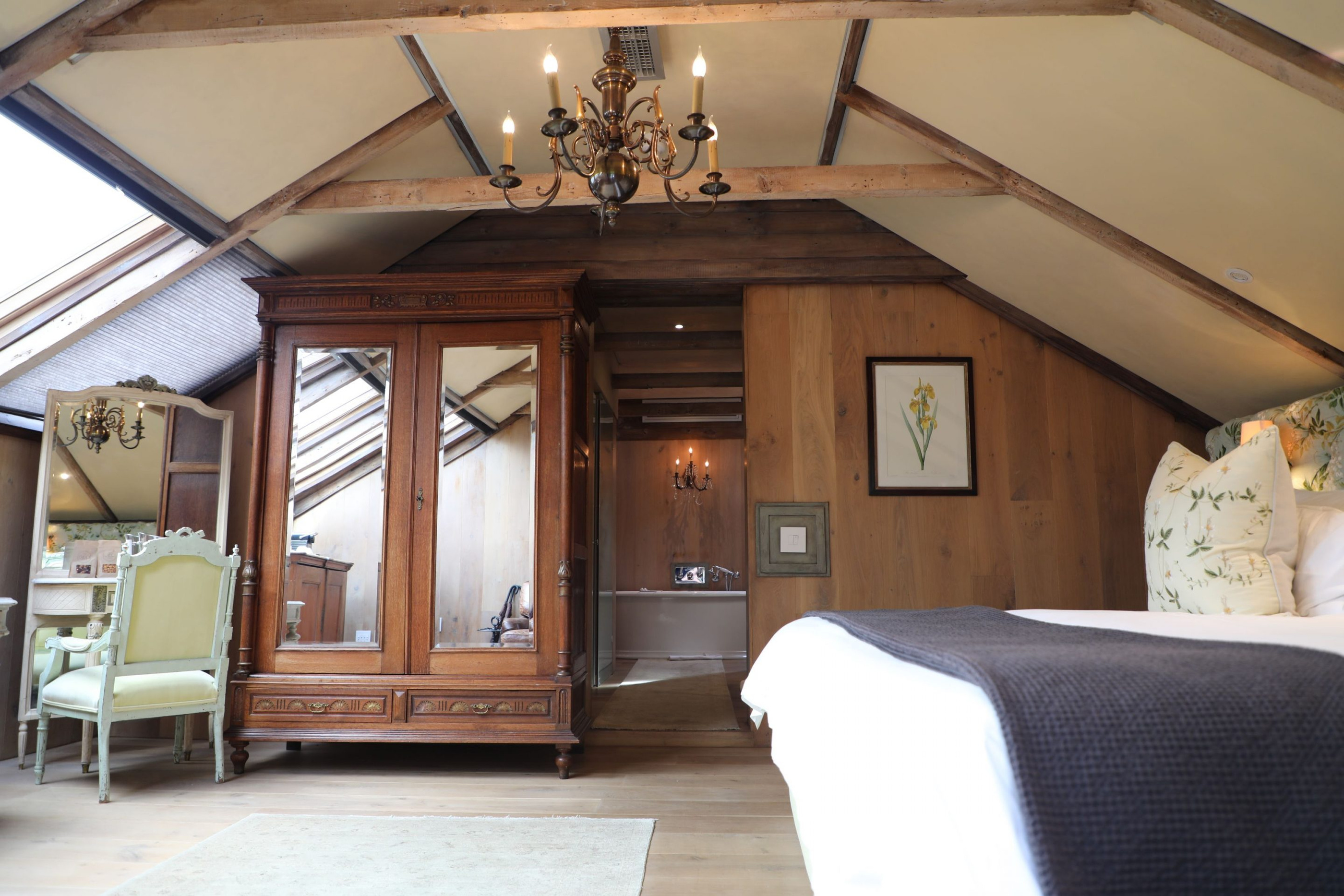 After getting a peek at them all, I can say that it really doesn't matter which of the four room types you choose because they're all individually decorated with elegant finishes and a unique selection of antique pieces. It's a perfect balance of old world charm and chic-modern style, awash with natural light, rich textures and laden with every possible amenity you can imagine.
From the bed linen to the furnishings, under-floor heating and bathroom amenities, the attention to detail at Lanzerac Hotel is unsurpassed. We could easily have spent the bulk of our time lounging around in our junior suite, or simply walking around the hotel grounds admiring the Cape Dutch architecture and quaint charm of the gardens.
Lanzerac guests are privy to a full continental buffet and hot breakfast on order, select mini-bar, wine tasting at the Lanzerac Tasting Room, a cellar tour, complimentary transfer service between the hotel and Stellenbosch town at set times, and use of the Lanzerac Spa's hydro facilities.
Hydro pampering in style
So about that spa, it's the setting that sold us. Enormous windows frame views of the towering Stellenbosch mountains and leafy vineyards that are almost close enough to touch.
There's a wide array of massages, skincare and beauty treatments in which to indulge. With Lanzerac having a history of cultivating acclaimed wines for over 300 years, it's only fitting that products used in most of these treatments are made from grape cultivars. There's even an AromaVine Pinotage Massage on offer, a 60-minute tension relieving session that uses a fragrant antioxidant blend containing pure grape-seed oil and natural botanicals.
Apart from the six treatment rooms, there are mani/pedi stations with views to die for, a fully equipped fitness centre, two Rasul chambers, and a Vitality Corner serving up delicious healthy meals, smoothies and juices.
We took full advantage of the spa's hydro facilities, including indoor heated swimming pool, sauna, steam room, mist room and jacuzzi.
The outside deck just begs for you to lounge in your robe and slippers, a glass of bubbly in hand perhaps, and gaze out over the scenic valley spread before you. Lanzerac Spa is a spoil for the mind, body and soul.
Dine in style
Lanzerac's Manor Kitchen and Taphuis Restaurant offers a classical dining experience, with the menu overseen by Welsh-born executive chef Stephen Fraser. The dishes, comprised of seasonal, locally sourced ingredients, have a strong local flavour; with offerings such as Boland lamb cutlets (served with glazed carrot puree, braised lamb bonbon, black garlic emulsion, burnt cauliflower) and Blackened Kingklip (served with creamed pea risotto, courgette salad, lemon coconut sauce and paprika oil).
For a casual dining experience in a festive atmosphere, the country-style Taphuis serves gourmet pub grub with offerings such as Skaapstertjies (with smoked chilli flakes, apricot glaze and cured mustard seeds) and Ouma se Beesstert Krokette (served with walnut crumb, slaphakskeentjies, wild chive and pea pesto).
All dining room venues are located in grand settings. The Governor's Hall, which was the resident eatery before the fire, was known for its stately decor and Edwardian-era furnishing. Its successor brings a grand, contemporary design that complements the estate's old-world aesthetic.
The wine list includes Lanzerac's award-winning pinotage range, as well as an expansive selection of international and local vintages, fortified and sweet wines, brandy and cognac, beers, ciders and spirits. In addition to daily breakfasts and dinners three nights a week, the Manor Kitchen hosts a set Sunday lunch menu, and a luxurious afternoon tea on Saturdays, with baked goods and savoury snacks on offer.
Vinebikes
Lanzerac is also a departure point for e-bike trips and rentals. The great thing about an electric bike is that they make riding a no-sweat excursion.
This is why a wine-tasting tour with adventure buffs Vinebikes is such fun: you go on a guided tour of Jonkershoek Valley through safe, scenic routes, tasting each farm's delicious wines, then back on your bikes for an easy pedal through greenery and rugged mountains in the fresh air.
The e-bikes are fitted with a motor and battery, handle like a normal bicycle, and are family-friendly (there are kids seats and half-wheelers). Plus, there are saddlebags so you can take a bottle or two home. And there's no rush: about 30 to 45 minutes is spent at each farm along the route.
#DiscoverLanzerac
Enter the #DiscoverLanzerac competition to win a complimentary stay at Lanzerac for an entire weekend. the grand prize includes a wonderful weekend in a suite at Lanzerac (all inclusive), flights, hotel transfers from Cape Town International Airport, two-nights all inclusive stay, lunch and drinks upon arrival at Deli, spa treatments and MCC, snack platter in room, dinner at Taphuis, Vinebikes trip, lunch at the Deli, private wine and chocolate pairing, MCC and canapés at Lanzerac lookout point, food and wine pairing at Taphuis with executive chef Stephen Fraser, and gifts to take home. ENTER NOW (T&Cs apply. Details on the website).
Visit the Lanzerac Wine Estate's website to plan your hotel stay or a day visit to the Stellenbosch gem. And keep up to date with developments and events by connecting with the brand on Facebook and Instagram.