This article is a follow-up on the articles regarding lesser-known red wine grape cultivars that were published (Van Schalkwyk & Schmidt, 2016a & 2016b). According to Sawis (2015) statistics, 101 different wine grape cultivars are planted in South Africa. Chenin blanc, Colombar, Sauvignon blanc and Chardonnay are the most important white cultivars and comprise 47.8% of all the wine grape plantings. The South African wine industry is continuously investigating the potential of alternative white cultivars to determine if they could make a significant contribution in broadening South Africa's wine spectrum. ARC Infruitec-Nietvoorbij, an institute of the Agricultural Research Council (ARC) in Stellenbosch, has a national grapevine gene pool featuring, inter alia, more than 500 different wine grape cultivars (Van Schalkwyk, 2010 & Van Schalkwyk, 2013). New, promising cultivars are sporadically imported and added to this collection. The focus of the ARC Infruitec-Nietvoorbij is to import cultivars with specific attributes, such as a good resistance against drought, heat and diseases and the potential for making wine of good quality. These cultivars are also utilised in the wine grape breeding programme. South Africa's strict phytosanitary requirements for importing plant material and the fact that countries overseas need to keep the advantage of their new cultivars makes it more and more difficult to import plant material.
Climate change has also prompted increased interest in alternative cultivars, in warm areas especially. In order to make full use of the grapevine gene pool, production data of cultivars that could potentially contribute to the South African wine industry are annually collected. Wines are made on a small scale in the experimental cellar at Nietvoorbij and after bottling, evaluated for overall wine quality and aroma after six months. This evaluation takes place over five consecutive years, whereafter other promising cultivars are evaluated. The cultivars Chardonel, Grillo and Hibernal discussed in this article, have relatively good disease-resistant attributes that could reduce spraying cost and the impact of fungicides on the environment. All three cultivars also have good winemaking attributes.
Chardonel
Chardonel
Chardonel was bred in 1953 by Bruce Reisch of the New York State Agricultural Experiment Station of the University of Cornell Geneva in America. It is an interspecific cross between Chardonnay and Seyval (V. Vinifera x V. lincecumii, V. rupestris). The cultivar is moderately resistant against winter cold (better than Chardonnay). In America, Chardonel grown on own roots in phylloxera (Daktulospharia vitifoliae) infected soil, showed good vigour and produced good yields (Reisch, et. al., 1990). Chardonel is moderately susceptible to botrytis rot (Botrytis cinerea), powdery mildew (Uncilnula necator) and downy mildew (Plasmopara viticola), but more resistant than both parents. According to overseas literature, Chardonel's bud break is late and bloom medium late. Under the given experimental conditions at Nietvoorbij, bud break varied between 25 August and 24 September and bloom occurred between 13 October and 10 November (approximately the same as Chardonnay). Optimal ripeness was approximately the same time as that of Chardonnay. Chardonel's clusters are shouldered and medium-large, slightly longer than that of Chardonnay, with an average bunch mass of 255.7 g compared to the average bunch mass of 188.6 g of Chardonnay. Yields varied between 7.9 t/ha and 21.3 t/ha compared to the 8.9 t/ha and 16.9 t/ha of Chardonnay. The relatively high titratable acidity of Chardonel grapes is advantageous for wine maturation. After crushing grapes that were harvested at 22.5°B and 23.0°B, the must had a titratable acidity of respectively 9.3 g/ℓ and 10.9 g/ℓ with a relatively low pH. The wines were well balanced and had a moderately intense, mostly tropical fruit/muscat/citrus/flower character. The wines had none of the non-vinifera aromas of interspecific hybrid grapes. Overseas winemakers reported that Chardonel is suitable for wood maturing and for making sparkling wine.
Grillo
Grillo
Grillo, also known as Riddu or Rosesse bianco is a traditional white cultivar of Sicily and famous for the role it played in this Italian island's Marsala wines. Some believe that the cultivar is native to Sicily. Others have hypothesised that the cultivar was brought to the island from the southern Italian region of Puglia in Italy (wine-searcher.com). There is even some evidence to suggest that this was the cultivar in the Roman wine Mamertino, a particular favourite of Julius Caesar. Grillo plantings decreased when the cultivar Cataratto was planted for making Marsala wines. Plantings increased again after a shift in focus to quality rather than quantity and the younger generation winemakers recognised the potential of this cultivar. Grillo is also suitable for cultivation in warm, dry areas.
Grillo ripened relatively late at Nietvoorbij, from the end of February to beginning of April. Bunches are loose to well filled, but berry shatter occurred in some seasons. Grillo's bunches are medium/large and have large berries. At Nietvoorbij the yields were moderately low, 7.5 t/ha. Grillo does not have the same high titratable acid characteristics as Chardonel and Hibernal. Experimental wines had a pleasant tropical fruit/flower and vegetative aroma. During some vintages, the wines had a moderate prominent spicy aroma. According to overseas winemakers, Grillo has a fresh grassy and pomelo character after cold fermentation. Wood maturation produce wines with a ripe citrus/spicy aroma. Grillo is also used in Chardonnay blends.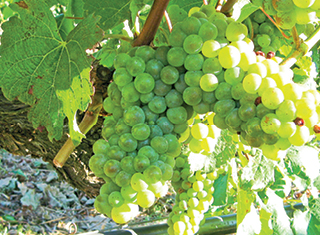 Hibernal
Hibernal
Hibernal, also known as Hybernal, GM 322-58 or GM 322-4, is a cross between Seibel 7053 (Chancellor) and Riesling. Dr Henry Birk of the Geisenheim Grape Breeding Institute in the Rheingau region in Germany bred this cultivar. The cultivar was developed in their disease and pest resistant breeding programme and has good resistance against downy and powdery mildew except in seasons when climate conditions are extremely favourable for downy and powdery mildew. Hibernal also has good winter cold and frost resistance, therefore it's mostly planted in the cool areas overseas. At Nietvoorbij Hibernal ripened between 7 February and 5 March. Sour rot (10%) only occurred during one season when a lot of rain fell during ripening. Yields per vine were more than double that of an experimental planting in Poland where it was grafted onto SO4 (5.18 kg/vine compare to 2.35 kg/vine), (Gąstol, M., 2015). However, with plant spacing taken into consideration the average yield was 11.49 t/ha and 8.10 t/ha, respectively. Under the experimental conditions at Nietvoorbij, Hibernal's bunch and berry mass was higher than reported in overseas trials. Hibernal's good grape and must characteristics also reflected in the wine analysis. In contrast with reports from overseas that Hibernal wines have a predominant spicy character, experimental wines from Nietvoorbij had a predominant muscat/tropical fruit character with strong citrus and tree fruit nuances. The difference in climate probably had an influence on the wine character. The experimental wines made at Nietvoorbij were above average quality. Grillo should produce better quality wines when planted in the cooler areas. There are breeding rights on this cultivar that only expire in 2019.
Summary
Chardonel, Grillo and Hibernal could contribute to the existing South African white wine cultivation, to a lesser or greater extent. All three these cultivars have relatively good disease-resistant characteristics. However, currently none of them are approved or registered for either cultivation or vinification in South Africa in the official varietal list compiled by the Department of Agriculture, Forestry and Fisheries (Anon., 2015). To fully evaluate their potential, these cultivars should be planted on a semi-commercial scale in the different climate regions, with the approval of the Department of Agriculture. There are breeding rights on Hibernal, but none on Chardonel or Grillo. However, one can negotiate with the licence holder/owner to establish larger plantings under contract. This article will be followed-up discussing other white wine grape cultivars that could possibly contribute to the broadening of South Africa's wine spectrum.
References
Anon., 2015. South African varietal list as maintained by the Registrar of Plant Improvement. Fruit crops, November 2015. Department of Agriculture, Forestry & Fisheries.
Gąstol, M., 2015. Vineyard performance and fruit quality of some interspecific grapevine cultivars in cool climate conditions. Folia Horticulturae 27/1: 21 – 31.
Grape varieties. Grillo wines. www.wine-searcher.com.
Reisch, B.I., Pool, R.M., Robinson, W.B., Henick-Kling, T., Watson, J.P., Kimball, K.H., Martens, M.H., Howell, G.S., Miller, D.P., Edson, C.E. & Morris, J.R., 1990. 'Chardonel' grape. N.Y. Food and Life Sciences Bulletin 132.
Sawis, 2015. South African Wine Industry Statistics.
Van Schalkwyk, D., 2013. Genebank is 'biblioteek' van SA druiwe. Landbouweekblad, 5 April 2013, 79 – 80.
Van Schalkwyk, D. & Schmidt, A., 2016a. Minder bekende rooiwynkultivars (Deel 1). WineLand 317: 82 – 84.
Van Schalkwyk, D. & Schmidt, A., 2016b. Minder bekende rooiwynkultivars (Deel 2). WineLand 318: 66 – 68.
– For more information, contact Danie van Schalkwyk at vschalkwykd@arc.agric.za.