Lutzville, which is situated close to the Olifants River, was previously known as Vleermuijsklip after a rock formation outside the village. The rock formation is a national monument and one can clearly see the marks left by elephants long ago as they scoured against the rocks on their way to the water in the nearby river. At the beginning of the 19th century large herds of elephants were found in the vicinity and the area became known as the Olifants River Valley.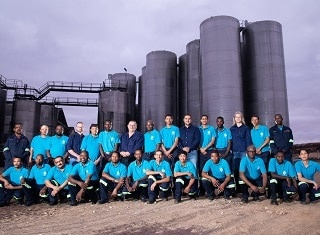 The cellar team at Lutzville Vineyards.
Lutzville is situated 25 km from the coast and the proximity of the ocean; mist early in the mornings lowers the temperature, which is important during the ripening phase and to produce quality grapes. Good soil and adequate water contribute to ideal climatic conditions.
The winemakers work closely with a cellar assistant in their teams. Close collaborations ensure that informal mentoring relationships are well established in the cellar. Knowledge is continuously exchanged and excellent relations, based on mutual trust, exist between team members. Line managers focus on the development of cellar assistants' knowledge and the rotation of duties gives valuable exposure to the cellar team. Language and illiteracy remain a challenge and lack of confidence plays a role in the transfer of knowledge and individual development.
Lutzville Vineyards is a regular participant in the Winetech study groups and the workshops for senior cellar assistants. The Winetech programmes are considered important, as cellar assistants are exposed to the bigger picture of the wine industry. The Winetech senior workshops give senior cellar assistants the opportunity to keep abreast of new technology.
The area is geographically secluded, which has a direct impact on annual budgets. Lutzville Vineyards are limited in the employee structure, which influences career opportunities for cellar assistants. This means that occasionally only one of the cellar assistants will receive the opportunity to be promoted, which in turn leads to excellent cellar assistants seeking new opportunities elsewhere. Liezl van Rhyn, human resources manager, confirmed that the study groups and senior workshops stimulate the cellar assistants' interest. The winemakers observed a positive change with cellar assistants actively involved during discussions after attending the study groups and senior workshops. Cellar assistants also perform duties with greater confidence, which in turn leads to increased productivity in the cellar. They develop a pride in their work and the announcement of the marks obtained in the study group evaluations contribute to this. Lutzville Vineyards continuously aims to enrich and develop their cellar assistants' knowledge so that everyone can reach his full potential.