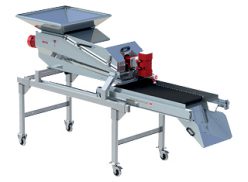 Since going at it alone in year, team Porex SA is stronger than ever.
Porex SA has been supplying the wine, spirits, juice, olive oil and water industries with top-end German-manufactured products for the past 17 years. Despite changes in the structure of the company and its relocation to new premises at Bernheim Wines on the R45 between Paarl and Malmesbury, the company's mission remains unchanged: Providing the industry with well-known, high-quality filtration and separation products and unsurpassed personal service.
The company has three distinct business pillars: Mother company Porex SA, which is the agent for three top-end filtration and separation products, Porex Biochem, which supplies the wine and spirits industries with yeast-related products, and Porex Cavetech, which is responsible for technical support and service.
These entities are managed by Lionel Dickens, who's at the helm of the mother company. Anneke Steenkamp manages Porex Biochem as technical sales manager and Riaan Ehlers is co-owner of Porex Cavetech and technical services manager for wine equipment and cellar services. They're supported by financial and logistical operations guru Robin Garcia.
"We've made some drastic changes over the past 12 months," Lionel says. "We've split the company into three departments that specialise in their respective fields. Riaan has taken our after-sales department to the next level and is also key in helping us in the sales of our specialised products."
In a nutshell
As sole distributor of Flottweg, Cadalpe and Begerow/Eaton products in Africa, Porex SA is ideally positioned to supply filtration solutions and products to the beverage industry across the continent. It also provides technical advice on how to cut costs by recovering 100% of the separated product, waste product and all.
Porex Biochem's main focus is supplying the wine and spirits industries with top-quality Erbslöh wine preparation products. Its top priority is to expand the existing client base across Africa and get traction in the spirits market.
Porex Cavetech is the sole distributor of Willmes, Armbruster and Oenopompe, and under Riaan's leadership the main focus is on after-sales service.
Looking ahead
"We've grown a lot over the past year, especially when it comes to service delivery in various areas," Riaan says. "There's definitely a much greater need for good workmanship in various areas of the wine industry. We offer more than the standard service you'd expect from an agent. We offer advice to clients who want to make changes in the cellar and help them plan so they can optimise their efficiency in the cellar. We also provide options for every budget."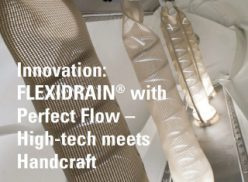 Lionel agrees with Riaan that service is of the utmost importance, but says Porex SA's focus is also on advanced technology. "Porex SA and Willmes have proved over the past seven years that especially the technology in the presses we sell are the best in the world. We're doing very well with small and medium-size presses, but it seems that the cooperative wine market is still not convinced that this technology is the best for them. Yet Simonsvlei's 30 tonners have proved the advantages. The biggest challenge for us now is to get these bigger machines into cellars and show that we're 50% better in all aspects of the pressing of wine grapes."
Ataraxia winemaker Kevin Grant has a Willmess Sigma 5 in his cellar and says Porex SA is the way to go. "The Porex team was impressively professional from the first telephonic enquiry to the entire commissioning process, and even now with after-sales service," he says. "Riaan and his team are basically available 24/7 and the response time is brilliant."
Kevin says the German technology and workmanship on the Willmes is astounding, making it the best option for Ataraxia. "My press is close to the top of my desert island packing list. The clincher is the patented Flexidrain system. The juice quality and recovery makes the investment in this technology worth it. It makes perfect financial sense."
For Lionel and his team it all boils down to supplying the best product on the market at the best price and backing it up with the best support they can provide.
"When supplying new technology we want to show it's different from any on the market. This way the winemaker can show why he paid more for our technology."
Getting technical
Oenopompe
Already complying with the strictest standards of food security (Regulation 1935/2004 EC), PMH Vinicole is driven by its desire to satisfy customers who want premium pumps. It also accounts for the endorsement from the Bureau National Interprofessionnel du Cognac (BNIC).
It also also confirms the pioneering technology of helical lobes wine pump Oenopompe®. This extremely high-quality pump, designed for all-around use in 2009, is now used by over 300 wineries worldwide and has attracted with 70% more clients since 2015.
Willmes
Advantage comes in the form of the patented SIGMA pressing principle: hermetically sealed, pressing in the filling position, vertical juice extraction, maximum pressing surface thanks to a double membrane, juice draining controllable from one point. The WILLMES SIGMA keeps mechanical stress to a minimum, achieves a high flow rate and works extremely efficiently overall.
Flexidrain is a new patented technology from Willmes for vertical juice extraction which provides outstanding grape processing results. Advantages of using the Flexidrain include increased hole size, improved tensile strength, absolute food safety, constant free flow of juice, less soiling due to the smooth surface of the gauze, no seeds in the must and sensational prejuidicing, suitable for all types of press goods.
Rotovib Armbruster
The Armbruster rollersorter remove jacks, stems and leaves from handpicked and mechanically harvested grapes. It's easy to operate and basically maintenance-free.
The Rotovib destemmer/crusher offers an additional vibration drive of the pin shaft, which allows grapes to be destemmed. It also enables extremely low pin shaft speeds and offers dry discharge of the grape stems. It selects ripe and unripe grapes and the destemming cylinder may be operated clockwise or counter clockwise.