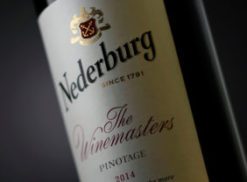 Nederburg global brand development manager Robyn Bradshaw gave some insights into what it takes to reach the top and maintain your lead.
What would you say has turned Nederburg into a successful brand? What did you do right? 
Nederburg's success is driven by innovation and the curiosity of our cellar team, which has sparked ongoing experimentation. In South Africa we are known for pioneering cold fermentation, new wine-growing areas and novel wine styles, working with new techniques (or reintroducing very traditional ones), and experimenting with lesser-known varietals. Our eight-way Ingenuity White blend, for example, was the first in South Africa to bring so many cultivars together, and our Ingenuity Italian-style Red was the first to combine Sangiovese, Barbera and Nebbiolo.
We maintain a very sophisticated infrastructure and invest extensively in research and share our findings with growers to promote best practices. This gives us access to top quality fruit across the Cape.
Is there a conscious philosophy, approach or strategy behind Nederburg's success?   
There's a golden thread that runs through Nederburg over two centuries of winemaking: an ethos based on a deep respect for the land, the people involved in growing and maintaining the vineyards, those in the cellar, and of course wine lovers everywhere.
Nederburg's long-standing name and extraordinary lineage is underpinned by innovation and backed by rigorous discipline. From the days of its founder, Philippus Wolvaart, to modern times, Nederburg has been shaped by people with a lively curiosity and an appetite for growth and discovery.
This ongoing quest has fuelled a progressive and pioneering approach to wine-growing and winemaking, which has earned us the respect of tastemakers worldwide as one of South Africa's most awarded wineries.
How do you prefer to engage with consumers? What is it about the brand that speaks to them?  
Nederburg uses the platform of story-telling to engage with consumers. It provides the brand with a valuable opportunity to share its rich and authentic tales – of then and now – encouraging consumers to create their own special Nederburg memories and stories.
In early 2016, we introduced the new Nederburg global communication campaign that steps outside mainstream wine conventions by inviting consumers to immerse themselves headlong in a sensory rather than a cerebral experience.
We switched to completely new packaging, introduced on a staggered basis, according to tier, across all markets. The new bottles and labels are intended to give greater accent to the Nederburg's pedigree as well as to its innovative, progressive outlook. Our refreshingly different advertising campaign entitled "There's always a story in Nederburg" invoked an evocative, richly visual experience which seeks to ignite curiosity through its television campaign (TVC), print advertising, website narratives and in-store engagement.
In terms of cause marketing, Nederburg has partnered with the non-profit organisation Qhubeka to help improve the lives of those in vulnerable communities. Qhubeka builds and distributes bicycles to deserving South Africans who work towards socio-economic upliftment in communities.
What challenges did the brand face to get to this position?  
Nederburg has certainly risen to the quality challenge in a highly competitive South African wine landscape, and continues to hold its head high. As one of South Africa's largest wineries, we export to approximately 80 markets around the world. This requires us to offer a versatile selection of wines to suit a very wide spectrum of palates, pockets and occasions, and believe that is in itself an exciting feature, although very challenging.
Stylistic innovation is most evident at the higher end of our multi-tiered range. What excites people about Nederburg at this level is the focus on lesser-known cultivars, such as Graciano, that goes into the Spanish-style Ingenuity red blend; fruit sourced from new and lesser-known wine-growing areas such as the Matroosberg in Ceres as well as the southern Cape; fruit selected from individual vines; and new interesting blends.
Ongoing innovation to keep the brand's offerings exciting, relevant and top-of-mind is certainly a major challenge. But being given the platform and opportunity to push boundaries and work with various wine varieties and styles, and test different winemaking techniques, really inspire and drive our winemaking team to continuously better their best efforts.
How does Nederburg plan to keep its position as a top local brand?  
By continuing our focus on producing top-quality wines for a wide consumer base as well as continuous experimentation and innovation. Also by being responsive to constantly changing consumer tastes and preferences, not only in terms of the wines produced, but also in terms of marketing communications.