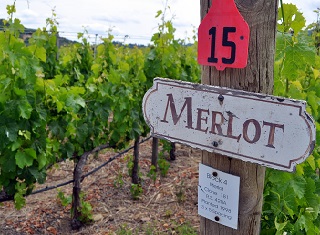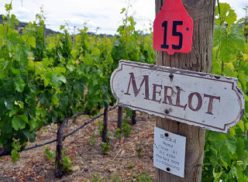 Our local Merlot is often pushed aside in favour of Bordeaux blends (which contain Merlot) or simply Cabernet Sauvignon, ostensibly the king of Bordeaux varietals. But yesterday's Merlot tasting at Asara Wine Estate, hosted by Winemag, once again showed that Merlot can shake off its meek and mild image. The full 2017 Merlot Report and tasting notes, available at http://winemag.co.za/wp-content/uploads/2017/06/Merlot-Report-2017.pdf, makes it evident that there is good quality as well as variability to be seen in our top Merlot wines.
Merlot is South Africa's eighth most planted variety, making the odd 5 500 ha of it about 6% of our national vineyards. This important varietal is sensitive to drought and high temperatures, which means it presents special challenges to the viticulturist, thereby earning it the moniker of 'problem child.'
"Particularly important is planting the vine in the right spot," says Frank Meaker of Org de Rac, who's 2015 Merlot scored 92 points. "The soil is critically important and once you have that aspect right you're on your way to making an impressive Merlot. Our Merlot, which grows on Swartland scali, was a bit worn down so we had to do a lot of work to get the vines fit and fighting again. One thing we did was break away leaves on the southwest side, which allowed the vines to catch the late afternoon sun. The vineyards are only 50 km away from the ocean and the day and night temperature variation plays an immense role in the quality and health of our vines. And all virus-infected vines have been pulled out. Merlot is my passion and I've been working with Merlot my whole life. It has to be ripe and you need to treat it with respect. In the cellar, particular attention has to be paid to protecting the wine from oxidation."
Something that should be highlighted is that this Merlot was organically made, which is extremely encouraging and shows that one simply cannot hide behind the "but it's organic" excuse anymore.
The only other wine that scored 92 was Boschendal's 1685 2015 Merlot. Red-winemaker at Boschendal Richard Duckitt says that Merlot can be a delicious wine, but that one has to be very careful to avoid green wines. "Site is crucially important. For instance, 50% of our grapes come from Elgin and the other 50% from Stellenbosch. The Elgin grapes, which are improving all the time, give a certain finesse and freshness that is characteristic of these cooler sites. We are careful not to pick too ripe, while respecting the slower ripening. Then we also consider yield carefully and ensure no green bunches are picked. Our vines are also optimally opened up for sufficient sunlight."
Richard stresses that all the hard work done in the vineyards can quickly and no doubt disastrously be undone in the cellar. "We carefully sort our grapes and allow no green fruit. Skipping ahead to post-fermentation, if any green or unripe characters are picked up we'll press off early. On the other hand, post-fermentation skin contact can be done if tannins are ripe and complementary to the wine. You also have to have a good feeling for what your grapes need in terms of wood. For instance, our Elgin fruit gets less wood while our Stellenbosch fruit gets more. It's all about balance and working with the grapes, not against them."
A benchmark Merlot, the La Chenade 2014 Lalande de Pomerol, was included and scored 91 points. The Delaire Graff 2014, Lourensford Limited Release 2015 and Shannon Woolworths 2015 scored 90 points. The Buitenverwachting 2012, Groenland Premium 2015, KWV Cathedral Cellar 2014, Overgaauw 2015, Whalehaven 2013 and Yonder Hill 2014 all scored 89 points.
As is usually the case, hard work and perseverance will pay off when it comes to Merlot. Admirable attributes indeed, but clearly not all that is needed to excel with this varietal.