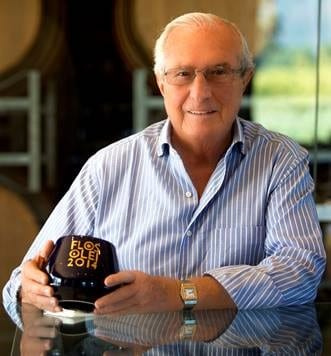 Giulio Bertrand, the visionary owner of Morgenster Wine & Olive Estate in Somerset West, passed away on Sunday afternoon 20 May 2018 in the company of his loved ones. His friends and colleagues are invited to celebrate his life at a memorial gathering at the farm on Friday 1 June from 11h00 – 12h30 in the tasting room. Please email jason@morgenster.co.za if you are attending.
Wine author and founder of WineWizard, Michael Fridjhon, described Bertrand as "remarkably energetic" despite his 91 years. Fridjhon also said that Bertrand's death came as a surprise to many in the industry who regarded him as "possibly immortal."
Bertrand often divided his time between Italy – where he was born – and his estate in Somerset West, Morgenster. He bought the estate when he was in his mid-60s and spent the last 25 years of his life transforming the historic property into a leading wine estate. Besides being renowned for producing high quality wines, Morgenster became the source of about 90% of the olive trees in South Africa now yielding oil for the country's booming and highly successful olive oil industry.
Bertrand is considered a true Cape wine legend, and will be dearly missed!
R.I.P. Giulio Bertrand (13 March 1927 – 20 May 2018)