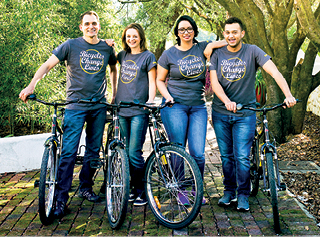 Nederburg has significantly stepped up its social investment efforts to make a tangible difference in its community.
 One of South Africa's most reputable names in wine, Nederburg in Paarl, is now home to the first Qhubeka bicycle assembly facility in the Western Cape. Here four previously unemployed women from the local community have been trained in the expert assembly, maintenance and repair of bicycles. Their aim is to build at least 5 000 quality, purpose-built bicycles a year.
The plant at Nederburg forms an integral part of the winery's three-year exclusive premium wine partnership with Team Dimension Data for Qhubeka, Africa's professional cycling squad. The cyclists compete in World Tour races to raise awareness and funds for Qhubeka, a non-profit organisation that sees bicycles as a simple, affordable and sustainable solution to some of South Africa's most pressing social and economic problems. Nederburg's aim with the partnership is to invest in the future by giving back to communities. This reflects the cellar's commitment in upskilling of talented South African winegrowers and winemakers.
"Communities with limited transport have restricted options, but bicycles are tools for change," Qhubeka Western Cape regional manager Ian Mills says. "With access to wheels comes a connection to opportunities. Qhubeka is a Nguni word that means 'to carry on' or 'to move forward' and demonstrates exactly what our aim is: to help people travel faster and further, carry more, be fitter and have access to more options. Bicycles also save people money they would have had to spend on other forms of transport. People earn Qhubeka bicycles through our various programmes and improve their access to schools, clinics and jobs."
Master bicycle mechanics Beverley Roode and Janine van Beulen Johnson of the non-profit organisation Bicycles and Beyond (BAB) run the bicycle assembly facility at Nederburg on behalf of Qhubeka. With many years' experience of working with bicycles under their belt, they established BAB in 2015 with the specific aim to empower communities by providing training in bicycle maintenance and cycling. Partnering with Qhubeka and Nederburg has enabled them to achieve their goals.
Supporting Beverley and Janine at the Nederburg facility are Jennilee September (31) of Smartie Town, Tammy Letoli (24) of Groenheuwel, Feroska Sitter (35) and Georgina Simpson (33), both of Chicago. They've each earned a Qhubeka bicycle and are paid a monthly salary for the work they do at the facility.
"This partnership and the community projects that benefit from it have provided Nederburg with an exciting platform to further invest in the future of South Africa," Nederburg cellar master Andrea Freeborough says.
"Transferring skills and building knowledge are key priorities for Nederburg. As one of South Africa's most iconic wine brands, we believe that curiosity, enquiry and discovery are essential elements for our core business of producing award-winning wines. With this in mind, we try to inspire people to learn more, empower themselves and continually look for ways in which to further their life goals. The possibilities are endless. Everyone at Nederburg is thrilled to be involved in this project and help Qhubeka to reach more people and change more lives.
"In May three Paarl East neighbourhood watch organisations were given the first 50 bicycles built at Qhubeka's bicycle assembly plant at Nederburg. They are now better equipped to fight crime in their communities. Up until now, patrols were done on foot. Bicycles allow neighbourhood watch members to cover more ground more quickly, increasing their effectiveness.
"We're asking consumers worldwide to spread the word, engage and participate in helping Nederburg make a difference to the lives of South Africans through Qhubeka."
For more information about the project and to contribute, go to nederburg.bicycleschangelives.org.
Andrea and her team of highly skilled winemakers continue to explore new territory, experimenting with new varietals and styles. The cellar is vinifying Rhône, Spanish and Portuguese whites, trialling dry rosés made from Mediterranean varietals, opting increasingly for open-topped barrel fermenters for its top-end reds and aging a Shiraz in whisky barrels. Also in the making is a Riesling from one of the Cape's highest altitude vineyards on the Ceres Plateau.
In late 2016 new varieties such as Chambourcin, Vidal Blanc and Seyval Blanc were planted under the leadership of viticulturist Bennie Liebenberg. This was done not only to counter the effects of climate change, but also to help eliminate pests and control diseases in the vineyards. Nederburg's cellar and viticulture teams continually focus on water and energy-efficient initiatives.
Over the past year Nederburg has been bestowed with several accolades. It's the 2017 Platter's By Diners Club South African Wine Guide's Winery of the Year and is the only South African winery to feature on the esteemed Drinks International World's Most Admired Wine Brands top-50 list this year in 36th place. It was included on the list for the first time last year in 49th place.
Nederburg was also named the South African Wine Producer of the Year and the 2013 vintage of its Private Bin R163 Cabernet Sauvignon won the award for best Cabernet Sauvignon in the world at the 2016 International Wine & Spirit Competition.
This year Nederburg's Heritage Heroes The Anchorman Chenin Blanc (wooded) 2016 won a platinum award and was named the best South African Chenin Blanc priced at over £15 (about R250) at the Decanter World Wine Awards and is a Standard Bank Top Ten Chenin Blanc winning wine.