The face of agriculture and natural resource management is changing with satellites and remote sensing playing an increasing role to inform decision-making. We look at how a service called FruitLook is strategically placed to help support local fruit producers, and agriculture in general, on their journey towards more efficient water use.
More about FruitLook
FruitLook is an online tool that helps farmers improve yield and save resources. It helps farmers monitor their crops and optimise irrigation.
FruitLook integrates satellite data with geographical data and weather information in complex models and produces user-friendly, farm-specific maps and information for producers and consultants alike.
FruitLook offers a unique view on different aspects of a production unit, including water use and crop production. This is possible thanks to its ability to collate relevant information that is not always visible to the naked eye.
FruitLook allows a grower to see where an orchard or vineyard has received too much or too little irrigation. It provides the opportunity to save water and to ensure that a production unit stays within the required norms to optimise production.
Almost half of the producers using it indicated they have cut their water use with a tenth. One in every ten producers says they are using almost a third (30%) less water than before.
It has been a really challenging year in the agriculture sector with the effect of the recent drought being felt widely, including in the local fruit sector.
Last season's drought (the worst in 112 years according to the weather gurus' records) has emphasised yet again just how important efficient resource use is to local farmers.
Even before last season's drought hit, water availability was already set to be the single biggest factor in limiting agriculture production. Demand is already outstripping supply in many catchment areas.
In the Western Cape – the heart of the country's fruit and wine producing region – water allocations to the agricultural sector have already been capped. This means that water efficiency measures like precision agriculture and "satellite farming" will be crucial for any further agricultural expansion that requires irrigation.
There is an increasing need to improve the efficiency of resource use to mitigate impacts of climate change, says André Roux, Director for Sustainable Resource Management in the Western Cape's Department of Agriculture. Farmers will need to produce more crop per drop, especially given rising input costs and more erratic weather patterns emerging.
Rising input costs (especially energy) and increased competition for water compel producers to improve their water-use efficiency in terms of agricultural yield per amount of water consumed. It is imperative to measure crop water use in order to achieve high water productivity and food security, he believes. "You can't manage what you don't measure," says Roux.
This is where a data service called FruitLook has proven especially useful to many producers. It employs the latest satellite technology to help farmers precisely manage crop productivity, growth and water use. FruitLook uses satellite-derived information to help farmers decide about optimal timing, extent and location of inputs such as water and fertiliser.
As an example, FruitLook monitors just how much water is released from fruit trees and vineyards through evapotranspiration and how efficiently water is used for crop growth. Says Roux, "The satellites can, for instance, tell you how well your crop is growing, how much water it is using and also how effectively it is doing that."
Water user associations are also seeing the benefits of FruitLook and are encouraging their members to use it. Quinton Brynard from the Winelands Water User Association says: "We encourage our members to use FruitLook, not only to use water more effectively, but also to do more with the water that is available. Our resources are under incredible stress and this is not going to change in the foreseeable future. We need to find ways to do more with less." Christiaan Olivier from the Hex Valley Water Users Association believes producers can benefit from using it. "The user must, however, understand the technology and spend time analysing it."
Due to the expected crises with the limited irrigation water available during the 2016/17 season, the area covered by FruitLook was recently extended. The area under its satellites' scrutiny now roughly stretches from Lutzville/Vredendal (in the north) to the Hemel-en-Aarde Valley (in the south) and Montagu and Bonnievale (in the east). Roux's department is currently subsidising farmers to use this high-tech remote sensing information service, free of charge.
Beyond the farm gate
The data behind FruitLook can also be useful beyond the farm gate. It can be used for regional analysis (including research into yield prediction) and water resource management (including drought detection, water audits and water footprinting). See graphic for more examples.
In the case of FruitLook, the application of remote sensing is very specifically aimed at providing farmers with the right information to help them increase their water use efficiency (enough water at the right time). There are several ʻby-products' from FruitLook's work that help to improve the efficiency of water use in agriculture in a different way.
FruitLook's datasets have shown many linkages, overlaps and potential areas of collaboration with other satellite and remote sensing research underway, says independent researcher Dr. Caren Jarmain. The work that underpins FruitLook is an example of "where the science of agriculture and water meets", she says. Jarmain is involved in a research project on behalf of the Water Research Commission (WRC) performed by Stellenbosch University (SU) to determine the actual area under irrigation and the volume of water required annually for this. FruitLook's data is used to determine the actual crop water use in the Western Cape and is used to calibrate models that are being developed to estimate actual crop water use across the country.
FruitLook is considered "one of the most advanced remote sensing tools" applied to local agricultural practices.
Shelly Fuller, WWF-SA's Fruit & Wine Programme Manager says FruitLook and other remote sensing technologies have "enormous potential" to help the agricultural sector become more water-use efficient. "Remote sensing and satellite data services offer a valuable option for farmers," she says. "It enables producers to know what to use where and when and save costs. The government can use it to establish realistic baselines in terms of water usage figures per crop and region and to establish risk areas for future (where to shift crops across the country)." FruitLook could be used for a catchment level view of water efficiency.
GreenCape, a sector development agency that supports businesses operating within the green economy, is using some of the results from FruitLook to validate the crop water requirements they have calculated as part of their own water research project in the Western Cape. Although they are not currently using FruitLook for research purposes, this data could according to Claire Pengelly from GreenCape have application in water footprinting models as it provides information about crop water requirements.
Following this line of thought, David Black from the consulting service Blue North has been involved in efforts to use remote sensing data to determine the water footprints of stone fruits. He considers FruitLook "a powerful and cost-effective water management tool". Blue North has used FruitLook's evapotranspiration data to calculate the "green" and "blue" components in their water footprinting work as part of efforts to curb water risk on farms. Says Black, "Because it is modelled on real data, crop water use figures should be more accurate than those obtained through a crop water balance model (given the range of input assumptions), and obviously far more practical than actual in-field measurements."
The output of a water footprint is expressed as a volume per mass of product figure (i.e. m3/ton) and is comprised of the "green", "blue" and "grey" water components. This is not grey water in the conventional sense, but an indicator of the negative impacts of contaminants on local water resources. Says Black, "It is an effective means of identifying water-related risks and opportunities within agri-value chains, and communicating these risks and opportunities with stakeholders further up the value chain."
Regular and consistent recording of remote sensing data, combined with withdrawal quotas and records, can also be a powerful tool for driving catchment-scale water management discussions, especially in agricultural regions. Black adds, "The capabilities of remote sensing seem to be constantly evolving as new algorithms are developed and tested, and is no doubt the future of resource-efficient agriculture. I'm sure FruitLook, and its product offering, will continue to evolve accordingly, and it would be great to see a country-wide roll-out of FruitLook."
Remote sensing for the future
Although satellite products have been around for decades, producers and consultants alike now have free and timeous access via the Internet to products that previously would have been prohibitively expensive.
Remote sensing of the earth's surface for observation is as yet in many ways an untapped suite of possibilities, according to Mireille Lewarne from WWF-SA's agricultural team. Says Lewarne, "If remote sensing offered us a language to interpret what is happening on the earth's surface, we are still in the learning-the-alphabet stage, maybe putting a few simple words together."
Remote sensing is applied in various ways. A number of researchers are mapping irrigated areas with it and doing research on the water footprint of crops. Others are interested in river discharge, improving efficient water use on farms or identifying just how much of our precious water resources are currently being used by water thirsty alien invasive plants and trees. Collective efforts are under way to gain a better understanding of what this means for water availability in future. Heaps of data is collected in the process that needs to be interpreted.
Prof Adriaan van Niekerk from SU says "big data" and remote sensing can help a great deal to help make agriculture more water efficient in future. Prof Van Niekerk, director of the Centre for Geographical Analysis at the university, is the project leader on mapping South Africa's irrigated agriculture for the WRC. He is also involved in "machine learning" exercises for FruitLook.
"Big data/remote sensing is critical for agriculture, but its employment in South Africa is still in its infancy," says Prof Van Niekerk. "Five years ago the main challenge was to obtain suitable imagery to support farming practices, but that has changed dramatically over the past few years. The volume of remotely sensed imagery is exploding, with high spatial and temporal resolution data becoming available free of charge (e.g. Sentinel-2 satellites)."
"The challenge now is to process and make sense of this data. It is impossible for the human brain to analyse the enormous volumes of imagery, and relate it to what is going on on the ground. The only way to effectively use this data is to make use of machine learning (also called "deep" learning). By supplying a small set of known data (e.g. poor crop condition measured in the field) to these sophisticated algorithms, relationships with satellite imagery (and other spatial data) can be identified and exploited."
Remote sensing also offers a possible viable way of mapping constantly changing environments for seasonal variation, as well as for threshold changes.
One of the highest risks to both conservation and agricultural production remains the invasion of alien plants. Various institutions, including CSIR, is driving research projects using remote sensing on this. This includes the application of FruitLook data to better understand water use by invasive plant species. A challenge, however, remains identification of invaded areas. Says Lewarne, "Numerous attempts have already been made to distinguish the spectral signature of alien plants from natural veld or forests. This remains an area of keen focus, as it costs the government and private landowners more and more to control or remove alien plants. They are the number one threat to water availability in many areas, and pose a high risk for fire damage to crops and infrastructure, and if the fires are too frequent, to the longevity and diversity in natural habitats."
Dr Mike Wallace, specialist scientist at the Western Cape Department of Agriculture's Research and Technology Development Services, is also using remote sensing in dry land crop and vegetation monitoring and modelling. This enables him to assess vast areas without visiting them and assess drought situations.
Although an extensive arable farmer cannot do much about supplying more water to his crop, there are important management decisions that can be supported by this work, including about predicted yield adjustment and making decisions about fertilisers. Likewise, a grazing farmer or their advisor will be supported by these technologies on decisions regarding stocking rates and local distribution of drought impacts, he says.
How does FruitLook fit into these regional and nationwide strategies to deal with water and environmental issues? It provides valuable information on actual crop water use of the previous week of the selected crop, orchard or vineyard.
Roux explains, "This can guide the irrigators to optimise the water use in the current week. Water savings in excess of 10% are quite common for the users of the FruitLook data and saving water also results in electricity savings. Reduced irrigation water run-off reduces/eliminates the pollution of our rivers and streams with fertiliser enriched water, which has a tremendous positive impact on the environment."
Roux believes the optimal use of the limited irrigation water available this summer season due to the drought will be crucial for farmers to produce a quality crop with the water restrictions in place. "FruitLook's data will greatly contribute towards an increase in agricultural water use efficiency. This all starts by assisting irrigators to manage their limited water resources in the upcoming irrigation season."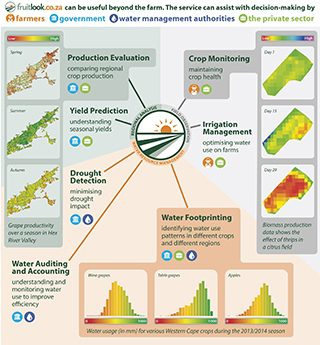 Contact
Caren Jarmain or Ruben Goudriaan
info@fruitlook.co.za
www.fruitlook.co.za