A promising new sensor tool to measure grapevine water status to efficiently manage vineyard irrigation is being beta tested this year in California vineyards, and if trials are successful, a commercial sensor product will be introduced to the grower market in 2020. The sensor is a micro-tensiometer that is installed into the trunk of a grapevine to provide continuous measurement of stem water potential (SWP) with data automatically transmitted to the grower to evaluate for making irrigation decisions.
The SWP tensiometer was developed using microchip technology by a team of researchers at Cornell University in New York that included: Dr. Alan Lakso, now emeritus professor in plant science specializing in fruit and grape crop physiology; Dr. Abraham Stroock, a faculty member in chemical and biomolecular engineering; and mechanical engineering PhD student Michael Santiago. A 2015-16 research grant from the U.S. Department of Agriculture National Institute of Food and Agriculture helped further test and develop the technology. After completing his PhD in 2016, Santiago helped found the startup company FloraPulse to license the Cornell patents and commercialize the technology. Santiago is CEO of FloraPulse based in Davis, CA and has been conducting field trials in California vineyards and orchards with the sensors since 2017.
In 2017-18, FloraPulse raised $925,000 in federal funds from Small Business Innovation Research (SBIR) grants through the National Science Foundation to develop initial prototypes for a commercial product. The purpose of the micro-tensiometer is to provide a commercial system capable of automated, accurate and long-term measurement of plant water status.
During the current 2019 growing season, beta trials are being performed in California vineyards and almond orchards. These trials will assist with improving sensor design and installation and developing a decision support system to deliver accurate irrigation recommendations for growers based on crop yield and quality goals. Santiago said the company plans to introduce a commercial product to the market in 2020 that will initially be limited to California customers.
AVF Research

Commercial grapegrowers may use one, or a combination of tools and methods, to assess grapevine water status and schedule vineyard irrigation during the growing season. Current water status measurement tools include: soil moisture sensors, climate-based information using weather monitoring tools to monitor vineyard evapotranspiration (ET), the use of a pressure chamber to measure leaf water potential (LWP) or SWP, and sap flow sensors on individual vines.
University of California, Davis (UCD) professor of plant sciences Dr. Ken Shackel, a specialist in plant water physiology, is performing research with the new sensors on grapevines at a UCD vineyard at the Robert Mondavi Institute with grant funding from the American Vineyard Foundation (AVF).
During a presentation earlier this year at a UCD seminar on vineyard water management, Shackel discussed soil- and ET-based water measurement methods and noted that these can be successfully used for irrigation management when properly correlated with vine water use. However, if there are uncertainties in these measurements, the vine may have stress when it's not wanted, or not enough stress when it is wanted.
Shackel said, "My approach is to ask 'what is the plant doing and what does it need.'" This involves directly measuring plant water stress through SWP or through LWP. A direct measurement can be taken using a pressure chamber, which he says "is like measuring the blood pressure of the plant." Viticulturists have traditionally used the pressure chamber (also called a pressure bomb) on selected "sentinel vines" in the vineyard to indicate plant water status for a vineyard block. However, this is time consuming as it requires visiting the vineyard to sample the same vines at the same time of day for each sampling period.
For Schackel's AVF project, micro-tensiometer sensors were placed in the trunks of 8-year-old Cabernet Sauvignon vines in August 2018. The experiment is evaluating six vines with two sensors per vine. Each sensor is wired to a data logger with a small solar panel that can transmit readings 24/7. Periodic pressure chamber measurements are being taken in the morning and afternoon for the same vines to compare SWP values.
Shackel's initial data indicates the sensor data patterns are correlating relatively well with pressure chamber data patterns and with weather patterns, although more sensor calibration may be needed. The sensors are giving a good idea of pre-dawn SWP, but the mid-day SWP is less clear. In general, based on his past work using SWP in other crops, Shackel believes SWP is reliably related to economically important plant processes (shoot growth, fruit composition/quality, yield, etc.) and should work in grapes, and he believes SWP can give growers timely, actionable information on plant water status for making irrigation decisions.
Installation and Operation

Based on current design and testing in trials, Santiago provided information about installation and operation of the FloraPulse sensors. The sensors should be installed in vines with trunks larger than 1.5-inches in diameter. The sensor probe is installed into the plant xylem (water carrying tissue) by drilling a shallow hole into the vine trunk through the bark, and inserting the probe to make sensor-xylem contact. The insertion hole is sealed to keep the probe from being pushed out by xylem water pressure, and the vine trunk is wrapped with insulation material around the sensor insertion site. From one to three sensors are recommended per vineyard irrigation block, with likely locations on vines where pressure chamber readings have traditionally been taken.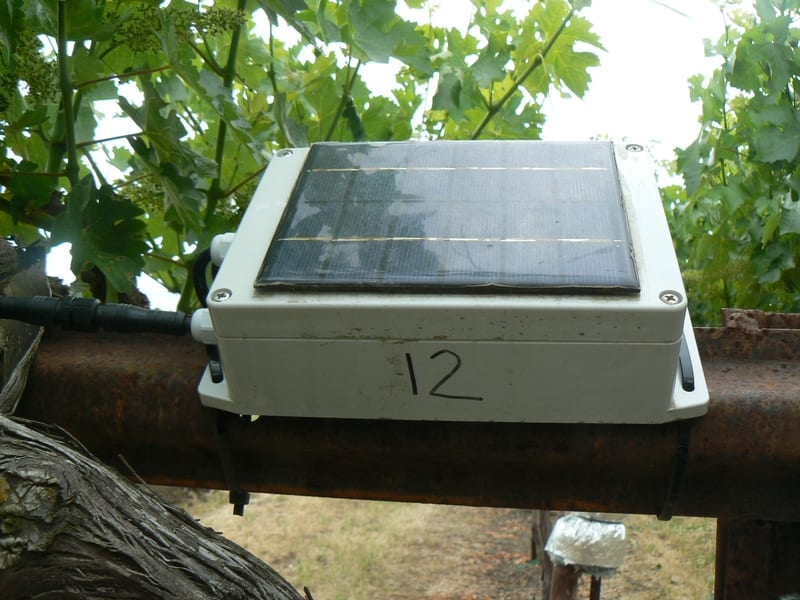 "Our goal is make installation very easy for growers to do themselves, in as little as five minutes per vine, and we'll provide instructional videos and manuals," Santiago said.
The data logger uses a lithium battery and is charged with a small solar panel. The data logger box can be attached almost anywhere, such as to a trellis wire or vine post, as long as it has sunlight exposure. The current data logger uses a cell modem to automatically transmit information every 15 minutes to the cloud. FloraPulse is only installing sensors in areas with good cell reception, but has plans to develop loggers that don't require cellular reception. Based on testing, the sensors are expected to last at least one growing season, but more testing is underway to determine if a sensor can be used multiple seasons.
Santiago explained the potential advantages of the new technology: "An advantage to having daily data on mid-day and pre-dawn SWP is the ability to correlate that irrigation actually happened and had the intended effect on plant water status. After irrigation, the plant should recover to a higher SWP. Lack of recovery may indicate a plant health issue or a problem with the irrigation system."
In addition, after a successful irrigation, the vineyard manager can track how much time it takes for the applied water to be used, and over time, adjust the irrigation amount and frequency to maximize water savings and plant performance. Santiago said a "decision-support" software system is being developed to use sensor data in combination with weather data to predict water stress for the week ahead to recommend irrigation scheduling for growers based on their goals.
More information is available at www.florapulse.com
This article first appeared here (winebusiness.com | Ted Rieger | July 03, 2019)