In this three part series, we explore some fundamental aspects of sulphur and nitrogen foliar fertilisation and the chemical and sensory results of a recent project that took place in South Africa. Part 2 of the series focuses on the effects of the nitrogen and sulphur foliar fertilisation on the non-volatile composition of grapes and musts.
Introduction
All recent international studies of foliar fertilisation looked only at selected aspects related mainly to the chemical composition of the grapes and wines. Driven by renewed interest, more research on foliar fertilisation was reported in the past years. The research study presented here was done in South Africa over three seasons and took a more comprehensive approach.1 We looked into some specific aspects, but also into the overall effect (combination of individual effects) of the treatments. Since a vineyard treatment will affect not only the composition of the grape, but will have a lasting effect all the way to the wine, evaluations took place throughout this process.
Experimental layout and treatments
A checkered design was used in the field experiments. The general layout in a vineyard row followed a pattern of 12 experimental vines, three buffer vines, followed by the next 12 experimental vines. Treatments never started next to a road (at the end of a row). The layout was also adapted to the vineyard block itself, and looked like the layout presented in Figure 1. Due to circumstances beyond our control, three different vineyards were used for Chenin blanc and two for Sauvignon blanc throughout the three years of the project.
In addition to a control (C) that received no foliar fertilisation, three different treatments were applied to the experimental vineyards. The treatments consisted of nitrogen (N, Ureum LB), sulphur (S, Microthiol), and nitrogen+sulphur (N+S) equivalent of 10 kg/ha N and 5 kg/ha S. The calculation was done taking into account the number of vines per ha and the number of vines treated. In our case, we used 1.176 g N/vine and 0.588 g S/vine, translating into 25.56 g Ureum LB product and 7.35 g Microthiol product per 12 vine treatment, dissolved in 20 L water. Two foliar sprays were applied to each vineyard every season. Foliar fertiliser sprays were applied first approximately two to three weeks, and second, one week before véraison. There were at least 10 days between the treatments.
Non-volatiles in grapes and must
The analyses took place at various stages of the winemaking as indicated in Figure 2. The compounds selected for evaluation were the ones potentially affected by the treatments applied (S- and N-containing compounds): Yeast Assimilable Nitrogen (YAN) in both its aspects, ammonia and Free Amino Acids (FAN) and glutathione (GSH) for the grapes and must. In wine, major volatiles (affected indirectly through amino acid composition at the must stage), methoxypyrazines and thiols were evaluated. These results will be presented in Part 3 of the series.
FIGURE 2. Schematic representation of the winemaking process and the stages sampled for analyses (AF: alcoholic fermentation, PS: protein stabilisation, CS: cold stabilisation).
As expected, the different foliar fertilisation applications had an effect on the non-volatile content of the juices and musts. Generally, the composition and levels found were in agreement with the findings of the few published foliar fertilisation reports.2-5 The differences of the treatments were sometimes significant and at other times minimal, but trends were observed with certain non-volatile compounds. The oenological parameters were generally not affected by the treatments, so we decided not to include the results in this article.
YAN
In this study, nitrogen foliar fertilisations (N and N+S) positively increased the YAN levels compared to the control and these findings are supported by the literature.5-7 YAN was measured in racked juice before inoculation. The statistical analysis shows that even though all the treatments containing N resulted in an increased level of YAN, differences were not significant (Figure 3). However, in cases where YAN was low, the increase as a response to foliar fertilisation with N could make the difference between sub-optimal and acceptable levels. Even when the same vineyard was used for two consecutive seasons (SB 2015 and 2016) the effect of the treatments was the same. Moreover, the total amino acids and arginine (ARG) content in the juices were higher with the N treatments compared to the control, in agreement with previous research.4 The increase in amino acids is relevant not only for yeast metabolism, but also for the aromatic potential of a wine, as certain amino acids are precursors of aroma compounds.
FIGURE 3. ANOVA (Analysis of Variance) for YAN values for the three vintages and the two cultivars studied. Letters indicate significant differences.
Glutathione
The results and trends of GSH were not as evident as for YAN, though N and N+S treatments generally resulted in higher GSH levels compared to the control for both cultivars and all years (Figure 4) in accordance with previous results from literature.5 If the wines have the potential to be aromatic, GSH levels present can play a crucial role by protecting varietal volatile thiols from oxidation, and therefore protect the aroma expression of wines.8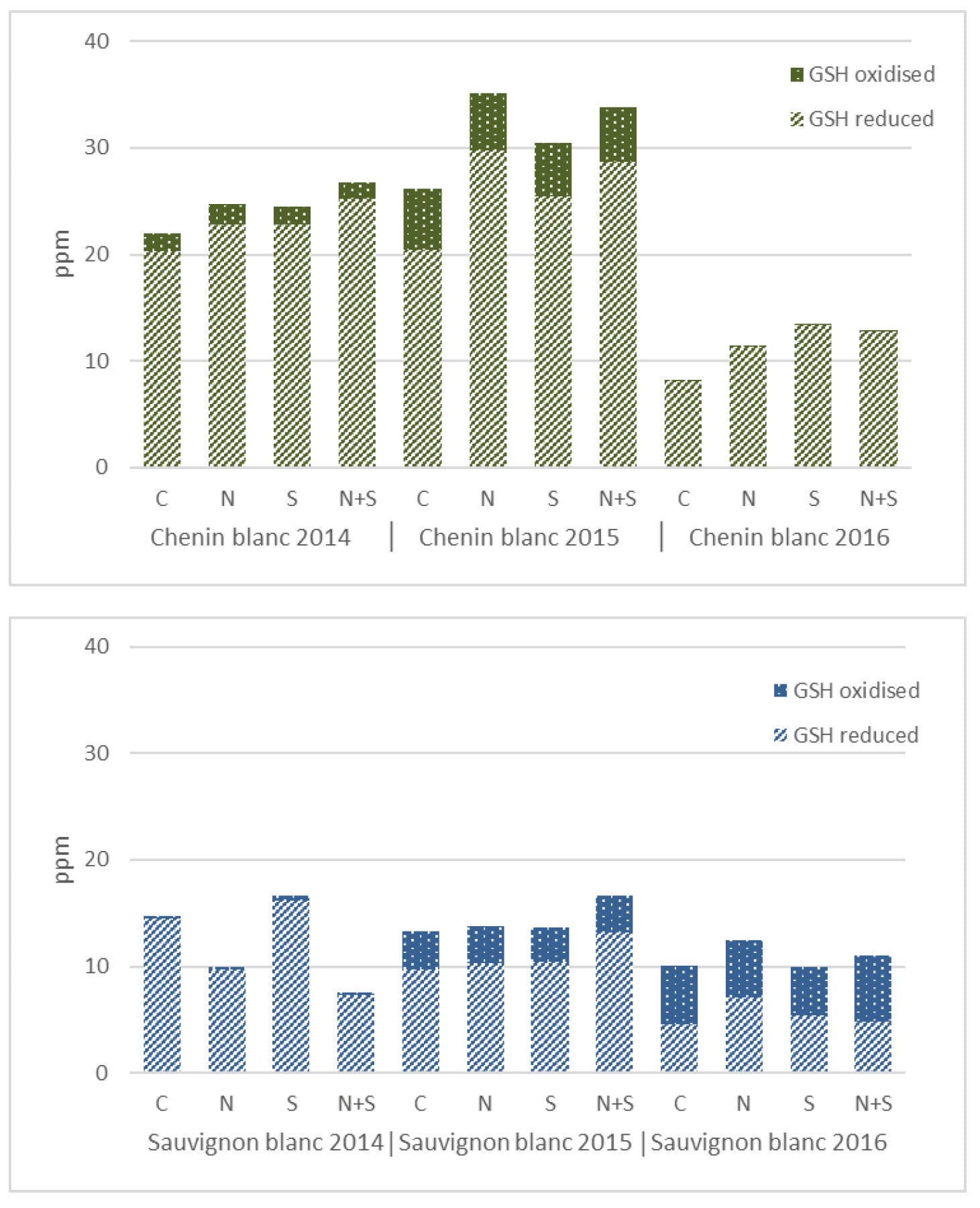 FIGURE 4. Reduced and oxidised GSH at the initial testing stage (racked juice) for the two cultivars and all three vintages. The results are from four biological (vineyard) repeats each.
To gain more knowledge on the mechanisms of the foliar fertilisation, various other vineyard measurements can be considered:
Vine measurements, such as light intensity and nitrogen content in the leaves and berries, should be included to determine the canopy density and nitrogen content between the sprays.
Methoxypyrazines throughout the ripening and winemaking process to see how the levels are affected by the fertilisation sprays.
Sulphur-containing precursors, glutathionylated and cysteinylated thiol precursors to be related back to the S foliar fertilisations treatments.
Take home message
In this particular study, the foliar treatments did in general not have major effects on YAN and glutathione content. It is only in the lower YAN treatments where foliar application lead to a "significant for practical winemaking" increase in YAN. The industry is encouraged to do their own trials to see where foliar application can work for them and where not. A good place to start would be lower YAN vineyards, keeping in mind that factors influencing the success of foliar fertilisation can be the location of the vineyards (different South African wine regions have different climates), vine age, the cultivar (nitrogen deficient red and volatile-rich cultivars, such as Sémillon, Colombard, Riesling, Cabernet Sauvignon and Merlot) and the combination of soil and foliar fertilisation in the South African climate.
The effects of the treatments on the aroma composition and sensory expression of the wines after bottle maturation was also assessed during this project. It will be discussed in Part 3 of the series.
Abstract
The overall aim of this research study was to investigate the effect of different foliar fertilisation treatments on the chemical composition (volatile and non-volatile compounds) of the juice and wine of Sauvignon blanc and Chenin blanc. Many research studies have been done on the biochemical and chemical origins of non-volatile and aroma compounds and the effects of the environment, and viticultural and winemaking practices on the concentrations on these compounds. By performing chemical and sensory analysis to understand the influence of the effect of N and N+S foliar fertilisation on Chenin blanc and Sauvignon blanc, South African winemakers and the industry can use this information to make decisions at the viticulture and winemaking level to produce wines with more desirable sensory attributes.
References
Bruwer, F.A., 2018. Effect of foliar nitrogen and sulphur spraying on white wine composition (Vitis vinifera L. cv. Chenin blanc and Sauvignon blanc).
Juhasz, A., 2015. Effect of foliar fertilization on wine aroma for white wine cv. Sauvignon blanc (Vitis vinifera L.).
Gutiérrez-Gamboa, G., Garde-Cerdán, T., Gonzalo-Diago, A., Moreno-Simunovic, Y. & Martinez-Gil, A., 2017. Effect of different foliar nitrogen applications on the must amino acids and glutathione composition in Cabernet Sauvignon vineyard. Elsevier. 75: 147 – 154. Doi: 10.1016/j.lwt.2016.08.039.
Lasa, B., Menendez, S., Sagastizabal, K., et al., 2012. Foliar application of urea to "Sauvignon blanc" and "Merlot" vines: Doses and time of application. Plant Growth Regulation 67(1): 73 – 81. Doi: 10.1007/s10725-012-9667-5.
Lacroux, F., Tregoat, O., Leeuwen, C.V.A.N., Pons, A. & Dubourdieu, D., 2008. Effect of foliar nitrogen and sulphur application on aromatic expression of Vitis vinifera L. cv. Sauvignon blanc. Journal International des Sciences de la Vigne et du Vin 42(3): 1 – 8. Doi: 10.1007/s11032-013-9938-5.
Hannam, K.D., Neilsen, G.H., Neilsen, D., Rabie, W.S., Midwood, A.J. & Millard, P., 2014. Late-season foliar urea applications can increase berry yeast-assimilable nitrogen in wine grapes (Vitis vinifera L.). American Journal of Enology and Viticulture 65(1): 89 – 95. Doi: 10.5344/ajev.2013.13092.
Dienes-Nagy, Á., Vuichard, F., Spring, J-L. & Lorenzini, F., 2017. Evolution of major N containing substances in response to the foliar urea treatment (poster).pdf. Switzerland.
Lavigne, V., Pons, A. & Dubourdieu, D., 2007. Assay of glutathione in must and wines using capillary electrophoresis and laser-induced fluorescence detection. Changes in concentration in dry white wines during alcoholic fermentation and aging. Journal of Chromatography A. 1139(1): 130 – 135. Doi: 10.1016/j.chroma.2006.10.083.
– For more information, contact Astrid Buica at abuica@sun.ac.za.