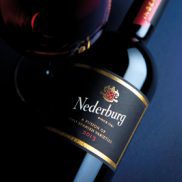 The desire to know new things is contagious. Andrea Freeborough, Nederburg cellar master and one of the winemakers, admits to having an insatiable thirst for knowledge.
The first thing that strikes you about Andrea Freeborough is her cool, calm and collected demeanour. It's an attribute that comes in handy in her demanding job as cellar master at Nederburg.
The cellar's other four winemakers are equally unflustered despite the fact that they annually vinify grapes sourced from vineyards across the Cape, including Nederburg's own four farms, for a multi-tiered range of wines that are sold in close on 80 countries worldwide.
"I'm extremely systematic and I think that helps when tackling an operation of this magnitude," Andrea says. She pauses, then says, "That sounds terribly serious. Actually, anyone who comes in here for the first time would think there's hardly any work being done because you can hear so much laughter. Nine times out of 10 the joke is workrelated, though. It's an indication of what a close-knit team we are and how well we manage pressure, which is often intense. That's why systems are so essential."
Andrea has two BSc honours degrees – one in viticulture, the other in winemaking. "I fell in love with both disciplines during my undergraduate studies and couldn't decide which to pursue at postgraduate level," she says. "In the end I gave in to my curiosity and devoted an additional year of study to each. I'm glad I did because it gave me the breadth of exposure you need in a job like this."
This year there's been even more pressure on Andrea and her team due to the switch to new packaging and the logistical implications this entailed. The revamped packaging was introduced on a staggered basis according to the various wine tiers and across all markets.
The changed look is a key part of Nederburg's revised approach to communication. The new bottles and labels are intended to emphasise the brand's pedigree and innovative, progressive outlook. The revamped packaging is complemented by a refreshingly different advertising campaign, entitled "There's always a story in Nederburg". It encourages wine drinkers to immerse themselves in the sensorial experience evoked by that first sip of a Nederburg wine.
Nederburg's innovative new communication and refreshed packaging were highlighted by the organisers of the 2016 Drinks International World's Most Admired Wine Brands list when they included the winery in its prestigious line-up. Nederburg was one of just 50 brands to feature, all selected by 200 wine professionals, including over 30 Masters of Wine.
In compiling its selection, the organisers looked for consistent or improving quality; a reflection of region or country of origin but also for a responsiveness to the needs and tastes of target audiences, the quality of marketing and packaging; and a strong appeal to a wide demographic.
This achievement puts Nederburg in the company of illustrious brands such as Australia's Penfolds (rated No 1 on the list), French icons Château D'Yquem, Château Haut-Brion, Château Latour and Château Margaux, and the high-profile Spanish brand Campo Viejo.
Andrea has embarked on a postgraduate course in strategic wine marketing through Stellenbosch University's department of agricultural economics. "Marketing is an integral part of what we do, so it made sense to learn more about it formally," she says. "They say the cure for boredom is curiosity but that there's no cure for curiosity. Well, thank goodness for that! The course is opening up a whole new world and adds an entirely new dimension to travelling and meeting wine drinkers and people in the trade."
She's not the only Nederburg employee who's been bitten by the curiosity bug. Chandré Petersen, a former Cape Winemakers' Guild Protégé who was appointed assistant winemaker at Nederburg last year, recently completed a wine business management course at the University of Cape Town's Graduate School of Business.
"The desire to know new things is contagious," Andrea says. "We're an insatiable bunch. It keeps us focused, enthused and excited."
She recently visited Brazil for the first time and was heartened by the positive trade and consumer response to Nederburg's wines. "As you'd expect, Brazil is mostly exposed to Argentinian and Chilean wines and for many the fact South Africa makes wine at all was a huge eyeopener."
She also visited Singapore, where Nederburg is already a well-respected brand, and the Philippines, Thailand and China, where South African wines are starting to make inroads.
Besides focusing on promoting Nederburg in South Africa and Germany, the brand's two biggest geographical areas, the marketing team has been building the brand's profile in selected African and Asian countries. They are also targeting the US- more assiduously, thanks to a distribution deal signed with Terlato Wine Group.
The brand's multiple tiering equips it to compete at various price points with a range that caters for various style preferences.
"Most of the discussion about Nederburg within the wine fraternity occurs at the higher end, because that's where our stylistic innovation is most evident. Whether we are featuring lesser-known cultivars, such as Graciano, that goes into our Spanish-style Ingenuity red blend; fruit from lesser-known wine-growing areas such as the Matroosberg in Ceres or one-of-a-kind vineyards were we literally select from individual bunches; making rosé in the Provençal mould or developing new blends, that's what excites people with a high level of interest and involvement in wine.
"But that's not the end of the story. We've just created a fabulous Chenin Blanc this vintage that appears in The Winemasters tier sold internationally. We have a Pinot Noir and Pinot Grigio in the 56HUNDRED selection, also available in export markets."
Andrea's enthusiasm is infectious. The iconic Nederburg brand is clearly in good hands.