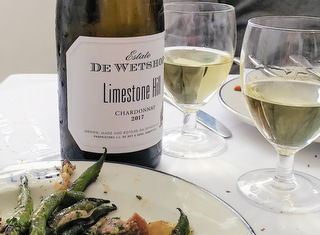 De Wetshof Estate did not hold back for the release of the latest vintage of their flagship Chardonnay. The 2017 Limestone Hill Chardonnay was presented at La Tête, the stylish little restaurant that has been making waves in Cape Town since its opening late 2016. La Tête is home to entrepreneur and master chef Giles Edwards, whose 'nose-to-tail' culinary philosophy means that food is always seasonal and nothing goes to waste in preparation.
La Tête's authentic, distraction-free approach allows the attention to fall squarely on the food and beverage being served – in this case, a superb starter of grilled green beans and crispy pig cheek, followed by a main course of fish pie and Brussels sprouts, all accompanied by De Wetshof's finest Chardonnay.
The 2017 Limestone Hill bursts with the richness that the clay-heavy limestone near Robertson provides. Though completely unwooded, this label exhibits surprising structure and complexity along with an accessible acid-sugar balance.
"The 2017 vintage is one of the best we've had, even surpassing our successful 2015 harvest," announced De Wetshof CEO Johann de Wet proudly.
The lunch concluded with an amazing "Floating Island" dessert with Madeleines and coffee, leaving everyone with a warm glow.