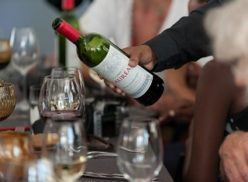 Judging by her calm and relaxed demeanour, one might surmise – and correctly so – that Zonnebloem winemaker Bonnie van Niekerk is not easily phased or rushed. This very same character is quite aptly also noticeable in her wines.
I had the distinct pleasure of attending a vertical tasting of Zonnebloem's Lauréat yesterday at The Fat Butcher restaurant in Stellenbosch. Eight vintages (2014, 2012, 2011, 2010, 2008, 2004, 2001 and 1995) of the Lauréat were tasted and while each of the wines featured Cabernet Sauvignon and Merlot as star attractions, Shiraz was also present in quite a few. Other varietals included Malbec, Petit Verdot and Mourvèdre. But more about this later.
The growing interest in South Africa's older vintages can only be ascribed to their remarkable ageing ability. This is evident from the record highest price ever achieved for a 750 ml bottle of wine (see https://www.nederburgauction.co.za/37324/nederburg-auction-2017-sales-results-and-highlights/) at this year's Nederburg Auction. Zonnebloem didn'tt disappoint and their Zonnebloem Shiraz 1977 at R2 167 per bottle and the Zonnebloem Cabernet Sauvignon 1987 at R1 667 per bottle puts them right up there with the rest of the Golden Oldies.
Back to the issue of Shiraz, a Rhone varietal, in a Bordeaux-driven blend. According to the article "Syrah in Bordeaux?" by Nick Stephens (see article at https://www.bordeaux-undiscovered.co.uk/blog/syrah-in-bordeaux/), Bordeaux winemakers in the early 1900s often added small percentages of Northern Rhône Syrah to their wines if they experienced a challenging vintage. This practise not only improves depth, but also fruit and complexity.
And this philosophy is in line with Bonnie's winemaking philosophy. "We don't simply add a component to a blend because we have it – to make the cut it absolutely has to be the best that we have. Making Shiraz, when it was a good Shiraz vintage, a part of the Lauréat blend is a calculated move."
For a self-proclaimed Shirafile (or insert any other term that describes a Shiraz lover), working with this grape as part of the Lauréat journey is a real blessing. "Compared to other red varietals, Shiraz is really well behaved in the cellar. If you treat it well, it will reciprocate with equally good treatment followed by expressive fruit, intense spiciness and beautiful complexity."
Next year sees Zonnebloem's 100 year anniversary of their first wine being bottled. Why not raise a glass of Zonnebloem Lauréat tonight and see how all the varietals come together?