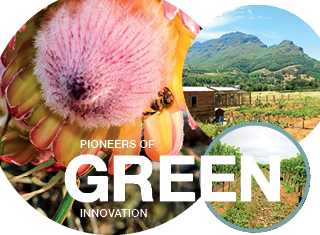 Several South African producers have been changing the face of winemaking in innovative ways. Their reason? To create a better future.
 Producers worldwide are going all out to become climate smart. In South Africa pioneers such as Villiera, Vergelegen and Spier are leading the way to develop innovations and strategies that will soon become essential for addressing the climate and water challenges facing the industry.
Working smart
As part of the United Nations' ambitious 2030 Agenda for Sustainable Development, its Food and Agriculture Organisation (FAO) recently released a new climate-smart source book to help optimise agriculture for sustainability. The FAO defines climate-smart agriculture as "an approach to help the people who manage agricultural systems respond effectively to climate change". At the same time China intends to spend more than $360 billion before 2020 on renewable energy. And in Bordeaux, France, St-Émilion recently mandated that from the 2019 vintage all producers using four local appellations must be organic, biodynamic or environmentally sustainable.
Early foundations
The South African wine industry laid the groundwork for environmental responsibility in 1998 with the Integrated Production of Wine (IPW) sustainability guidelines. In 2004 the Biodiversity and Wine Initiative (BWI) was launched and in 2005 Vergelegen became the first BWI Champion for its work in combating alien and invasive vegetation. Alien species such as wattle and eucalyptus use large amounts of water so their removal benefits catchment areas.
The BWI initiative has been superseded by the WWF Conservation Champions, comprising 38 farms at the forefront of nature conservation and wildlife protection. They produce environmentally friendly wines and promote sustainable practices. A new eco-tourism app, the Champion Wine Guide, keeps the public informed about their activities and outdoor events.
Getting together
Changing the world is a challenge not to be taken on alone. In the Elim wine ward Black Oystercatcher joined forces with other landowners and the town community to rethink how conservation and agriculture can work together.
Black Oystercatcher owner, winemaker and viticulturist Dirk Human says developing the concept of the Nuwejaars Wetlands Special Management Area took some time because they were charting new territory. "There was no precedent in South Africa for such an initiative at the time. It was a pioneering concept which discarded conventional views on agricultural activities and biodiversity conservation and looked for an innovative solution to conserve on private farmland in the Overberg."
Early pioneers drive change by doing the initial legwork and carving a framework for action that can be imitated and refined by those who follow. Waverley Hills, the first organic vineyard to achieve BWI Champion status, was the first vineyard to introduce shading nets for weed control and moisture management. Placing the nets underneath the vines smothers weeds and keeps the ground moist.
Waverly Hills also began a fynbos nursery in 2007. These water-friendly plants are used to rehabilitate eroded riverbeds and agricultural land. "It's all about Mother Nature," manager and winemaker Johan Delport says. "If you want to do it purely for marketing you'll soon find out it's not so easy. It has to be a way of life – there are no shortcuts."
Their talent for finding energy and fuel-efficient solutions to natural problems may give organic and biodynamic producers a head start in dealing effectively with climate change.
Spier
Spier played a key role in establishing the Stellenbosch River Collaborative, a multi-stakeholder partnership forum that aims to restore health to the Eerste River catchment area, the farm's sustainability director Heidi Newton-King says. In addition to rainwater harvesting and the removal of alien species, a centralised wastewater treatment plant recycles all Spier's wastewater. Showers, basins and toilets in the hotel have been fitted with water-saving devices and more than 98% of all solid waste is recycled.
Sparking change
Mike Malherbe, manager and viticulturist at Laibach Vineyards, decided to go organic after his vineyards became resistant to conventional chemicals and he lost 30% of his harvest one year. The first Stellenbosch cellar to be certified organic, Laibach was also one of the first to employ natural predators against mealybugs. The practice proved so successful it spread to neighbouring farms. "The last time we used insecticide was in 2000," Mike says.
"When a farm's natural systems work, its productive areas also respond well," Dirk says. Johan agrees. "The vineyard builds up its natural resistance when it's no longer dependent on chemicals, which allows its unique character to emerge."
A better nature
Vergenoegd has been working on sustainability for more than 30 years and has become well known for the large colony of Indian Runner ducks (close on 1 000 at last count) that protects its vineyards against snails and other insects. Winemaker and viticulturist Marlize Jacobs says thanks to the ducks they can avoid using harmful insecticides. The fowl have also attracted international attention. Visitor numbers increased from 461 in December 2015 to 16 000 in December 2016. Vergenoegd has begun construction on a water treatment facility to purify water from the Eerste River and a packing plant where wastewater will be recycled.
Education
Villiera Wines was named Green Company of the Year at The Drinks Business Green Awards 2017. Its holistic approach covers everything from rainwater harvesting and hydroponics to extensive solar panels with their own electricity distribution network.
For Villiera's viticulturist and sustainability guru Simon Grier it's a matter of survival. "People and the environment are your lifeblood," he says. "Do your best or you'll fall by the wayside. You have to keep asking the questions. When I started out, you could learn everything you needed to know from your dad. That's no longer the case."
Simon keeps his ear close to the ground for anything that might help increase efficiency. A tip from a customer once led to a free energy audit supported by the British government. "Knowing your carbon footprint is a massive advantage. It measures your waste, so if it's coming down it's a good indication you're on the right path."
Villiera's four electric vehicles run on lead-acid batteries, which take eight hours to charge (they recharge overnight when electricity is cheaper), while new-generation lithium-ion batteries can be charged more quickly and at irregular intervals. "What was impossible yesterday is possible today."
Simon insists that every decision must make economic, environmental and social sense. A mind shift is necessary for the world to become climate smart and everyone has to be educated in the new mode of thinking. 
≠hannuwa
Sustainable Wine South Africa is an alliance between the Wine and Spirit Board, IPW, WWF-SA Conservation Champion programme and Wines of South Africa (Wosa), and drives the South African wine industry's commitment for sustainability using the ancient San word ≠hannuwa, which describes a happy or wholesome state of existence.
 The Drinks Business Green Awards are the world's largest programme designed to raise awareness of green issues in the drinks trade and reward leadership in sustainability and environmental performance.