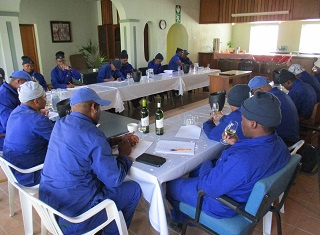 It is increasingly clear that there is a serious need for the transfer of practical, general knowledge to cellar workers. The Winetech study groups aim to transfer knowledge in a holistic manner and to increase productivity amongst cellar workers. Closer contact with cellars and cellar workers aims to identify needs and challenges in order to transfer knowledge in a focussed manner.
Literacy levels of cellar workers remain a concern and cellars are encouraged to enrol illiterate and semi-illiterate cellar workers in the Winetech study groups.
It has been established in the study groups that a large number of cellar workers have a lack of general knowledge regarding winemaking procedures. However, cellar workers attending the study groups are enthusiastic and those in the age groups 35 years and younger are keen to learn more. Literacy levels do not impact on the desire to learn and to acquire knowledge.
Feedback received from cellars during 2017 confirmed that the Winetech study groups have a positive effect on participating cellar workers. These cellars indicated that not only knowledge is transferred, but cellar workers are also exposed to the wine industry in general. Cellar workers receive technical information and learn to understand the bigger picture.
The management of one of the participating cellars confirmed, that their cellar workers acquired confidence and a pride in their work while attending the study groups. The positive change in the self-image of these cellar workers was noticeable.
A number of cellars confirmed that the improved labour relations in the workplace can be attributed to participation in the Winetech study groups. It was noticed that cellar workers are able to manage themselves better and that there is a better understanding of the different processes in the cellar.
Another participating cellar pointed out that for them the most important benefit of the Winetech study groups is the development of cellar workers' abilities to lead and to be established as role models. The facilitator of the study groups plays an important role in this regard. This cellar confirmed that the study groups also had an impact on the quality of work delivered. Cellar workers indicated that they have developed pride in their work which impact on their personal lives.
During 2017, 478 cellar workers from seven participating regions enrolled for the Winetech study groups, with the largest number of participants from Olifants River and the Wellington/Franschhoek/Paarl regions. A qualified winemaker, Nomonde Kubheka facilitates the Afrikaans and Xhosa study groups. During the past two years an increased number of Sotho speaking and individuals from other African countries are participating in the study groups.
In the past four Afrikaans and four Xhosa study groups were presented from May until August in the participating regions, but due to the feedback received from cellars and cellar workers, it was decided to address specific needs identified and to make practical changes which will be implemented from 2018.
Senior cellar worker workshops 2018
It was established that a serious need exists for a more focussed transfer of knowledge to senior cellar workers. Thirty six cellar workers, with a SKOP 3 qualification, will be able to participate in a pilot programme during 2018. One theoretical and one tasting workshop, each two hours long, will be presented at a central location.
The micro-biology of wine with subsections such as the micro-flora of wine; the origin of the micro-flora of wine; desirable and undesirable micro-organisms; the influence of micro-organisms on the quality of wine and methods to prevent and manage undesirable micro-organisms will be discussed during the theoretical workshop.
The influence of terroir on different wine styles and quality of wine will be discussed during the tasting workshop.
Winetech study groups 2018
In addition to the senior cellar worker workshops, three Afrikaans and three Xhosa study groups will be presented in the different participating regions. These study groups may be attended by all cellar workers, including semi-illiterate and illiterate individuals who would normally not be exposed to the transfer of knowledge. Senior cellar workers are encouraged to attend these study groups. Participation is free of charge.
The subjects for the 2018 Winetech study groups are relevant to the winemaking process and are as follows:
Study group 1: Cellar hygiene
What is cellar hygiene?
Why is it important?
Different cleaning agents and equipment.
Study group 2: Stabilisation
What is stabilisation?
Why is it important for the consumer?
Different wine stabilities.
Different stabilisation methods.
Study group 3: Bottling
The final production process before the wine reaches the consumer.
Preparation of wine before bottling.
Control/check list before bottling.
Bottling methods.
Equipment.
Evaluation of wine will be included in all three Winetech study groups and faulty wines will receive special attention.
The complete programme with more information regarding the 2018 Winetech study groups will follow later and will be available to all the wine routes and cellars.
– For more information, please contact Santi Basson at 072 298 8186 or santib@mweb.co.za.