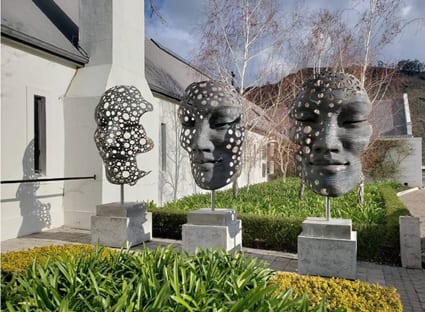 Celebrated South African artist, Anton Smit, well-known for his majestic works, has selected The Gallery at Grande Provence as his exclusive public sculpture exhibition venue in the Cape Winelands.
Famous for his monumental sculptures, evoking themes of suffering, reconciliation, glory and sublimation, Smit's works grace public and private collections nationally and globally. His body of work includes gigantic human figures, nudes, impressive heads, masks, hands, angels, floating and stretching figures, warriors as well as abstract works, using mostly.
The Gallery at Grande Provence showcases a selection of Smit's best works with regular exhibitions held throughout the year – alongside the work of other local emerging artists.
Two of his majestic sculptures of male figures stand tall at the entrance to the Grande Provence Tasting Room, creating a warm reception for guests visiting the estate. His larger than life metallic head sculptures blend seamlessly into the tranquillity of the Sculpture Garden, where guests can enjoy wine tastings, fresh oysters and relaxed lunches.
Smit is exclusively represented by The Gallery at Grande Provence. Any enquiries about his works can be referred to the director, Jean-Marié Olivier on Tel: +27(0)21 876 8630 or email: gallery@grandeprovence.co.za.
More about Anton Smit
Anton Smit's first breakthrough into the art world came in 1977 after receiving a special mention at the South African Art Association's New Signatures competition in Pretoria. Two years later, he won first prize in that very same competition.
Among his prodigious achievements is his 1994 exhibition that took place in New York at the Grand Central Station where he exhibited 35 sculptures as part of the Strengthening the Link initiative to boost trade between South Africa and The United States. Smit considers "The Age Grace", an eight foot high bronze sculpture at the Grand Central Station one of the highlights of his career. The sculpture celebrated South African Heritage and made the front page of The New York Times. His work has travelled as far as Rome and Milan, Italy.
Some of his works were purchased by notable South Africans such as billionaire businessman, Anton Rupert, and Archbishop Emeritus Desmond Tutu.