As a wine & food aficionado (or maybe you just enjoy indulging in every detail of Prince Harry and Meghan Markle's 'Big Day'), you were probably wondering what was on the menu of the much-anticipated Royal Wedding?
Royal watchers want to know: What's on the menu for the happy couple's spring wedding? As expected, the wine and food menu was a closely guarded secret right up until the reception. Some feared that the food and wine might be a tad extravagant. But what's the point of the word 'extravagant', if it can't be used to describe a royal wedding, right?
The Bubbly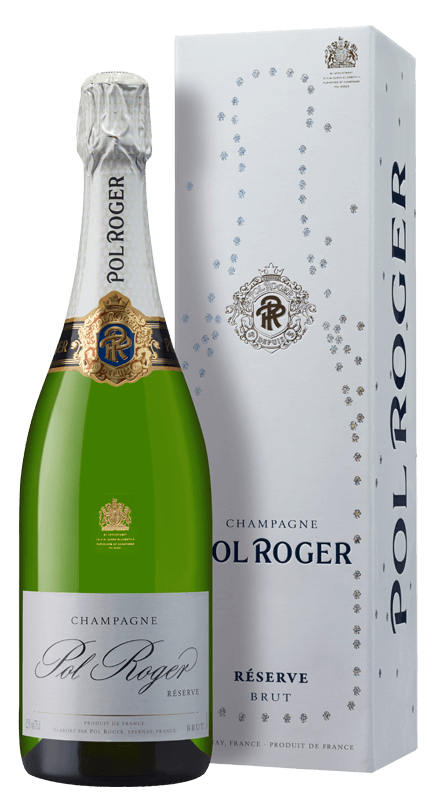 Putting much speculation to rest: The official sparkling wine or champagne that served hundreds of guests during the official reception was Pol Roger Brut Reserve Non-Vintage Champagne – which was also served during Prince William and Catherine's 2011 wedding.
The Pol Roger brand is still owned and run by the descendants of Pol Roger. Located in the town of Épernay in France's Champagne region – the house annually produces around 110 000 cases of sparkling wine.
Pol Roger was born in 1831, the son of a lawyer. Beginning as a wholesaler of wine, he started his own champagne house in 1849 with the first growths released in 1853. He then received an imperial and royal warrant for the Austro-Hungarian court.
The current owners of Pol Rogers are members of the Primum Familiae Vini and the house holds the current Royal Warrant as purveyors of champagne to Queen Elizabeth II.
Pol Rogers had been a firm favourite of Sir Winston Churchill since 1908. After his death in 1965, Pol Rogers placed a black border around the labels of its Brut NV shipped to the United Kingdom.
Madame Odette Pol-Roger, whom Churchill befriended at a party at the British Embassy in Paris in 1944, attended his funeral nearly 21 years later.
In 1987, when the trees of Churchill's country retreat, Chartwell, were devastated during the Great Storm, the Pol-Roger family paid for much of the replanting.
The house's prestigious label is the vintage  cuvée  Sir Winston Churchill. They also release three non-vintage cuveés, the Pure Brut (no added sugar), Brut Reserve and Rich (sweet) as well as three other vintage wines, the Brut Vintage (Blanc de blancs) and Rosé Vintage.
Pol Roger Brut Vintage is typically a blend of 40% Chardonnay and 60% Pinot Noir, although this can sometimes vary. It currently trades at around £45 (R772) per bottle.
The Vino
Croatian wine, Selected Berry Harvest Traminac 2015, from Ilok Cellars (Iločki Podrumi), was chosen by the newlyweds as one of the wines to mark their special day.
Ilok Cellars has a special relationship with the Royal family thanks to the selection of the royal court delegates, who came to Croatia 65 years ago in search of the wine that was served at the celebration of Queen Elizabeth II's coronation.
Their choice was Traminac from the Iločk Cellars. It was rumoured that delegates from the royal household had chosen the wine from the 1947 harvest because it was also the year of Elizabeth and Phillipe's wedding.
Thanks to a former cellar master, Franjo Volf, there are still 89 bottles of this iconic Traminac 1947 left in Iločk Cellars. With the help from a group of workers, he managed to hide 8 000 archive bottles, including the ones from 1947, just before the war occupation of Iločk. They built a barrier wall that blended into the ambiance and saved the basement from the aggressors.
Today, Iločk Cellars is the only Croatian winery whose wines are still served on the royal court.
Fostering the special relationship with the British royal court, Iločk Cellars continued in 2011 when they sent ice harvested Traminac from 2007 to the court as a special gift for Prince William and Kate Middleton's wedding.
This tradition continues today with this year's wedding of Prince Harry and his beloved Meghan Markle – only this time, Selected Berry Harvest Traminac 2015, was sent to the Royal Wedding. This wine was awarded a medal at the world's biggest wine competition – Decanter World Wide Award in 2016.
Traminac 2015 is the superior quality dry white wine with a very unique and distinctive taste and smell. The grapes produces aromatic and very floral wines, which makes it easily recognisable right from the moment when you pour the wine in a glass – announcing itself with sensual aromas of roses, honey and raisins.
It currently trades at 22.99 Euros (R347) per bottle.
The Grub
Guests were served a selection of canapés which included:
Scottish langoustines wrapped in smoked salmon with Citrus Crème Fraiche.
Grilled English asparagus wrapped in Cumbrian ham.
Garden pea panna cotta with quail eggs and lemon verbena.
Heritage tomato and basil tartare with balsamic pearls.
Poached free-range chicken bound in a lightly spiced yogurt with roasted apricot.
Croquette of confit Windsor lamb, roasted vegetables and shallot jam.
Warm asparagus spears with mozzarella and sun-blush tomatoes.
Royal Wedding guests were also served a selection of bowl food, including:
Fricassee of free-range chicken with morel mushrooms and young leeks.
Pea and mint risotto with pea shoots, truffle oil and parmesan crisps.
Ten-hour slow roaster Windsor pork belly with apple compote and crackling.
Sweet canapés to be served included:
Champagne and pistachio macaroons.
Orange crème brûlée tartlets.
Miniature rhubarb crumble tartlets.