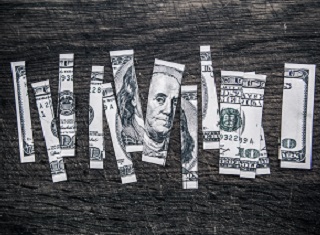 Recent events saw our parliament being reshuffled, the axing of certain key figures and an ominous ripple effect in our economy starting with the depreciation of the rand.
South Africa's recent credit score downgrade by Standard and Poor's and Fitch is a blow to the country with lower income individuals possibly being hit the hardest. With the agricultural sector employing a large contingent of this income group, this could spell trouble.
The local wine industry is not immune to the depreciating rand and the recently acquired junk status means that the wine industry may also suffer. The wine industry creates 289 151 employment opportunities and contributes more than R36 billion to the economy. By stemming the tide of foreign investment, research and development (like new vineyard plantings) in the already beleaguered wine industry, job creation and various social empowerment initiatives might also suffer.
According to Prof Johan Willemse of the Free State University, the depreciation of the rand may be but the start of a series of unfortunate events. "The rand will possibly keep depreciating throughout the year, which will see inflation rising. In turn, the fuel price is expected to increase in May as a result of the first round of rand depreciation. This will increase costs through the value chain (from farmer to consumer) and will set in over a period of one to three years. Imported goods (machinery, barrels, pesticides, fertilisers and other chemicals not readily available in South Africa) will also become more expensive and will contribute to inflation."
Interest rates are also expected to rise towards the end of 2017 and this may impact on farm debt which reached an all-time high in 2015. "The big increase will only happen if inflation remains above the Reserve Bank's target of 6%. This will probably happen towards the end of the year. Note that several farms incurred a considerable amount of debt to facilitate growth, which will increase costs and hamper cash flow," Prof Willemse said.
Wine exports will also be affected in various ways. Charles Hopkins, cellar master at De Grendel Wines, is concerned about how SA wines are perceived in foreign markets. "Big wine buyers who often see our wine as cheap, might use South Africa's junk status as leverage to negotiate even lower prices via promotions and various other deals. We have really good wines and deserve to be paid a fair price."
Prof Willemse, while conceding that exports to richer countries will help with the covering of costs, cautions that a weak rand will only give a temporary higher income. "The weak rand will eventually increase production costs, which can decrease harvest volumes as producers simply cannot rely solely on the rand to be internationally competitive."
Further to the topic of declining harvest volumes and profitability, Charles says, "More than 60% of our wine is made by cooperative cellars. This structure drives quantity which means that cellars with a capacity of 5 000 tonnes and more will survive and even grow, while cost inflation and margin squeeze can lead to consolidation as smaller  producers in areas like Stellenbosch, Paarl and Malmesbury (to name but a few) will increasingly have to resort to other means."
With the situation as is, how do we cushion the blow in the agricultural sector, and in particular the wine industry? Prof Willemse explains how other countries tried to remedy this situation. "In countries like Argentina where the constant exchange rate depreciation caused higher inflation, farmers bought consumables (such as fuel and fertiliser) as early as possible and then sold their products as late as possible. Although they might have received a higher value when products were sold, debt became more expensive. There is no easy answer."
Rico Basson, managing director of VinPro, adds to the above "We are concerned about the impact and ripple-effect of the latest credit downgrading by Standard & Poor's. Although only a certain component of the credit-element spectrum reached the junk status notch, movement in the most important financial instruments in reaction to the downgrading announcement gave an indication that volatile times might be ahead. Policy uncertainty with regard to aspects such as landownership, transformation and limited support re market access does impact investment and growth opportunities.
"We have some of the best producers in the world, who under normal circumstances manage average cost inflation of ± 7% to 8%.  The volatility and depreciation of the rand will in all likelihood manifest in higher cost inflation on farm and cellar level as the price of imported goods rise. The exchange rate depreciation may offer export advantages, but is somewhat of a double edged sword. It is important that each business in the industry carefully evaluates its strategy against this background and ensure relevant risk mitigation decisions are made.
"There are, however, still numerous opportunities in the midst of the uncertainty," he added. "A number of these are part of key themes under the Wise strategy."
The way forward should be carefully negotiated, seeing that it can take a few years to shake of the shackles of junk status. For Charles, however, there is another and overarching dimension to our country's junk status. "To me junk status is mostly about our image in the eyes of the rest of the world. Can a country that has sunk to junk status ask R400 per bottle of wine?"