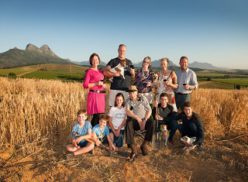 Michael Hans 'Spatz' Sperling has passed away, but this local legend leaves those close to him and the wine industry with a legacy spanning more than six decades.
This legacy kicked-off when he arrived in South Africa in 1951 at a spry 20 years of age. Over the course of the next 60 years Delheim, under the aegis of Spatz, became vastly successful and was established as one of the most sought after wine destinations South Africa has ever seen. Notable firsts for the SA wine industry came from Delheim, including the first ever newsletter and restaurant on a wine farm.
Spatz was also ahead of the curve when it came to pleasing wine consumers. One example of this was the famous Spatzendreck. Yet another was Heerenwijn – a light and dry white wine. Later on, in the 1970s, the demand for red wine was recognised and vineyards on Klapmutskop were purchased. These vineyards, named Vera Cruz after Spatz's wife, later yielded Delheim flagship Grand Reserve which was first produced in 1981.
Spatz's contribution towards the wine industry was further extended through his collaboration with Sydney Back of Backsberg and Frans Malan of Simonsig – together they founded the Cape Estate Wine Producers. They also helped to change wine estate legislation which ultimately led to the formation of the Wine of Origin system in 1973. Spatz was also, with Frans Malan and Neil Joubert of Spier, a founding member of the Stellenbosch Wine Route and was involved with the founding of both the Stellenbosch Bottled Wine Show and Food and Wine Festival.
The ultimate recognition of his vast contribution to the SA wine industry came in the form of the 350 Celebration Scroll which was presented to Spatz in 2009, the year South Africa celebrated 350 years of winemaking.