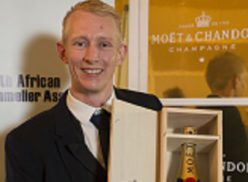 Wikus Human of Marble has claimed the title of the prestigious new South African Sommelier Association's 2017 Best Young Sommelier competition, brought to you in association with Moët & Chandon.
Wikus, at age 26, is the Head Sommelier and Beverage Manager at Rosebank's sleek Marble Restaurant. Having graduated with a BCom in Tourism, his passion for fine wine was ignited in the course of a wine tasting at the boutique hotel where he worked. His love for the Nectar of the Gods and his enthusiasm for dishes cooked over a flame drove Wikus to further hone his skills and educate his palate at Marble Restaurant. In terms of white wines, Wikus loves bubbly or Riesling and holds the combination of Riesling and pork in high esteem. On the red scale, his preferred varietals include Cinsault, Pinot Noir and Cabernet Franc, pairing lighter reds with fish and heavier reds with fatty meat dishes.
Dedicated to the discipline, art and love of fine beverages, the South African Sommelier Association (SASA) and Moët & Chandon aim with this exciting new competition, to support and empower the next generation of professional sommeliers who share the joy and energy of wine and spirits.
Winner Wikus Human and runners-up Pardon Taguzu of Aubergine Restaurant and Isabella Immenkamp of SOMM endured four rounds of rigorous theoretical tests and were judged by an expert panel ontheir ability to taste and identify spirits as well as standard service tasks, such as decanting service or sparkling wine service. Questions included topics such as wine styles, regions of origin and terminology, wine label information, wine regulations, wine storage. Competitors were also tested on social skills as well as their ability to interact with the patron.
By claiming the title of Best Young Sommelier, Wikus has secured a place in the SASA Sommelier Course Level 2 presented by the Sommelier Academy and a coveted opportunity to compete in the Moët & Chandon Best Sommelier South Africa challenge in 2018. And of course a magnum of Moët & Chandon to toast to his celebratory #moëtmoment!