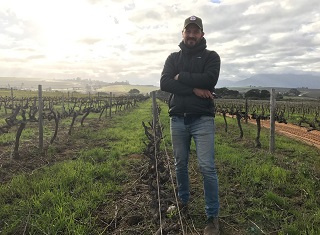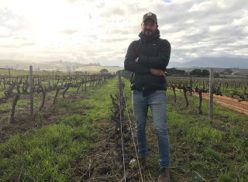 Wine Cellar has done it again. And that is identifying SA's hottest young winemaking talent. This year's Young Guns theme is "Back to Basics" and the second in a series of seven blogs features Danie Carinus of Carinus Vineyards. Here are his answers to seven quick questions.
1) What inspired you to study what you did?
I wasn't too inspired when I decided what to study. I started with Law and changed to Social Sciences with Psychology and Political Science. I guess I needed an excuse to be able to stay in res and away from the family farm. I always knew that I was going to have to go to the farm eventually and these days farming is 90% people management. So I reckon my studies do come in handy.
2) What is your favourite wine to make and to drink?
Sho, it's a privilege to be able to drink wines of vineyards that I have planted and managed. I think Cabernet Franc is such an honest grape. The end product, when managed correctly, tastes like what you tasted and smelled in the vineyard during the season prior to harvest.
3) You're stranded on a desolate island, but then discover lush and healthy vineyards and basic cellar equipment (left behind by the island's previous inhabitants). What is the first thing you would do?
Build a raft and go look for a good marketer!
4) Do you have a favourite wine experience (local or abroad) you would like to share?
I've been privileged to have had tastings at amazing cellars all over the world. Stags Leap, Opus One and Ovid in California, Angelus, Rayas, Trevallon and Pibarnon in France, and Clos Mogador and Fredi Torres in Priorat (Spain) – to name a few highlights. But most memorably – we were in Southern Rhône in 2015 and ended up in a little town square one afternoon. The town was called Sant Michel d' Euzet. After work, the locals came out and the square came alive. The only thing we bought was one bottle of rosé. After that the bar lady just brought out more wine, cheese and cured meats on the house! The locals started singing La Marseillaise and we sang Nkosi Sikeleli iAfrika. The biggest hit was when I told them I could sing La Marseillaise in Afrikaans. I went to a little res in Stellenbosch called Wilgenhof and we were told that the French got their anthem's tune from us. We became celebrities in that little town. Wine brings people together. I love that about wine. 
5) What is the worst advice you ever got in your winemaking career?
Technically I'm not a qualified winemaker, I'm a wine farmer. So I just ask the clever guys. I try to stay away from bad advice.
6) What advice would you give a local up-and-coming winemaker?
Treat your grape producers and his/her workers with respect. I'm not only referring to paying the right price (also very important). Remember your wine is being made in the vineyard. Ultimately it's a team effort and it will stand you in good stead for future business to go the extra mile to make the farmers and workers feel valued.
7) Do you have a mentor in the wine industry (local or international)? If yes, how did this person influence you?
I think someone like Rosa Kruger is a mentor to more people than she actually knows. Although her passion for vineyards cannot be eclipsed, it's her commitment to the workers working the vineyards that is actually the greatest legacy she will leave behind… After many more years hopefully. Thanks Rosa for not billing me for all those phone calls!