The main aim of this study was to investigate the colour and phenolic evolution of Shiraz wines obtained with different training and canopy treatments.
Phenolic compounds play an important role in the sensorial composition of red wines, such as Shiraz. However, how differences in the phenolic composition of Shiraz wines differ over time during ageing has not been well documented.
Experimental layout
An experimental Shiraz block (clone 9 on 101-14-Mgt rootstock) at Stellenbosch University's Welgevallen farm was used for this research. Vines were spaced 2.7 x 1.5 m and grown on a seven-wire training system for the vertical shoot positioning system (VSP) treatment. Part of this vineyard was converted to a Smart-Dyson (SD) training system. Upper and lower shoots of the SD were also harvested separately. An additional treatment consisted of a reduced treatment (R), by removing the top shoot and it's grapes on a two bud spur at flowering time.
Grapes were harvested at the following parameters during the 2012 and 2013 vintages: pH 3.5 to 3.8, TA 4 to 4.5 g/ℓ and Balling 23 to 25 °Balling. Wines were made on small scale at the experimental cellar of the Department of Viticulture and Oenology (DVO) at Stellenbosch University, using Saccharomyces cerevisiae D21 (Lallemand) and Oenococcus oeni (Alpha, Lallemand) as lactic acid bacteria. After fermentation the wines were bottled in 750 mℓ bottles and aged. Analyses were done on the wines after the completion of malolactic fermentation, after six months (both 2012 and 2013) and 12 months (2012) of bottle ageing.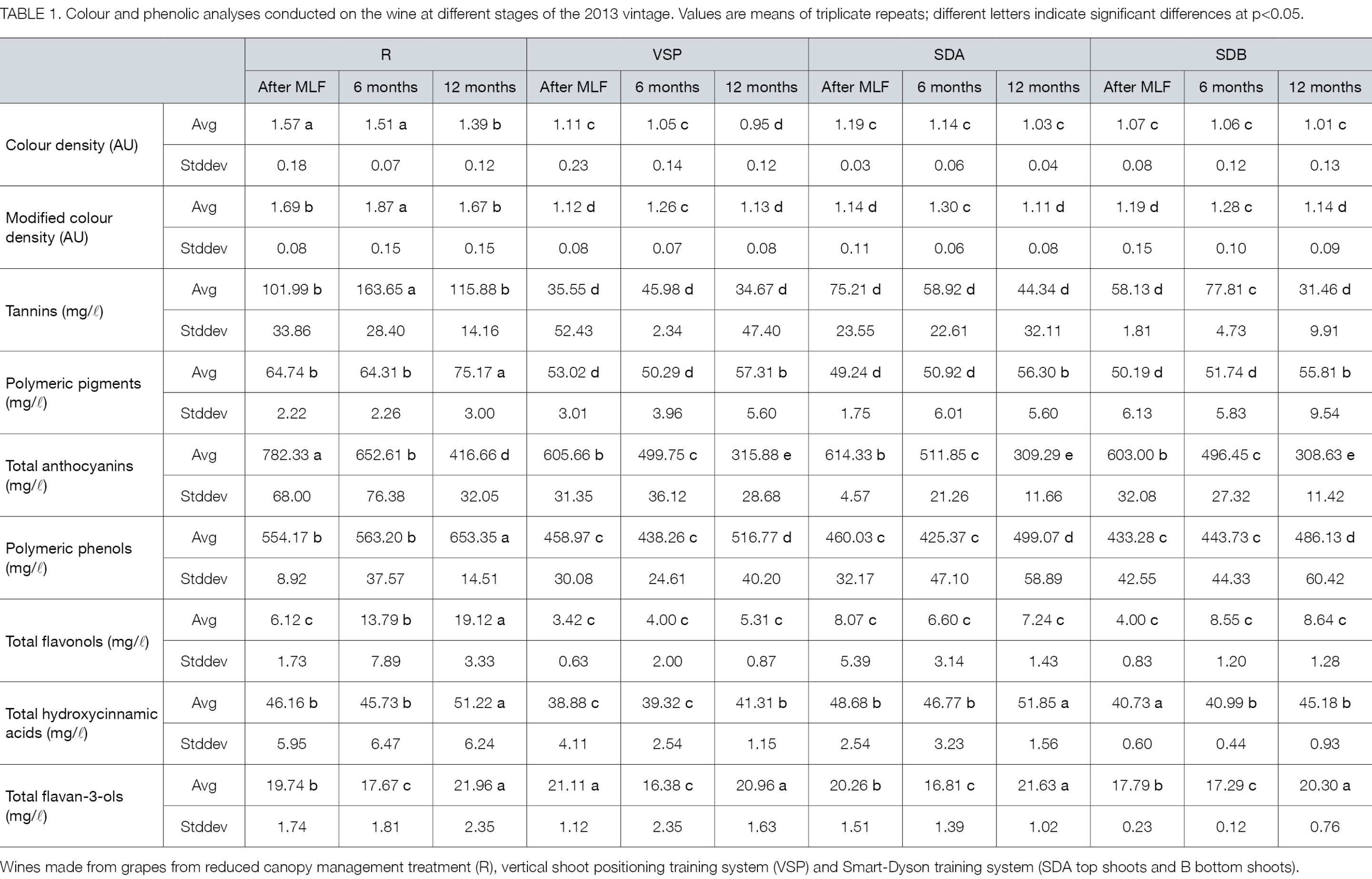 Results
The fruit yield (tonnage per hectare) differed dramatically, with 2.75, 5.61 and 7.84 tons per hectare observed in 2012 for the R, VSP and SD (combination of top and bottom shoots) treatments respectively. This increased to 3.13, 6.55 and 10.95 tons per hectare for R, VSP and SD (combination of top and bottom shoots) treatments respectively in 2013.
The colour density of the R treatments were often higher than that of the other treatments. However, in 2013 the SD treatments led to wines with lower colour density. After 12 months of ageing the R treatment and in some cases, the VSP treatments were still significantly higher in terms of colour density and modified colour density compared to the SD treatments. In 2012 the R treatments wines also had significantly higher anthocyanins and polymeric phenols after MLF.
During ageing the levels of anthocyanins decreased in all the treatments, while the polymeric pigment levels increased. This is due to the association of free anthocyanin with other phenolic moieties to form pigmented colour, which is more stable in the wine. In both vintage years after ageing the polymeric pigment concentrations were higher in the R and VSP treatments compared to the SD treatments. Polymeric phenols were also significantly higher in the R treatment compared to the SD and VSP treatments after ageing.
These results could be due to the higher tannin levels often observed in the R treatment and in some cases the VSP treatment, which may lead to higher levels of phenolic polymerisation and increased polymeric phenol and polymeric pigments in these wines. These results corroborate those by a Master's study by Van Noordwyk in 2012 who also found higher levels in wines made from reduced canopy vs. a full canopy treatment.
Increases observed in phenolics in especially the R treatments are probably due to increased fruit exposure in the bunch zone. It thus seems that differences observed in the young red wines are often reflected in the same wines after ageing.
Higher phenolics are obviously advantageous to the wine producer. However, the producer should keep in mind the differences observed in tonnage per hectare. In the next article on this topic the sensorial effects of these treatments will be discussed.
Acknowledgement
The authors would like to thank Winetech for funding of this project.
– For more information, contact Wessel du Toit at wdutoit@sun.ac.za.