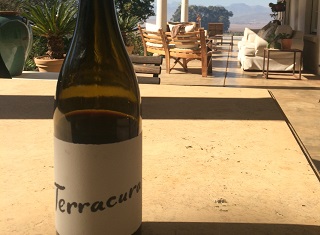 Silwervis recently launched their first wine under the Terracura label, a 2015 Swartland Syrah. Silwervis, which is a member of the Swartland Independent – a group of winemakers based in the Swartland region of South Africa –is run by Ryan Mostert, Samantha Suddons, Michael Roets and Roland Peens.
Ryan embraces the minimalist intervention theme of Swartland Independent and employs various techniques (such as fermentation under flor yeast, maderisation, skin contact for white grapes and long maturation periods in concrete eggs and then stainless steel tanks) to make his compelling and popular wines.
Full tasting notes by Christian Eedes can be seen at http://winemag.co.za/terracura-syrah-2015/, but here are a few excerpts from his notes on the various wines tasted at the launch:
Smiley White NV
From Chenin Blanc, includes portions fermented under flor, maderised and with skin contact. An entirely compelling nose – a top note of potpourri before blue orange, peach, apricot and a little nutty character.
Silwervis White 2015
A definite note of reduction is the first impression on the nose but this somehow suits the wine. With time in glass, citrus and peach, ginger and other spice come to the fore. The purity of the fruit is impressive but this wine is currently very tight and savoury, some phenolic grip on the finish lending interest. Not for the uninitiated!
Smiley Red NV
A blend of 40% Cinsault, 40% Mourvèdre and the rest Syrah and Tinta Barocca. 100% whole bunch fermented and 12.5% alcohol Very aromatic with notes of fynbos and lavender before wild strawberry, raspberry and a little black olive.
Silwervis Cinsault 2015
100% whole bunch fermentation as Mostert says he finds the variety tends to take on a "bubble gum" character without. The nose is quite shy but look hard enough and you'll find red cherry, some musk and a little herbal character. The palate is light and fresh with powdery tannins.
Terracura Syrah 2015
From six different vineyards. Here Mostert's lightness of touch really works – the nose shows red currant and cherry, vanilla pod (quite winning yet curious given that no new oak was used in the maturation) and a frangipani-like perfume. Pure and true with lovely freshness and fine, even delicate tannins. Nothing too angular or bony about it, while the finish is wonderfully persistent.