South Africa's newest choir sensation is coming all the way from Limpopo to entertain their Cape Town fans. The Ndlovu Youth Choir, whose performances in America's Got Talent (AGT) are taking the world by storm, will join a select group of internationally acclaimed South African choirs for the SING! Choir Extravaganza in the Grand Arena, GrandWest, Cape Town on Saturday 7 September 2019.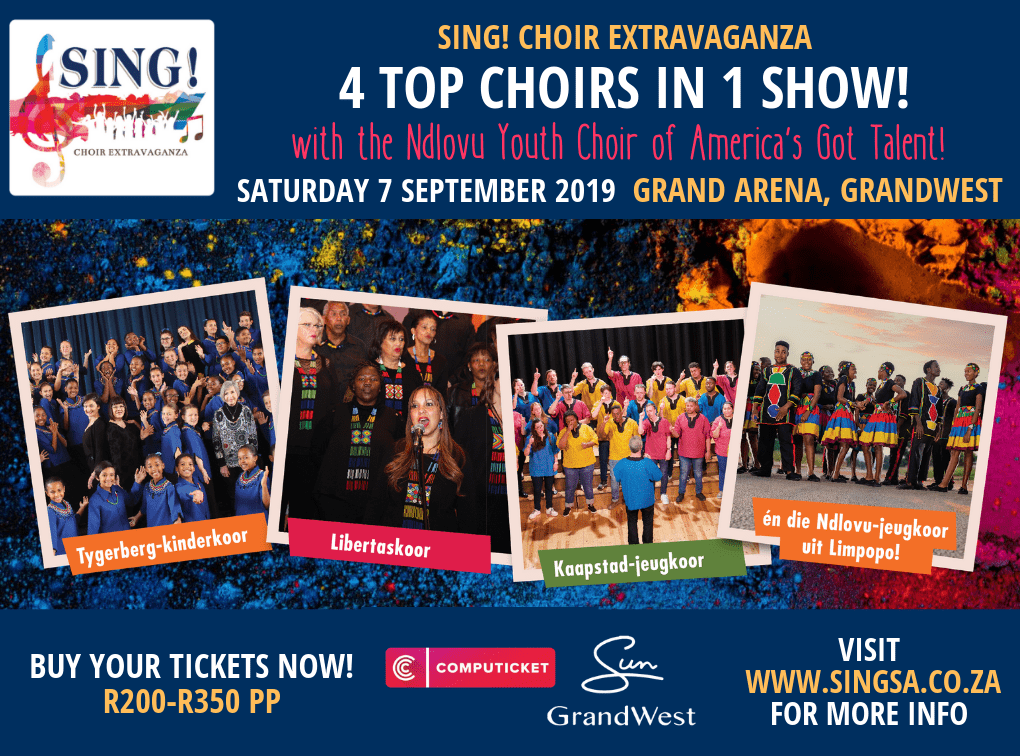 Music lovers can look forward to a world-class choral music production with a diverse programme by four of the best choirs South Africa has to offer. The Ndlovu Youth Choir is known for their energetic performance of Afro-Pop classics, traditional music and original compositions, conducted by Ralf Schmitt. Joining them on stage, are the Tygerberg Children's Choir, the Libertas Choir and the Cape Town Youth Choir.
The Tygerberg Children's Choir, regarded as one of the world's leading children's choirs, will perform under their new conductor Karina Erasmus. The Libertas Choir, who celebrates their 30th anniversary this year, has performed on several world-renowned stages during seven international tours. The choir, conducted by Johan de Villiers, performs standard a cappella music, as well as arrangements of traditional and contemporary South African songs. The Cape Town Youth Choir, led by Leon Starker, just returned from a very successful European tour, announced as Grand Prix winner at the Karpenissi International Choir Festival in Greece, as well as placed second overall at the 56th International Competition of Choral Singing in Spittal an der Drau in Austria.
The choirs will perform for 25 minutes each, followed by a mass choir performance of "You Never Walk Alone" from Rodgers and Hammerstein's musical Carousel. Nonkululeko Sambo, the 2019 winner of Agri's Got Talent – the only singing competition for agri workers in South Africa – is coming all the way from Nelspruit to perform as a soloist with the mass choir. Agri's Got Talent is a social-upliftment project sponsored by Hortgro, the VinPro Foundation, the Western Cape Department of Agriculture, the South African Table Grape Industry, and the Citrus Growers' Association.
The SING! Choir Extravaganza is produced by the esteemed Charl van Heyningen, well-known as classical music impresario and promoter of top local and international artists. The programme is agriculturally inspired to showcase the beauty and art involved in agriculture. The event is organised by Agri-Expo, a non-profit agricultural society acting as "ARTivists for Agriculture" in order to raise funds for agricultural youth projects. 
The programme starts at 18:30 for 19:00 and ends at 22:30. Tickets are available at Computicket at R200 to R350 per person.
Visit www.singsa.co.za for more information, join the conversation at #singchoirSA or contact Agri-Expo on 021 975 4440 or sing@agriexpo.co.za.