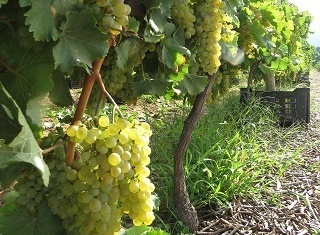 South Africa's wine grape harvest is expected to be not much bigger than in 2016, but healthy grapes with intense flavour and colour hold the promise of great wines.
The 2016 harvest amounted to 1.4 million tonnes.
According to Francois Viljoen, manager of VinPro's viticulture consultation division, the 2017 wine grape season will be remembered for its heat, drought, wind and black frost. Although producers have increased production per hectare, a decline in area under vineyards over the past few years will also have an effect on this year's crop.
On the upside, the dry, windy conditions resulted in healthy vines and grapes than needed less chemicals to keep pests and diseases at bay. Vineyard growth was not too vigorous, which decreased labour inputs.
Uneven bunches and smaller berries result in greater colour and flavour intensity. "We can really expect good quality wines from this harvest," said Viljoen.
Due in part to the smaller harvest, as well as a projected increase in demand, stock levels are expected to be the lowest in five years at the end of 2017.
Crop estimates per region:
Orange River might see a similar crop as the last two years despite 150 ha less vineyards and heavy rains that fell in the eastern parts of the region.
Olifants River expects better yields than in 2016 due to increased water supply from the Clanwilliam dam and good conditions throughout the season so far.
Swartland had a very bad year in 2016 when they were 27% down on their total crop. Although the drought is taking its toll again on the dryland vineyards, they are optimistic that the crop will be bigger compared to 2016.
Klein Karoo had a very good (record) year last year but is expecting a smaller crop this year due to the drought and limited water supplies.
Paarl/Wellington are positive that their harvest won't be down as much as in 2016, but the drought and smaller berries will still result in  a slightly smaller crop from a declining total hectares.
Robertson is also expecting a normal crop this year following a record 2016 harvest. Limited irrigation water and the smaller berries are main reasons for this.
Stellenbosch is expecting a slightly lighter crop this year again for the third year running. Declining hectares, dryland vineyards and smaller berries as in the Paarl region are the main factors.
Breedekloof is expecting a smaller crop due to frost-damage and smaller berry size.
Worcester also had a record good crop last year and is expecting a slightly smaller crop this year due to the same factors as in Breedekloof and Robertson.