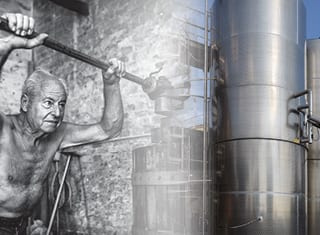 New World vs Old World: Where does South African wine fit in?
Some wine experts will tell you it's all but impossible to classify wines geographically because in many ways the Old World versus New World wine debate is often technically driven, resulting in mixed characterisations. Given this blurring of distinctions, can South African wines be boxed in either category?
 Old World wine revival
Any wine expert will tell you that you cannot possibly classify the New World by Old World standards, nor does it work the other way around. Old World makes it a bit easier, as they have designated geographical indications categorised according to quality. So, the 'Old World' – mostly located in the European Union – has two quality categories, namely Protected Designation of Origin (PDO) and Protected Geographical Indication (PGI). In general, PDOs refer to smaller areas with very tightly defined regulations with regard to what varietals can be grown there, blending ratios and general winemaking techniques, while PGIs refer to larger areas with much less rigidly enforced regulations.
Rich Mauro, an international wine writer from Denver, Colorado, says there was a time 10 to 20 years ago when many Old World producers consciously tried to appeal to New World palates, or at least what they thought New World drinkers wanted. "But lately I think most producers are more focused on reflecting the specialness of their own location regardless," he says. "Still, it may be that many producers lean more towards the so-called New World style. All of this is more likely to appeal to the American market."
According to local wine authority and Old Mutual Trophy Wine Show convener Michael Fridjhon, the natural wine movement is a reaction to the technical wine movement. New World wine is typically more technically driven. "There's a lot of mixed characterisations," he says.
It becomes more interesting when we ask, is Old World wine becoming more technically driven? "A lot of the technology which shapes the way New World wine is produced is largely driven by the French and Germans," Michael says. The fact that you get technically correct wine in the New World is not necessarily a New World feature per se, but it's something the New World just made more of."
The description of cultivar at supermarket level is where the Old World is still competing with the New World, he says. Producers from the south of France or non-appellation d'origine contrôlée (AOC) producers are permitted to put the varietal name on the label. In higher appellations of Bordeaux and Burgundy, it is not permitted to put cultivars on the label.
But since the introduction of the Wine of Origin legislation in 1973 in South Africa, rigorous requirements around cultivar description were introduced (a New World feature). This scheme not only protects wines of origin, but also wines made from a specific cultivar or vintage.
A 1964 Zonnebloem Cabernet may have had little or even no Cabernet in the blend. "There was no certification system in place, and producers did as they pleased," says Michael.
So, when it comes to describing which types of wine characterise the similarities and differences between Old World and New World wine, the answer is not that easy as the distinctions between the two categories aren't that clear cut.
Where does SA wine fit in?
The general consensus is South African wines are part of the New World based on geography. But how accurate is this? Stylistically, South African wines are said to occupy the middle ground between Old World and New World. Structured for elegance and food compatibility, they nevertheless express prominent varietal flavours.
South Africa has been producing wine for more than 350 years – the first grapes for wine were pressed in the Cape in 1659. So New World might be a bit of stretch when it comes to describing South African wine.
"What is certain," says Fridjhon, "is that in the volume wine business, we play a New World game." A huge amount of South African wine is sold abroad in bulk, and some of the brand owners are international players. "Because we're price-pointed, we tend to be stylistically positioned as New World wine – bright, fruity and cultivar-driven," he adds.
But it's a different story when it comes to local artisanal wines. Whether it's the Mullineuxs selling Leeu Passant or Eben Sadie's Ou Wingerdreeks.
It seems that when wine is varietal-driven in South Africa, it's transformed into industrial wine produced in high volumes at a lower cost (New World). But if it's artisanal, it's personality-driven and that makes it more Old World. "That's why it's hard to typify South Africa," Michael says. "We do a bit of both. Our wine industry is somewhat schizophrenic. Sometimes we're unshowy. We don't necessarily give you the cultivar on the label. It's not overly wood-driven. There's a lot of oxidative handling. The more terroir-driven it is, the more Old World it is; the more varietal-driven it is, the more New World it is."
When it comes to our Old World/New World status, most American wine drinkers don't think of South African wines as one or the other, Mauro says. "I think South Africa can play off its closeness to Australia and especially New Zealand. American consumers find both regions appealing."
He says the 2015 Kanonkop Estate Pinotage, the 2015 Simonsig Redhill Pinotage and 2015 Piekenierskloof Grenache lean more towards Old World, while the 2015 Lubanzi Shiraz Cinsault Grenache is more New World in style. "OId World wines tend to have higher acidity and more non-fruit characteristics such as herbaceousness or herbal tones, while New World wines tend to have more prominent fruit and denser, lusher textures."
"The Swartland is venerated and revered because of its old vines and artisanal way of making wine. But when you go to Stellenbosch even the older, more established estates are making cleaner, better-fruited and less oxidated wines."
South Africa still has one foot in the Old World and one foot in the New World when it comes to what consumers want, Michael believes. "At the 'under-R50-a-bottle' level there's a demand for a fruity wine. But when you get to the 'R250-a-bottle' level, consumers look for other, more complex notes."
Beyerskloof is the perfect example of a label that straddles both the Old and New World in style. "If you take his standard Pinotage (at R70 per bottle), it's clearly New World. It's fruit-driven, clean, bright and easy to drink. But if you go up in the pricing scale, you get wine that is more complex. Restraint and complexity replace easy drinking soft tannins. And when you take the Beyerskloof Diesel Pinotage, it's neither Old or New World, but a combination of both."
 Old World vs New World
The difference between New World and Old World wine is largely based on geography and winemaking practices. Old World wines are from countries where winemaking with Vitis vinifera grapes first originated, including France, Italy, Spain, Portugal, Greece, Austria, Hungary and Germany. New World wines are from countries where winemaking and Vitis vinifera grapes were imported during the age of exploration, including America, Australia, South Africa, Chile, Argentina and New Zealand.