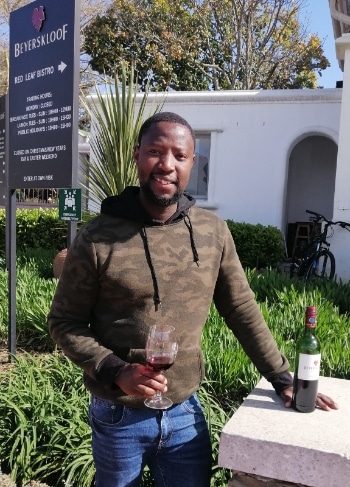 Madumetja Solomon Monyamane – also known as Solly – is originally from Mamelodi, Pretoria. He moved to Stellenbosch in January 2010 to study BSc Viticulture and Oenology at the Stellenbosch University on a DAFF bursary, and completed his degree in 2014. Today, Solly is known as the viticulturist at Beyerskloof. Becoming part of a true South African brand such as Beyerskloof was a privilege, but for Solly, it was also a journey into its heritage.
Early years
An initial apprenticeship as a cellar assistant at Thelema Mountain Vineyards while completing his studies helped cement Solly's place in the wine industry. "As part of the degree at Stellenbosch University, we had to complete a harvest and work in the vineyards (experiential learning)," he says. "I was at Thelema for three years (2013-2015) and also did a harvest in Sonoma, California in between."
Then in 2016, Solly started as assistant winemaker at the Elsenburg wine cellar. The job mostly consisted of assisting students in their final year to make wine from grape sampling all the way to bottling and everything in between. "It was a very busy and industrious position at Elsenburg, under the guidance of winemaker and head lecturer Lorraine Geldenhuys. One of the main objectives of the jobs was to expose the students to all facets of winemaking (local and international) and building relationships to last a lifetime."
A legacy lives on
Elsenburg students go through a rigorous selection process in order to be accepted as part of the final year cellar technology. Once selected, they start working in the vineyards on blocks they will later harvest for winemaking. "Lorraine would invite industry legends to advise students on issues of quality, health and innovation. We had visits from the likes of Beyers Truter, Rosa Kruger, and the late great Eben Archer, to mention a few."
"I fell more in love with viticulture and Pinotage when Eben Archer and Beyers came over while we were working in a Pinotage block at Elsenburg," recalls Solly. "They talked about how the same grape, block, soil type, clone and climate can still yield three different wines, by adjusting viticultural practises during summer pruning,"
That experiment was made and bottled at Elsenburg and the project is labelled as Eben Archer's last experiment.
A new beginning
In 2019, Beyers Truter invited Solly over to the Beyerskloof for a chat. He was looking for a farm manager and viticulturist. Solly jumped at the opportunity to join the Beyerskloof team at the end of harvest in 2019. "It was an easy decision as it offered so many learning opportunities, especially working with Pinotage. Working with and under the mentorship of Anri and Beyers Truter is great  because of the deep knowledge they have about Pinotage and the South African wine industry, not to mention their international experience."
"What I like the most about my position here at Beyerskloof is that it's so diverse. Having worked in a wine cellar and tasting room, and having acquired my WSET Level 3 with the Wine and Spirits Education Trust as well as the wine evaluation course at Stellenbosch University, I'm able to make an easy connection from grape-growing, winemaking and contributing to sales. I've also been fortunate to be invited to taste as part of the Pinotage Absa Top 10 competition.
It's been an exciting journey through the wine industry for Solly. "I would never have thought I'd end up where I am right now, and I'm more ecstatic than ever about my future here at Beyerskloof and the wine industry as a whole."